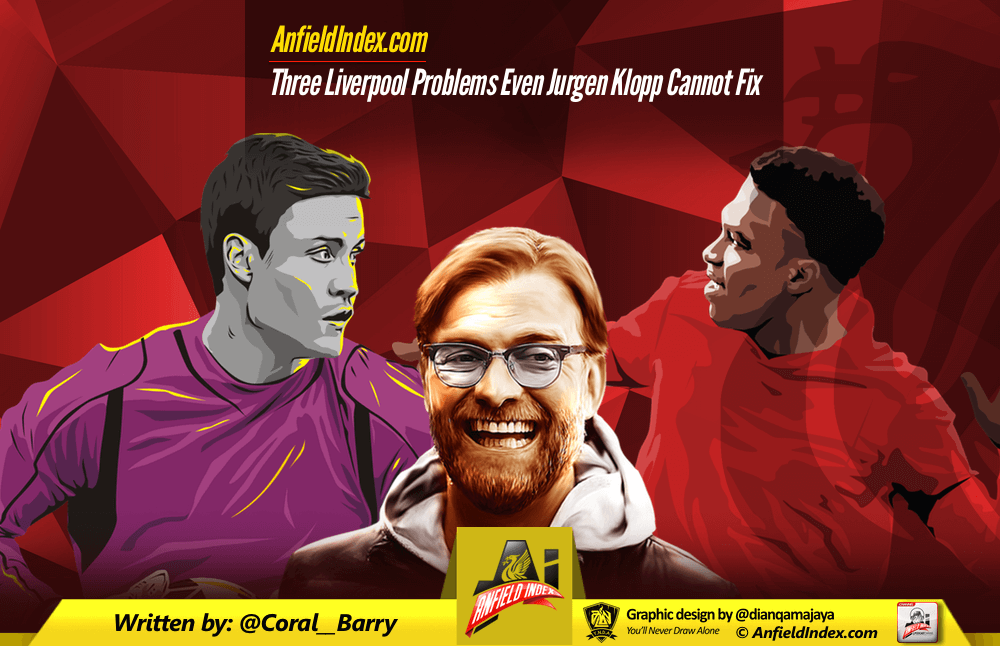 Three Liverpool Problems Even Jurgen Klopp Cannot Fix
For many Liverpool supporters the arrival of Jurgen Klopp was a godsend.
The charismatic and passionate German has been a breath of fresh air on Merseyside and in English football.  He has rejuvenated Liverpool and masterminded incredible away wins at Chelsea and Manchester City. He even made Dejan Lovren look not-so-terrible.
But as much as we all swoon over Klopp's excellence, he is in fact not a god. He faces the same challenges as Brendan Rodgers did. Yes he is much better equipped as a coach to solve those issues, but there are a three things Klopp cannot change.


Sturridge's Injuries Need a Christmas Miracle

He has smashed in an incredible 37 goals in 60 league games. His strike rate in the Premier League is better than Fernando Torres and Luis Suarez. And he is always injured.
Daniel Sturridge is the tragedy of Anfield. So much talent, a world-class striker at our fingertips and he spends most of his time watching from the stands. Last year he played just 12 league games on the way to Liverpool finishing a disappointing sixth and so far this season, Sturridge has missed 16 games through injury.
Klopp is not a doctor, not that any of them seem to be able to fix the glassman. Sturridge was sidelined for most of Rodgers' reign and that is not going to stop under Klopp. Maybe one thing the German could do is forget about Sturridge?
Liverpool are hoping to eventually win the league with Klopp at the helm right? Robert Lewandoski made 47 appearances and scored 30 goals in the 2011/12 season when Dortmund won back-to-back Bundesligas. Liverpool will not win anything as long as their best player is always on the treatment table.
Mignolet's Madness
For a while there, Simon Mignolet had convinced everyone that in fact he was not utterly insane. But never fear, the real Mignolet has stood up, just in time for Christmas.
The Belgian's form has taken a tail spin since the start of the new season. This after he had spent six long months redeeming himself for being dropped in favour of goalkeeping legend Brad Jones. But that was a full year ago now we have come full circle. In whatever shape or form Mignolet decides to take from here, it matters little.
He makes far too many errors and thinks he is Lionel Messi with the ball, case and point his performance on Sunday. That is not something Klopp can fix. He cannot make him a better goalkeeper. The same way Claudio Ranieri cannot turn Jamie Vardy into a…. Bad example.
But back to the Belgian, it is the same mistakes he continues to make. Coming out at corners to flap at crosses or dawdling 40 days and 40 nights with the ball. It is not like Rodgers did not point out his faults to him. Mignolet is just not up for it and Klopp cannot change that.
Klopp cannot change England
The reaction to Klopp leading his players hand in hand to salute the Kop end after managing to scrap a draw against West Brom has divided opinion.
Twitter was not a friendly place for Liverpool supporters post hand holding, as the gesture was ridiculed, even by fellow club fans. Klopp pointed out after the game that he was not quite sure if that was the sort of thing that happened in England, but explained that was something very common in Germany. Just last weekend at his old stomping ground, Dortmund sang Jingle Bells to their supporters.
The argument in general centered around one side seeing the move as embarrassing and pathetic to celebrate a home draw to West Brom, while the other side explained over and over again that the gesture had nothing to do with the result.
Whoever is right, it points to the suggestion that this is the first of perhaps many incidents of a Klopp England culture clash. As we all know, English football is resistant to change. Goal-line technology, foreign imports, billionaires owning clubs, everything now taken for granted in the league was once fiercely objected to.
But in the spirit of the holidays, would it be the worst thing for Klopp to add some cheer to England? I mean how terrible would it be if football players, managers and clubs openly appreciated and celebrated their fans rather than just seeing them as a another £50 bum on a seat?