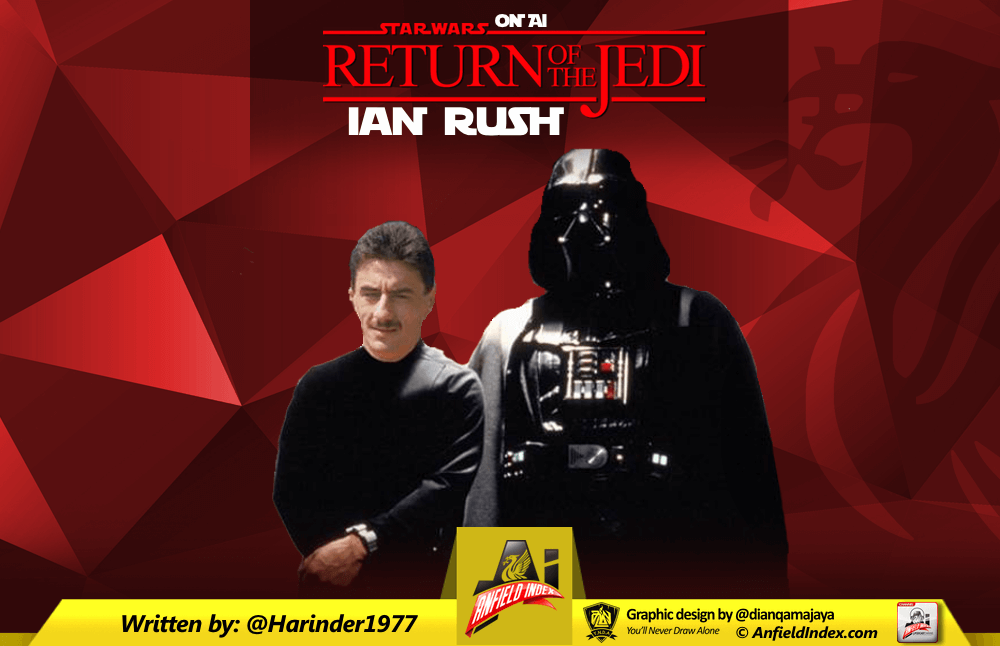 Return of the Jedi: Ian Rush

"A Jedi Knight? Jeez, I'm out of it for a little while, everyone gets delusions of grandeur!"
Deal with it Han Solo, he's definitely a Jedi!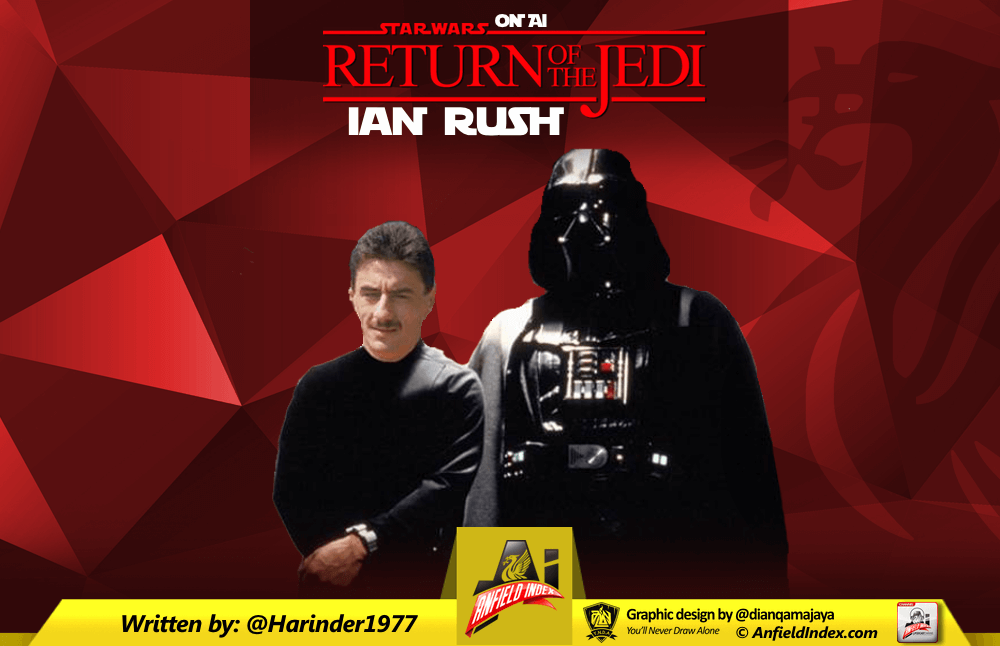 A long time ago, in a galaxy far far away, Everton thought they were striking back. They almost did. They had the 1984/85 season where they amassed 90 points and won the league with a 13 point gap over the course of 42 matches. They won the European Cup Winners' Cup and lost in the FA Cup Final to Manchester United. This is after we were knocked out of FA Cup in the semi by United scoring all 3 goals in a 2-1 second leg. The following season we all know what happened. We won the double. Poor Gary Lineker's one and only season at Everton left him dryer than Walkers Crisps gone bad. They won the league the season after and well, that was that. We also know what happened next then too!
So. Ian Rush, a returning Jedi? Makes sense really… he came, he went, he came back again! Like all things nice, he made sure Good triumphed over Evil again by breaking Evertonian hearts just when they thought they were on to a good thing with Stuart McCall!
"Oh yes, Master Luke. Remember that I am fluent in over six million forms of…"
Every visitor to my house sees three things in the first five minutes of walking through the door. The first is whomever opened the door (usually me or my wife accompanied by a loud but cute 4 year old daughter). The second is either a No 7 shirt signed by Kenny Dalglish made out to me or a large elephant but the third, due to where it is positioned, is a photograph signed by Ian Rush. Just as he drills it, to give it to Everton one more time, in the FA Cup Final. Read on if you want see an emotional gushing support of the greatest striker I've known. History lessons and stats are elsewhere as he's got a cracking autobiography for that which he'd be happy that you would purchase (late Christmas present perhaps). Just think that you've been saved a wikipediaesque post or nine episodes of Star Wars to accompany his number 9 shirt!
It won't enrich this article in any way by saying how his career started and how many goals he scored etc as it's all out there. What isn't is what he means to me. That is for a very obvious reason… I've never written about it before.
Ian. Our number 9. Possibly THE number 9. We could compare so many of his achievements that for others are akin to Han Solo nudging Boba Fett into the mouth of the Sarlacc for a very long digestion. He will forever be recalled when someone says who was Liverpool's greatest Jedi, sorry, striker? Who's our best ever number 9? Rush will always be an answer. Overconfidence will be the weakness of those that disagree but more often than not he did have goalscoring answers and the record books will always show it. The epitome of "Stay on Target".
"Your insight serves you well"
I got into football and supporting Liverpool due to some extremely mad relatives around 1983, the year Return of the Jedi was released. I was 6 years old and tortured by Jabba the Hut aka West Ham fans. They lived in Ilford and on a Sunday afternoon my two uncles said I should support West Ham. I asked, as you do at that age, who are they? Trevor Brooking, Billy Bonds, I didn't have a clue about them. One of them I vaguely recalled being in a video game ad with Morecambe and Wise and the only Billy I knew then was a snotty kid at school.
"Geezah… who'dchyooo like den innit?", said the first uncle
"aihhh?", was the god's honest reply
"issss all about Wesht'aim, Sunny"
"aihhh?"
"main thenu dasdah…" (I can see a lot of people now going "aihhh?". This translates from Punjabi to English as "I'll tell you in an angry way!" )
Well, he did. He grabbed me by the ankles and wrists and placed me on a prickly hedge. It hurt. It really really hurt. My mum wasn't impressed with the actions of her brothers and let them know in no uncertain terms.
"He likes that Ian Musche", she said. I corrected her. She corrected me.
"He gotta muscha real bad like Dharmendra!"
Who the hell is Dharmendra? Well…that's a whole thread in itself but just think of him as the Oliver Reed of the Bollywood industry at the time!
Me and the colour purple have never been the same since then.
"It's against my programming to impersonate a deity"
Cultural references. So many already but oh so important. Liverpool were huge in Southall like Yoda was big in the Dagobah system! Most people were Red as they hated Conservatives (true but not real reason). The phenomenon of a team winning the most, garnishing the most support, will be there a little too. However, every weekend the Big Match meant one team and one team alone. Liverpool. In a town rife with racial tensions and National Front based fighting/arguments/protests etc, having something to look forward to and escape to was a big thing. Liverpool Football Club provided that. At the game today look around you. It's no surprise to see so many Indian faces… Liverpool became part of the family. Ian Rush became everyone's son, big brother or younger cousin.
Rush was like the archetypal poster boy for such a following. Especially kids/teenagers. You're at school. Recess, quick match. First shouts "I'm Rush!". No one wanted to be Sammy Lee or Paul Walsh for some odd reason. We all wanted to be Ian. You can just imagine it now. Rough school playground, jumpers or bags for goalposts and a game started with your mates. No real skills or flair, just kids battering past someone who could tackle. Once freed from the evil metal clasps of the Emperor, you're one on one with the keeper who'd be unwise to lower his defences.
You are by no means guaranteed to score. The keeper thinks his Brucey. Sack that. I'M IAN RUSH! You don't have the brains to think about a little jink, left side, right side, round the keeper. You're 8-10 years old and all you know is approximately 14 other lads are looking at what you do next.
Whatchya gonna do, boy? WHAT? Like that horrible Emperor said "Everything is proceeding as I have foreseen".
You hit it. You pray it's hard. You pray to that Ian Rush God like figure. You've imagined your whole life taking the ball like him, turning, swivelling, shooting, heading from all over the box and hearing the crisp sound of that ball hitting the back of the net. Only it's going to sound like your foot scraping a tarmac ground and a bit of a swoosh if you're lucky. Do you care? No. To you, you're Ian Rush and this ball and that goal is all that stands between ultimate glory or the depths of despair and anguish. If you don't score at you can repent at lunchtime. You've got a while to go yet before I reveal what did happen next!
"Threepio, tell them if they don't do as you wish, you'll become angry and use your magic"
Ian Rush. We all wanted to be him. We all wanted to be prolific. We all wanted to be the hero. Admittedly I was a rubbish striker as a kid and not much has changed. So much so that I played for the school team in goal so really it should have been Brucey as my hero. That famous line of no-one wanting to grow up to play in goal couldn't have been more applicable. I spent days dreaming of latching on to a half chance on the edge of the 18 yard box or ghosting in behind the defence. I wanted Nike boots. I wanted to be my hero saying "Bo… he don't know Didley" in Nike football boots television ads. I wanted to be told that one day I could play for Accrington Stanley if I drank all my milk. World at his feet? Pfft. The Universe.
What I didn't want him to do is sod off to Italy. Now I cannot recall any other time this has happened but when it came out that Ian Rush was being sold to Juventus there was pandemonium. Locals outside Anfield being shown on the One O'Clock News stating their undying love and not wanting him to leave. A certain number 9 some 25 years later didn't get that kind of adulation. Probably made him sulk more. No burning shirts or raging effigies. WE WANTED HIM TO STAY. I was heartbroken. I was reaching double figures in age (not goals) and cried myself to sleep for a few days. My mum back then didn't really have time for such nonsense. He wasn't Dharmendra and so he wasn't important. My Dad wasn't really into football. It got in the way of overtime at work so I had no-one to turn to. My cousins who'd put me on this bright Red path were busy drying their own tears. We were doomed, I thought. No goal scorer that I cared about or even took the time to know about would be the same. I didn't care about what he was going to get in Italy. Maradona came to Italy (via Argentina) playing for Napoli and what good did that do? Souness went to Sampdoria and literally who the hell were they? But Juventus… I knew Juventus. You cannot know Liverpool without knowing Juventus (and that god forsaken Independiente!). I mean, where is General Akbar to warn our young Jedi about traps when you need him the most?
Listen to our special Star Wars Podcasts via the AI Channel below! Download our App which features all LFC & Non-LFC podcasts here!
When Heysel occurred I knew nothing of football fans other than those who watched The Big Match on ITV. Kids and a simple life eh? Who'd have thought… What followed robbed Europe seeing some amazing talents and football was poorer for it. History now tells us how to view Heysel and some dimwits will tell everyone they know the root cause. I know of its effects on a young Mr Singh from Southall at the time. It meant we wouldn't have Big Ears for a while. I didn't think it would mean Ian Rush doing one for a bit of pasta and life in Italy. It's hard for any kid to come to terms with someone leaving and he was leaving my family. I didn't understand it. It confused the hell out of me when he stayed another year at Liverpool after he was leaving! Great leaving present too… a truck load of goals and nothing in the sense of silverware. Everton won the First Division title and Howard Kendall laughed like the evil Emperor. No idea who'd their Vader would be but I could imagine Peter Reid going large with deep breathing actions!
"I wonder if your feelings are clear on this one, Lord Vader?"
But one day. Yes. One day. He came back. He hadn't been gone that long and he was back. Back to be my hero and I should have been sparkling like tinsel on the Christmas tree along with the fairy lights. Only it wasn't the same. He'd moved on, I'd moved on… we'd learned to live without each other. No spears here like that little Ewok who sold out for food to Princess Leia. More the kind of Ewok feelings that didn't want to release Han Solo when he was meant to be part of the banquet! His void had been filled somewhat by number 10 aka Mr John Barnes as well as a couple of others. What could he possibly give me now that I was aching for?
He knocked on and literally smashed Harinder's redemption door down in the 1989 FA Cup Final with them goals. Ohhh they were sublime. Stuart McCall can do one in my books. He remains to this day an abomination in my life simply because he made Ian work harder for my affection on that day. Who asked you to pop along and equalise therefore needing Ian to score one more than Everton can and land himself back in my good books? Twice as well! Hell hath no fury like a Harinder scorned. My fellow Ewok friends would have thrown stones on McCall whilst the Rebel Alliance went off to street parades and enjoying fireworks to the backdrop of panpipes, flutes and R2D2 loud beeping noises!
So I'm in love again with my hero. He's back. He's just as deadly and not afraid to show it. Although personally I knew my striking days were well and truly over. I was still a schoolboy goalkeeper receiving a medal or two from a drunk Paul Merson. Season after season Ian Rush produces. Strong is he, with the Force!
In 1993 I left football and the UK for a while. This was almost like being in exile from life itself but it was a needed time in my life to reboot things and return myself to who I am and not who I thought I was. So fast forward to 1995 and a return to watching football. Jan 1995 in fact and with 18 months out it was hard to reconnect at first. I came back to a new manager in Roy Evans. A new striker called Robbie Fowler and some strange bits that I was blessed to miss such as Julian Dicks. In amongst the storm of changes inside me as well as the world, we still had Ian Rush and he was our captain. As I let go of my demons it was such a relief that my hero was still around.
 "No. You're coming with me. I'll not leave you here. I've got to save you."
I can hear you all asking did I score? Was it a Rushy styled piece of brilliance or a moment more forgettable than walking the dog with your Fanta yo-yo's? There was no whoosh. There was no scuff. But…
…there was a goal! The ball trickled through the keeper's legs and I turned and did this. For that split second I was him and he was me… he just didn't know it.