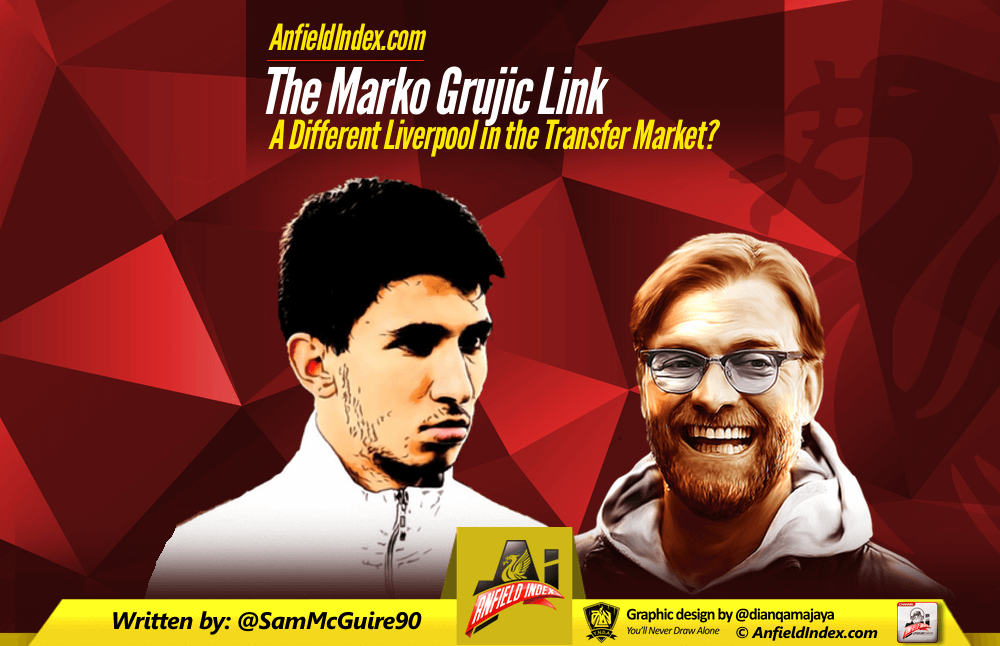 The Marko Grujic Link - A Different Liverpool in the Transfer Market?
The Liverpool front of house has had a drastic change since the appointment of Jurgen Klopp but is the most effective change the one behind the scenes ?
On the pitch we have our eccentric German doing his upmost to rid Anfield of the toxic atmosphere that has plagued the club for the past 18 months. It will take time, of course it will, but there are signs already that the ex Dortmund manager is having a positive impact.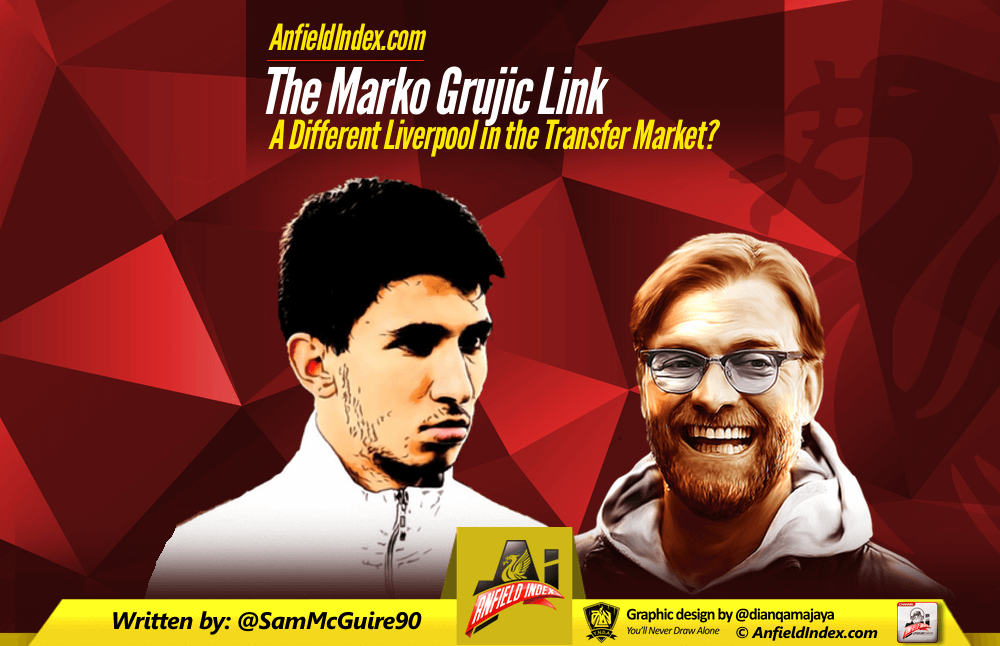 Klopp is like a shiny new play-thing for the British media and since he was unveiled as Liverpool manager we've been hearing less and less about the much maligned transfer committee. Articles dedicated solely to vilifying the members of this group have vanished and every single player linked to the club isn't being rounded up and branded as a manager signing or a TC signing. In his first press conference Klopp alluded to the fact he had final say on transfers so that automatically relieved some of the pressure on our committee. They no longer worked alongside a manager who was eager to absolve himself of any responsibility for failures of players he didn't sign.
The transfer committee, a group every single football club has, has been able to go about their business without the media putting them under a microscope. It's a given plenty of players will be linked with moves to Liverpool in the coming weeks as we're less than two weeks away from the January transfer window opening but it's interesting the links to Premier League players seem to have stopped and we're starting to see links to more unknown players.
In the past fortnight alone the club have been linked with Marko Grujic of Red Star Belgrade and Magomed Ozdoyev of Rubin Kazan (I refuse to acknowledge their change of name). Both players aren't mainstream players and you'd be hard pressed to find Liverpool fans who could go into detail about them unless they spend their spare time watching Serbian and Russian football of course.
These links are positive for the club moving forward.
For starters, these sorts of obscure links mean the Liverpool fanbase can't really be divided about the player because they've seen nothing other than YouTube videos. If a link turns into a deal and the player does end up signing then they're arriving with a clean slate as opposed to the signings of Christian Benteke, Adam Lallana and Dejan Lovren. Rightly or wrongly, minds were made up before they'd even kicked a ball.
It also implies the TC are trying to unearth these talents before they become £30 million players. We're cutting the middle man out, the likes of Porto and Atletico Madrid and going straight to the source. The plan FSG had all along. Snaffle players before they make *that* move. That move is of course referring to a Markovic to Benfica type move.
If we take Marko Grujic as an example the fee is apparently £4.8 million. Championship clubs spend more than that on players, it's basically a risk free signing. If he doesn't live up to expectations then he can be sold and Liverpool breakeven.
It's also encouraging to know Liverpool are scouting the Balkan nations. Serbia, Bosnia and Croatia all have talented players who aren't quite there yet but give them a few years and they'll be playing for the likes of Real Madrid and Barcelona. Klopp's assistant Buvac will be instrumental in any deals we do tie up with players from this part of the world. He's said to have been key in negotiations to bring Grujic to Liverpool.
Serbia are due a Belgian type resurgence in the near future. They have too much talent to not qualify for World Cup finals.
The current Serbian squad has a mix of experienced players and bright young talents. Branislav Ivanovic is joined by Zoran Tosic, Adem Llajic, Dusan Tadic of Southmpton and Nemanja Matic as the experienced players who many will be familiar with. Alongside them Serbia have an abundance of players with massive potential in Lazar Markovic, Aleksander Mitrovic, Filip Kostic of Stuggart, Marko Grujic, ex Manchester City player Matija Nastasic and 'The Serbian Messi' Andraj Zivkovic, all of whom are 22 or under.
Croatia are known for producing technically talented midfielders and Ante Coric looks set to follow in the footsteps of Allen Halilovic and Luka Modric in becoming the next big thing. The attacking midfielder is currently on the books of Dinamo Zagreb.
Another player on the books of Dinamo is Amer Gojak. Similarly to Coric he is primarily an attacking midfielder but he seems just as comfortable playing a little more withdrawn. The 18 year old looks set to earn a call up to the Bosnian national side in the near future and a lot is expected from him.
These are the types of players we may see linked with Liverpool moving forward and instead of being underwhelmed at the fact they're not household names we should be excited for what the Transfer Committee and Klopp are unearthing. Look at Klopp's BVB side, it wasn't made up of big money buys, instead it was these types of players they Klopp helped mould into world class stars. Grujic could be the beginning.