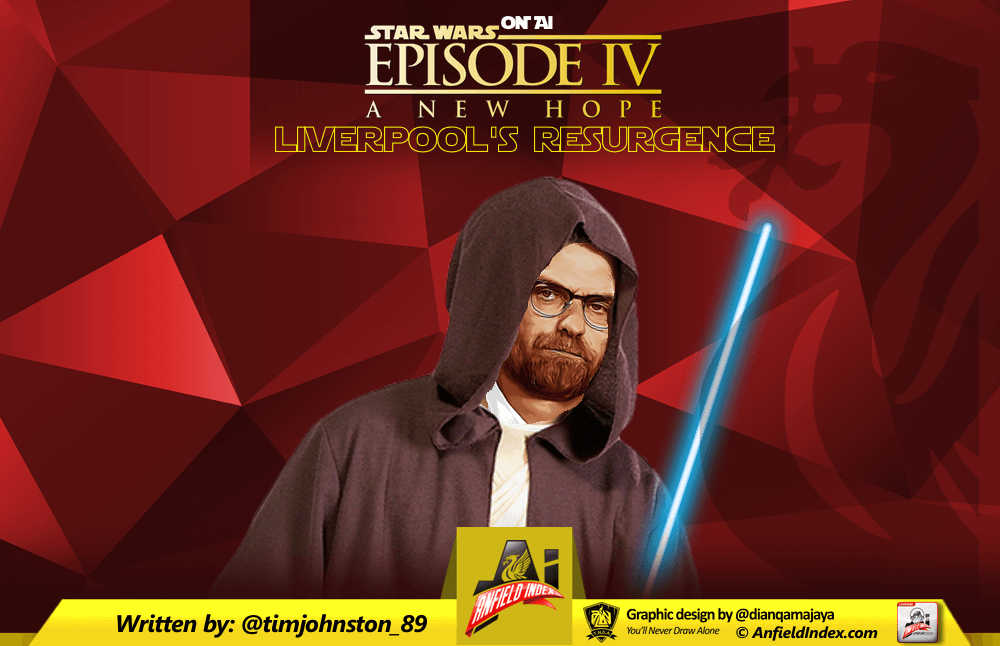 A New Hope: Liverpool's Resurgence
"This time we'll be destroyed for sure. This is madness." – C3PO.
A long time ago, in the annals of English football, there was a club… But this was no ordinary club.
18 League Titles, 5 European Cups and dozens of alternative trophies had launched Liverpool into the status of Global Superpower.
Having fought against common enemies and emerged victorious, a new threat emerged.

Internal divisions and bitterness over its nostalgic past had removed the club's collective identity. Repeated mid-table finishes, high-profile exits and changes in ownership had been the reaction to and causes of the new, rocky universe of European Football.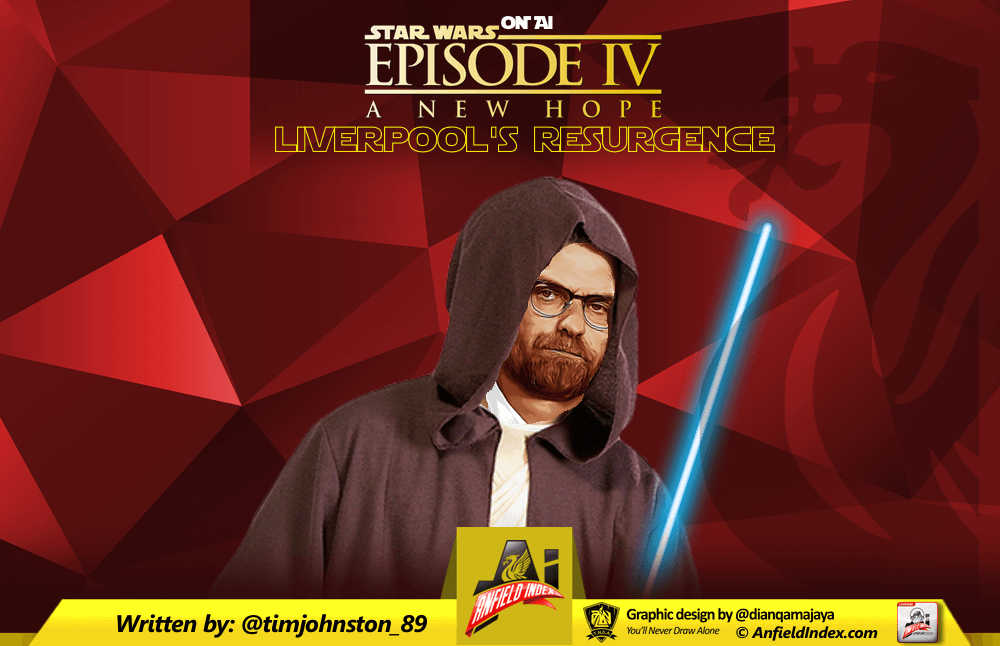 Markets had been flooded with cash, TV deals destabilised and disconnected traditional links and values – histories and communities became inward-looking and soon the meaning of Liverpool had been forgotten.
Other forces had emerged – better equipped and resilient – with a cooperative framework for their Premier League power-grabs.
The future looked bleak… But a new hope had arrived. And it is with this context that the fight-back began.
"These are not the droids you're looking for." – Obi Wan Kenobi.
After the disappearance of Rafael Benitez, Liverpool needed new leadership.
This new leader was bright. He was talented; with good ideas and philosophies. But he fell short.
He often boasted that "the star of the team would always be the team." But as fate would have it this would only truly occur in his absence. A poor judge of character and ability, he condemned others to failure. Glen Johnson was "world-class", Dejan Lovren would "prove to be a bargain" and, of course, Joe Allen was "the Welsh Xavi."
In recent history Liverpool often sold its best players and keep its worst. Very few managed to justify their arrival at the club; with signings like Andy Carroll, Stewart Downing, Adam Lallana – even Christian Benteke – struggling to fulfil the hype built-up by the Club's hierarchy.
But arguably the most damning assessment of the club's status in world football was its inability to keep its strongest and most talented players.
The departures of Luis Suarez and Raheem Sterling, Torres, Mascherano, Reina, Alonso – the forced retirement of Steven Gerrard – all testament to the club's inability to keep or recognise the value of the world-class talent it truly possessed.
Listen to our special Star Wars Podcasts via the AI Channel below! Download our App which features all LFC & Non-LFC podcasts here!
Its fans developed a complex: "I hope 'X' player doesn't get too good because we'll lose him to Real Madrid or Barcelona." Always fearful of losing their best players because the lure of a "bigger" club may have proven too much to resist, Liverpool fans capitulated to uncertainty and speculation.
Time and again they used Jedi mind-tricks to convince the players, club and rivals to conspire against star players leaving: "No – you don't want Philippe Coutinho. You want James Milner."
Liverpool Football Club had been – for decades – the "biggest club in the world." But the fact that there were now concerns that it wasn't showed the bipolar and at times schizophrenic nature of its fan-base. It had expectations – but no real justification for them.
"Help me, Obi Wan Kenobi. You're my only hope." – Princess Leia.
After crossing-over to the Dark side, Brendan left two options. One, a leader of experience to take-over the club. This candidate, simply known as "the Silver One," almost took it. But fears of previous success with alien resources was enough to dismiss the appointment as serious. Their destiny was with another…
Deep in the Black Forest, a figure. Charisma. Charm. Intelligence… The Force was strong with him.
Only 800 miles from Liverpool, he arrived to an unbelieving and difficult atmosphere.
The club's greatness was clear… But the belief was gone. Some feared it had been lost forever… but this was not the case.
He had been warned. He was told that only a few followed his belief. But he knew better… and the seeds of hope were scattered.
His predecessor had tilled the soil… and Jurgen was here to reap.
Transforming Liverpool to its former glory was never going to be easy. Klopp knew he had to turn the hopeless into the hopeful. To turn "doubters into believers." And after just eight weeks of battle, Liverpool were a force to be reckoned with once more.
Saviours are not accepted by everyone… but they are accepted by enough to succeed… and that's what counts.
And so as Liverpool go forth. They go forth not just with any meaning; but with new meaning. Not just with any history; but with a new history.
The journey is long… but the legend lives-on.
A New history. A New Meaning. A New Hope.