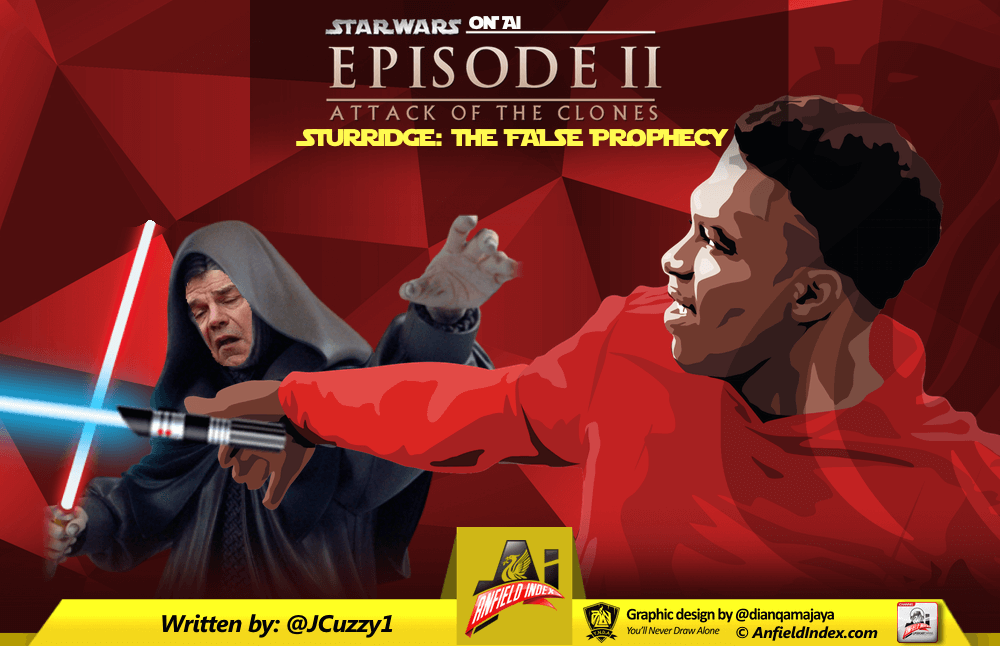 Attack of the Clones - Sturridge: The False Prophecy

"Who did this to you!? Who was it Owen?" Obi-Wan was desperate to know who was responsible for this heinous crime. His old friend, Owen Coyle, never hurt anyone, who on earth would want to kill him?
"I-I don't know. I only saw a pink light" replied Coyle, barely able to get the words out. He was coughing, his mouth was full of blood.
"Pink light? Was it a Sith Lord!?"
"I d-don't know… I was attacked from behind."
"Ok, rest Owen. No more talking. I'll get help."
"No, no, it-its t-too…. too late for me. But there's one thing you must do"
Owen Coyle, wide eyed, grabbed Obi-Wan by the collar of his robe and pulled him closer. He was barely able to whisper…
"You must train the boy Sturridge, mentor him, make sure Liverpool FC sign him."
"Sturridge? But his attitude is poor."
"Nonsense. He was wonderful for me on loan. The best I've ever worked with."
"That is high praise coming from you Owen. I will try."
"The force is strong with him, he is unique, very different from the droid like individuals being produced these days. He will bring balance to the force, make LFC great again, make it fun again. He will help restore the natural order."
Owen Coyle was very weak now. His words were barely making a sound.
"Don't worry Owen, I will convince Mace Brendan to sign him."
"T-t-train the boy, Obi W…"
Owen Coyle had uttered his last breath.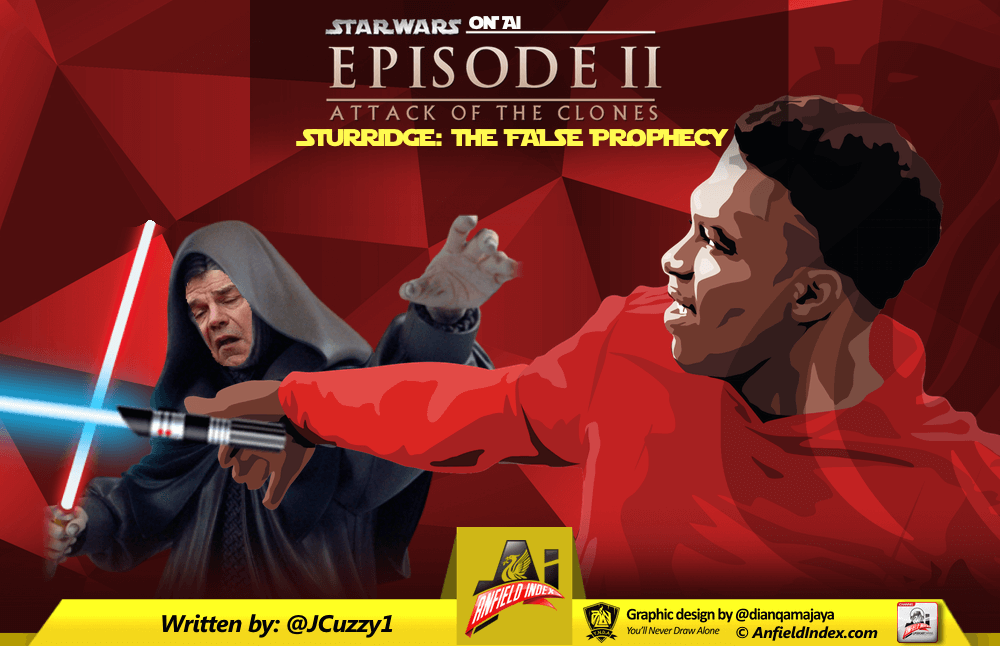 Later at the Liverpool FC Jedi committee council…
"I'm telling you sir, Sturridge has the highest medicolerian count of every striker in the premier league. He's young, English and Chelsea want rid of him."
"Sounds like a no brainer to me Mace Brendan. What's the problem?"
"I sense anger and arrogance in him, Master Henry. It would be too risky."
"Hmm, paths to the dark side those are."
"I will be his mentor, Master, I will make sure he stays on the right path. I made a promise and I must keep it."
"Very well. We will get Jar-Jar Ayre to call Chelsea and make the offer."
"Obi-Wan, you will go and investigate Owen Coyle's murder. I sense the dark side is involved so be careful. May the force be with you."
Obi-Wan's investigation led him to the West Bromwich Albion academy, where he discovered Tony Pulis and his staff producing clones. The clones were all 6'4" and looked like Rory Delap.
"What kind of operation have you got going here Tony?"
"The future, Obi-Wan! These clones can execute throw-ins, dead balls and headers perfectly. And more importantly. We don't have to pay them any wages!"
"Hmm… It's not exactly the beautiful game is it?"
"Hahaha you Liverpool FC Jedi are so romantic. I heard you signed Daniel Sturridge? Hahahahahaha!!! You know, Owen Coyle, rest his soul, thought as you do. What happened to him was tragedy."
"Do you have any idea who would want to kill Owen? Did he have any enemies at all?"
"I have no idea."
"Are you sure? You long ball merchants never liked Owen, especially when he criticised your brand of football."
"I'm not sure I like where you are going with this Obi-Wan. This conversation is over, I have work to do."
Obi-Wan felt a sudden energy shift in the force. It was the dark side. He sensed it all around him. The Liverpool FC Jedi knight remained calm and headed back to his vehicle.
As he approached the car he saw a pink lightsaber in its reflection. He quickly ducked and dived to his left, got to his feet while withdrawing his lightsaber and launched himself into attack. The Sith Lord swung his lightsaber widely, with devastating intentions but he was no match for Obi-Wan. In a short time the battle was over. Obi-Wan had disarmed the Sith Lord.
"Reveal yourself, coward!" The Sith slowly removed his hood and mask. It was Sam Allardyce.
"Well. Well, I should have known. You are going to pay for killing Owen Coyle. There will be justice.
Two shots from a blaster whistled and past Obi-Wan's ear. The shots came from one of the West Brom academy staff.
"Jedi scum!!" shouted the youth team coach as he jumped into his car and drove off, tyres screeching. Fat Sam had also fled.
"I better warn the committee" Obi-Wan said to himself. He called Master Henry and told him everything.
Weeks went by and the LFC Jedi Committee still had not found Sam Allardyce or the West Brom youth coach. They had seemingly vanished. Pulis denied any knowledge of anything untoward and West Brom insisted the youth coach had gone rogue. They were still producing the Rory Delap clones however.
The Albion results improved dramatically once the clones were being selected to play. With only a month to go in the season they were 6 points clear at the top of the league. Liverpool were in 2nd place with two games in hand.
"If West Brom win this title it will encourage other clubs to produce Delap clones. The beautiful game will be gone forever. If only we signed Sturridge at the beginning of the season. Mace Brendan, this is your fault."
"Now, now Obi-Wan. Let us look forward, not back. What can we do to ensure victory?"
"Why don't we clone Daniel?" A sheepish Mace Brendan asked. "But make sure this one is in perfect physical condition. Immune to injury and illness."
"Great idea!" Shouted Master Gordon. "Sturridge has scored 19 goals in 12 games. Imagine what 2 strikers with his class could do?"
"Ok, it's settled." Said Master Henry "Get Jar Jar Ayre to arrange it."
The last game of the season had arrived. West Brom v Liverpool. The Jedi Reds had won their games in hand and were level on points with West Brom. Daniel Sturridge now had 31 goals in 18 games. The clone, Michael Sturridge scored an incredible 13 goals in 4 games. Despite this they were 4 goals behind West Brom in goal difference so needed to win by 5 clear goals to win the Inter Galactic Title.
Listen to our special Star Wars Podcasts via the AI Channel below! Download our App which features all LFC & Non-LFC podcasts here!
Later in the dressing room… 
"What's wrong Daniel, you look upset."
"I could have sworn I saw Sam Allardyce in the crowd during the warm up. I'm going to kill the fucker."
"You let me worry about Sam. You get your mind focused on the game. Understood?"
"But he killed Owen, he must be destroyed!"
"That's no way for a Jedi to speak Daniel"
"Sorry Master."
"Get your mind on the game Daniel. Win this for us, it's important. Think of what Owen would have wanted."
"Yes Master."
The game finished 7-0 to Liverpool. They played some delicious football. The Delap clones just couldn't cope with the skill, swagger and flair of the Jedi reds. Daniel Sturridge scored all 7 goals and Michael Sturridge provided all of the assists. They had won the league and in doing so made a statement. Long ball footie does not win championships.
All the Liverpool players and staff celebrated on the pitch but there was no sign of Daniel. This was odd as Daniel loved to celebrate a victory. Obi-Wan went to investigate.
"You fucking bastards, you'll pay for murdering Owen Coyle. I will destroy you."
Obi-Wan could hear Daniel's voice and what sounded like violent lightsaber noises followed by screams. It was coming from the depths of the West Brom training rooms. He ran in there as fast as he could but it was too late.
There were five West Brom staff members slain and dismembered all over the dressing room floor. Sturridge stood there motionless, in his Liverpool FC kit, green lightsabre in hand and eyes glowing blood red.
"Obi-Wan!" He shouted. "They said it was them who killed Owen. I had to take revenge!"
"No Daniel, what have you done!!?"
At home on his sofa, sipping his 17th glass of whiskey for the evening, a delighted Alex Ferguson was watching on his CCTV monitor. "Hahahahaha… everything is going as I have foreseen."
THE SAGA CONTINUES…..