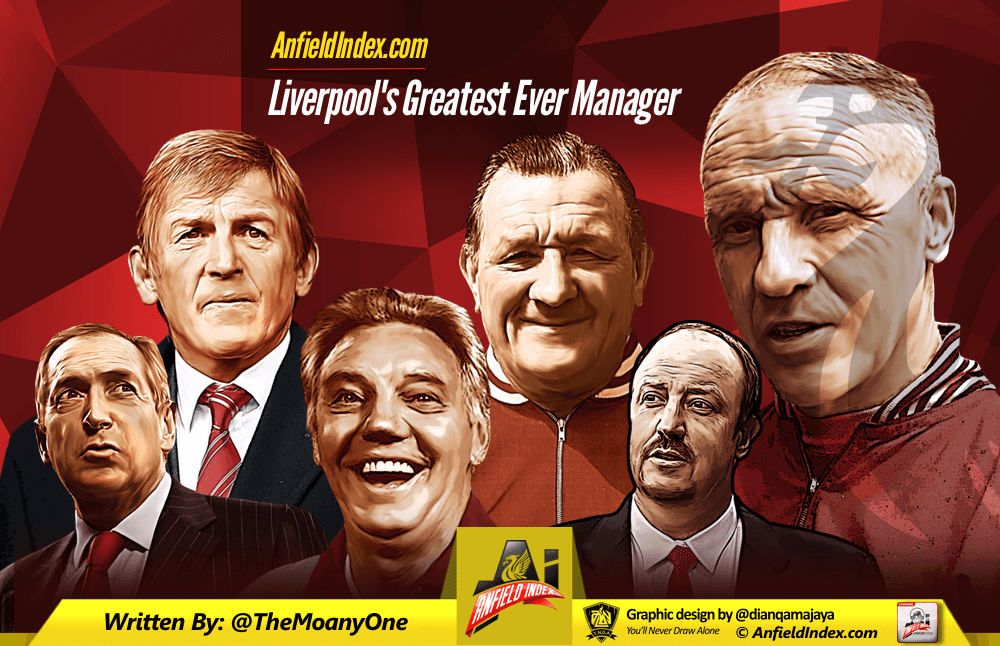 Liverpool's Greatest Ever Manager
Quick question Reds, Who is Liverpool's greatest ever manager? I bet your answer depends on what age you are. If you're in your twentys or thirties you might say Gérard Houiller or Rafa Benitez or even Jürgen Klopp. If you're in you're forties or older you have a golden generation of managers to choose from. There's Joe Fagan,  Kenny Dalglish, Bob Paisley or the manager who's adored by more Liverpool fans than any other manager Bill Shankly.  For me personally it's a toss up between three and that's Fagan, Houllier and of course Shanks. If you pit together all they've won while managing Liverpool you could fill the Everton and Spurs trophy room twice.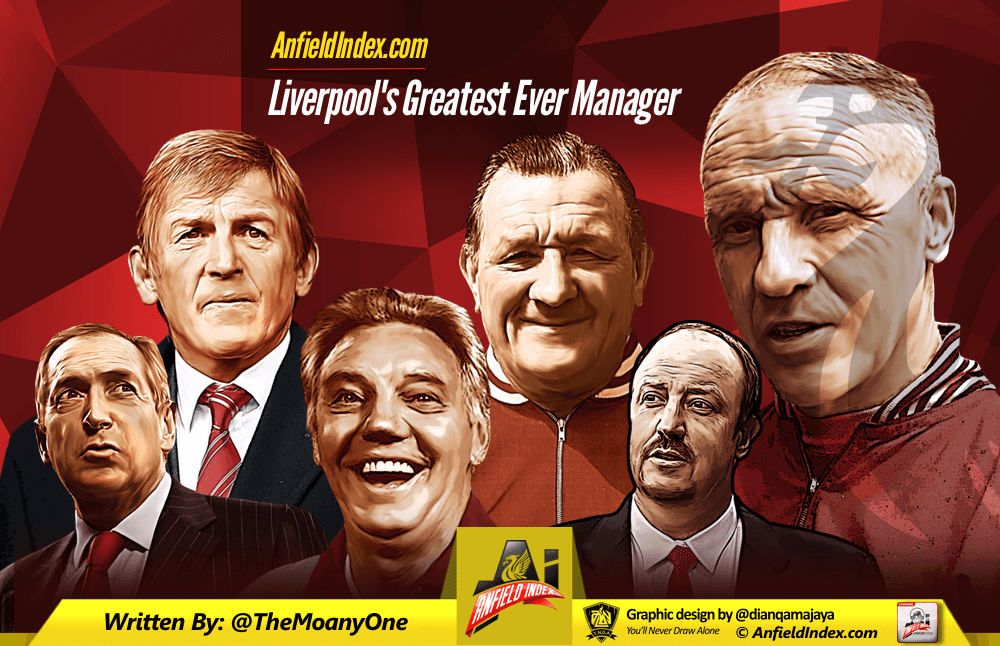 I know for some the addition of Gérard Houllier as one of my favourite managers over Rafa Benitez and Kenny Daglish will raise a few eyebrows but for me it was Houiller who set Liverpool on the Road to winning the Champions League in 2005 and the FA Cup in 2006. Now I can definitely hear the collective groan of Liverpool fans up and down the country as they call me all sorts of names, but listen to my reasoning. When Houiller came to Liverpool he had to contend with the 'Spice Boys' tag some Liverpool players had. Who can ever forget those white suits. I still get shivers up my spine thinking about them.

Then there's the fact, that without Gérard Houllier at Liverpool there would be no Steven Gerrard captain fantastic at Liverpool, no Jamie Carragher the rock of the Liverpool defence for over ten years and there's the whole it was Houlliers team that won the Champions League in 2005, again with the groans from fans. If you think about it, it's hard to deny. Benitez was only in charge for nine months when he won the Champions League and the majority of the team were all signed by Houllier.
Speaking of Gerrard and Carragher, both players will say that Houllier had a massive influence on both their earlier careers, from telling Jamie Carragher to get married and settle down to making Steven Gerrard captain of the team at such a tender age replacing Sami Hyypia. Oh and he brought Sami Hyypia to Liverpool and we know how much as Liverpool fans we love big Sami Hyypia. It also says a lot about Gerrards relationship with Houiller that he invited him in to celebrate the Istanbul win.
We all know Houllier left the club undervalued and in a cloud of darkness. But as fans we never forgot what he did for the club and when he returned to Anfield as manager of Aston Villa a few seasons ago, the Kop rightly paid their respects to him for his achievements while manager of Liverpool. Who could forget that treble of 2002 and especially the Michael Owen FA Cup final against Arsenal or the UEFA Cup final against Alaves. For me it's as good a final as the Miracle Of Istanbul.
I also suppose I can't mention Bill Shankly in a blog and not say anything about him. But what can I say about him that hasn't already been said about him a million times before. His desire to make Liverpool a 'bastion of invincibility' to his thoughts on Everton and how he would gladly go to war for Scotland and how when he was at fault for a England goal against Scotland he wanted the ground to swallow him up make him the man he was. He was a man of the fans, who would gladly spend hours and hours talking to them about Liverpool and how the team was doing. He was a man of the people, he was one of us a fan first and foremost, a man who would break his back to make Liverpool the team and the club they are today.
And last by no means least there's Joe Fagan, the last of the so called Boot Room managers. He learned his trade from both Bill Shankly and Bob Paisley. Fagan was one of the first British managers to win a treble which included a European title. For those of you who don't know Fagan won the European Cup, League Championship and the League Cup in his FIRST season in charge at Anfield, tell me a manager who has had such a haul in their first season in charge of a team. Sadly for Joe and for Liverpool, his reign as Liverpool manager only lasted for two years. He was so distraught at what happened at Hysel that he resigned as Liverpool manager to be replaced by arguably Liverpool's greatest ever player, Kenny Daglish.
So Reds, come on who in your opinion  is Liverpool's greatest ever manager? I've let ye know my thoughts so let me know yours.