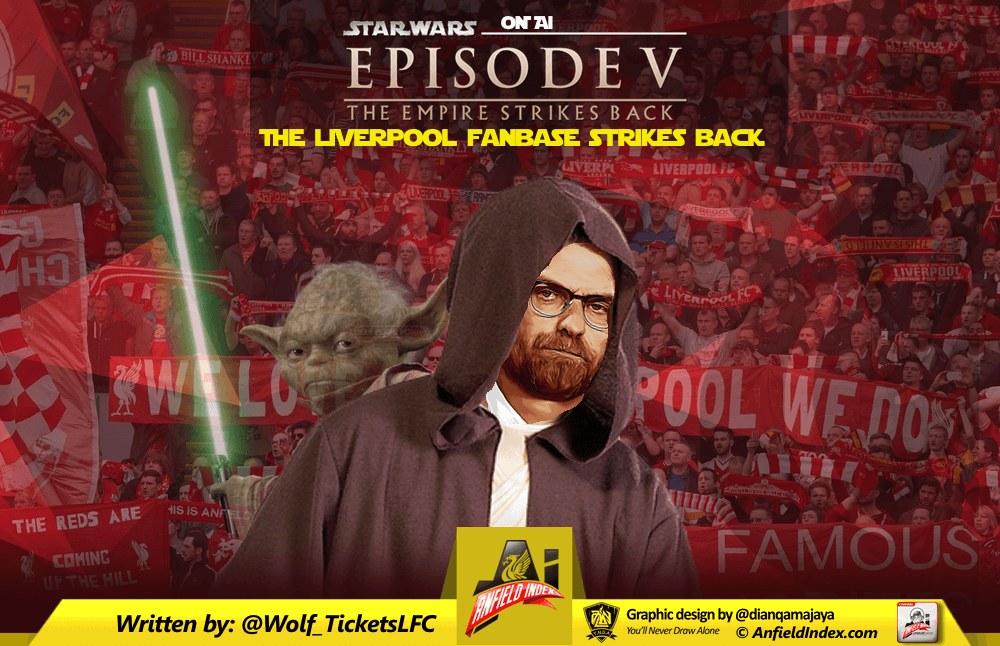 The Liverpool Fanbase Strikes Back
When re-watching The Empire Strikes Back recently in preparation for the AI Movie Night Podcast Star Wars episodes, I was struck by how similar some of the messages in the film are to the messages given to Liverpool players and the fans by Klopp.
Warning: Spoilers for the original Star Wars Trilogy to follow
My favourite scene in the film sees Yoda trying to teach Luke Skywalker how to fully harness and control the force. Despite Luke being extremely strong in terms of the force ("the force is strong in this one") he cannot use it to fully lift the X-Wing and actually gives up fairly easily. Despite Yoda's wise words Luke gives up and accuses Yoda of wanting the "impossible". Yoda responds by using the force to lift and transport the X Wing (accompanied by some of the most beautiful and uplifting music ever by the great John Williams) to where Luke is now standing. Luke is wide eyed and incredulous and says "I don't believe it" to which Yoda knowingly responds saying "that is why you fail".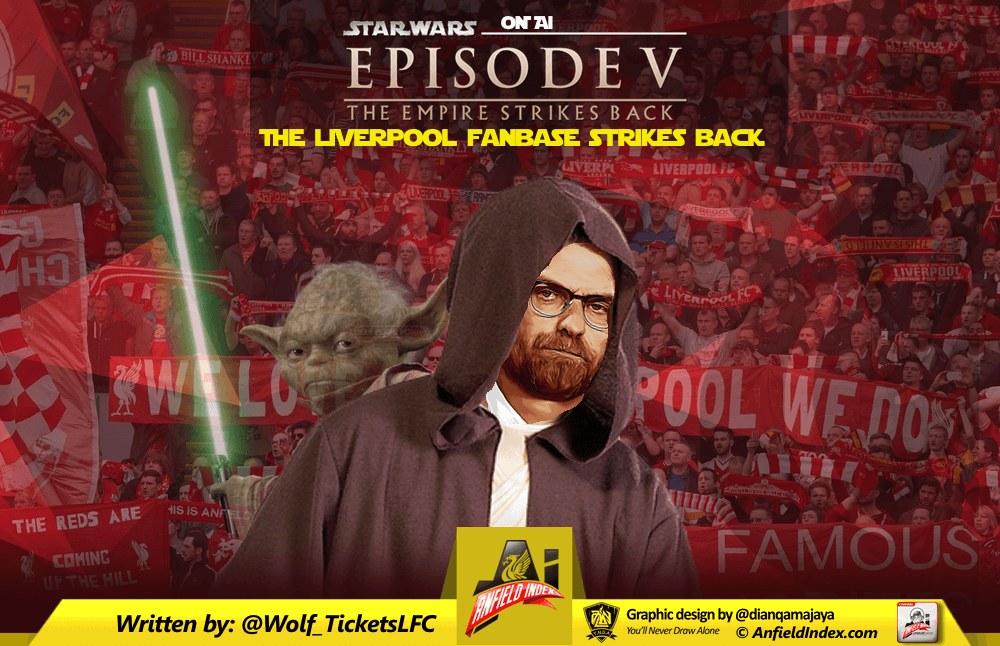 Klopp, our very own wise mentor, is on his own mission to help the Liverpool players and fans turn their doubt to belief to help us harness the full powerful potential of the connection between the players and the fans.
Klopp famously said "we have to change from doubters to believers. Now." To do this we, like Luke Skywalker, in many ways have to unlearn what we have learned. We need to believe in "the force" that can be created by this manager, the players and the fans working together. We need to believe that under this manager things that we had stopped believing to be possible are now achievable.
Sadly due to the last couple of years the fans and the players have understandably had their belief shaken. The damage that has been done is such that at times we have even stopped believing in our potential to do even relatively simple things like come back from a goal down against inferior sides. The danger of this is that the lack of belief can create a self-fulfilling prophecy with, for example, the sight of fans leaving early in droves conveying a clear message of lack of belief to the players and it would be perfectly natural if this chipped away at the players' own belief in their potential to come back.
Listen to our special Star Wars Podcasts via the AI Channel below! Download our App which features all LFC & Non-LFC podcasts here!
Similarly some fans have to unlearn what we have learned in terms of how we believe our manager and the players should behave. Just because we may not be used to something like the group post-match thank you from the players and manager it does not mean we should automatically judge it negatively. We need to keep in mind that whilst Klopp hasn't trained Jedi for "800 hundred years" he is certainly very experienced at creating powerful connections between manager, players and fans and can harness this to achieve success as he proved at Dortmund.
In fairness, the vast majority of Liverpool fans have already shown their belief in the manager in how they got behind him from the start and how they supported his post-match thank you. However, we need to ensure that we continue to guard against the influence of the "dark side" – some bitter fans of rival clubs – who seek to undermine our belief in the manager and his methods. Equally we need to recognise that aside from the "dark side" a more ever present danger and potentially a more damaging threat may come from those with no malice who criticise Klopp's unorthodox (to the Premier League) methods as they do not understand or appreciate them. Some will always see Klopp's unorthodox methods as like a "hokey religion" that they can dismiss, but we need to try to ignore this as all his methods need to succeed is the belief and support of the LFC players and fans themselves. Sorry we don't need to try to ignore it, for in the words of Yoda "Do or do not. There is no try".