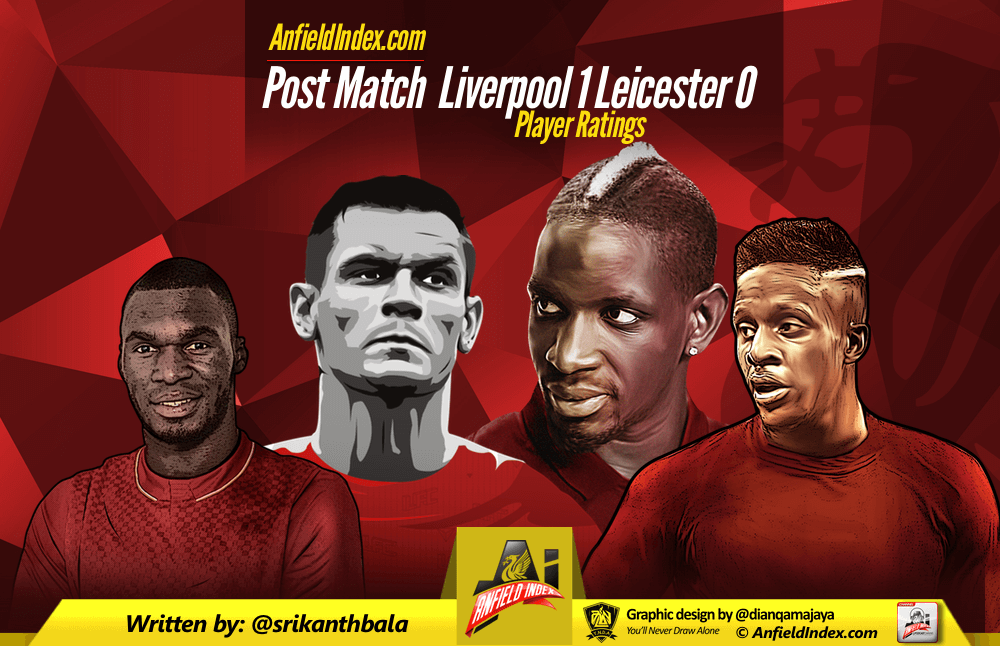 Liverpool FC 1 Leicester City 0 : Player Ratings

A far better performance from Liverpool ensured that they took all three points on a windy day at Anfield, becoming the first team to keep Leicester from scoring and condemning the foxes to only their second defeat this season. Sunderland await the Redmen next as the fixtures come in one after the other.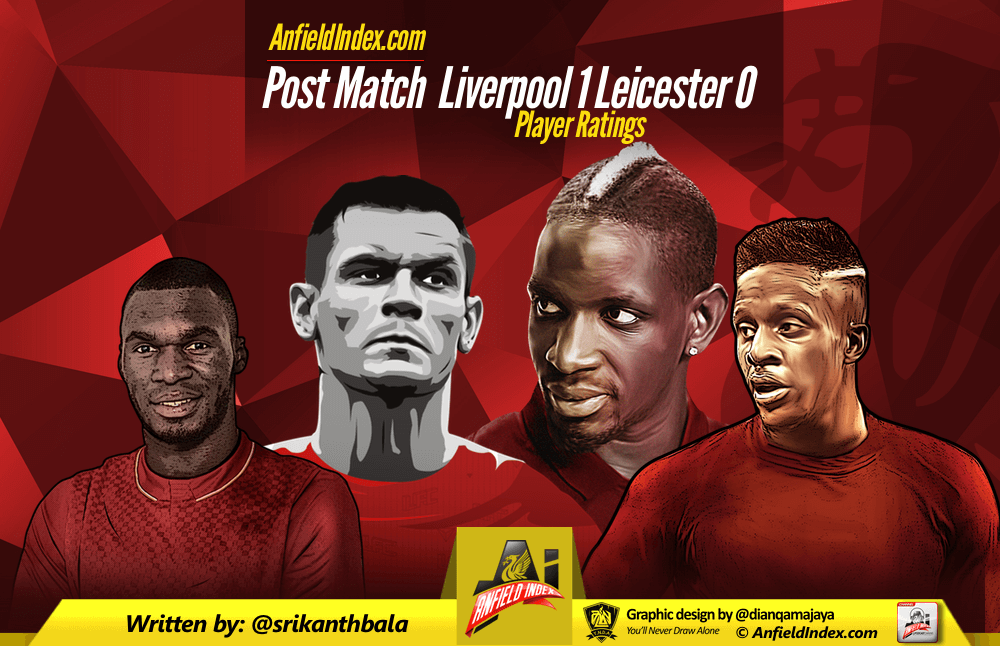 Simon Mignolet (6.5) – After the horrific performance from Bogdan last week, all Liverpool fans would have been thrilled to see Mignolet back. Took a few confident catches and also made a solid reactionary save from Mahrez in the first-half. Showed some nerves in the  second-half, but the catching and kicking was decent on a windy day
Nathaniel Clyne (6) – Clyne did not have much to do defensively in the first half and looked to combine with Lallana on the offensive side. Tried to cut in and come centrally when he could. In the second half Clyne was far more solid defensively as Leicester tried hard for an equalizer.

Dejan Lovren (8) – The Croatioan had a solid first-half and looked the calmer of the two centre-backs. Won almost everything aerially and made simple passes along the ground. Missed a clear chance from Henderson's free-kick though. He started the second-half with a daft header which presented a chance immediately. Overall, a great defensive performance. My Man of the Match.

Mamadou Sakho (6) – Made a couple of iffy touches and passes initially and could have conceded a penalty to Okazaki, but got better as the first-half progressed. Sakho began the second-half in a similar manner to the first with couple of nerve-wracking passes, but again got better as the half wore on. A mixed game for the Frenchman.

Alberto Moreno (7) – With a league high 32 chances created as a defender, Moreno did what was expected of him. Moreno kept bombing forward which kept Mahrez deeper and did not allow him to attack as was expected pre-game. His delivery could have been better though considering his offensive performances.

Jordan Henderson (7.5) – Henderson was a steady influence at the centre of the pitch with his tackling, short and long passing. His over the top pass presented a great chance to Lallana, and Lovren could have done much better with the free kick delivered by Jordan. A tireless performance from the captain in the second-half where he never stopped running. His cross field deliveries continue to be excellent.

Emre Can (7) – Emre Can was the driving force from the midfield, and always tried to advance with the ball from midfield. Made his now common mistake of running into blind alleys couple of times. Leicester pushing hard for the equalizer opened up spaces in midfield which Can exploited with his surging runs in the second-half.

Adam Lallana (6.5) – Put in the hard yards expected out of him, but his decision making was questionable again, and so was his finishing as he missed a great chance presented by Henderson's over the top pass. Also got an unnecessary yellow card and had a great chance in the second-half but his heavy touch let him down.

Roberto Firmino (6) – Was invisible for most parts of the first-half which seems to be a worrying trend. Created the goal out of nowhere with a pleasing pass to Benteke and worked tirelessly but could do better.

Philippe Coutinho (6) – Made a couple of long range finders in the first-half and had couple of shots blocked inside the box. Was not involved much in the second-half, but had a great shot which just skimmed over.

Divock Origi (38′) (7) – Most sparkling player in the first-half, as he looked to run the channels and isolate the defender one on one and use his pace. Unfortunate that he was injured and had to be taken off.

Substitutes
Christian Benteke (38′) (6.5) Not sure how his performance is to be described. He missed a couple of great chances, but scored a very well taken goal by staying deeper as the Foxes defended deep. However, could be far more involved in the game-play. Can see why Origi started this particular game, but Benteke had chances to make amends.

Lucas Leiva, Joe Allen (N/A)