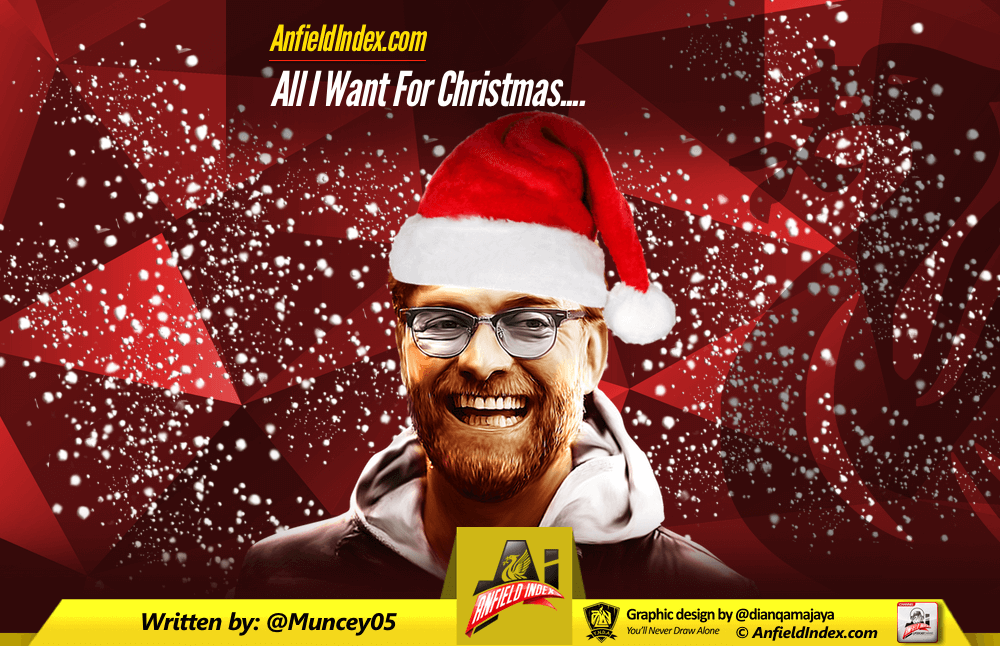 Liverpool: All I Want For Christmas Is...
Had some feedback recently on AI that articles should be more positive, well after last weekend's exploits being positive is going to be very difficult, after what can only be described as a turgid, error ridden team performance by the team, where in my opinion nobody wearing red came out with any credit.
Trying to put a positive slant on matters, I still believe if we can get Daniel Sturridge fit (and this is a big if) and get him playing to the end of the season, with a fully firing Philippe Coutinho and if Roberto Firmino can find his Bundesliga form providing the creativity we can still surge up the league.  However, defensively we are a mess with so many basic errors being made, I read an article stating we have made more defensive errors this season than any other team in the league, 14 and counting and we need to eradicate these errors quickly.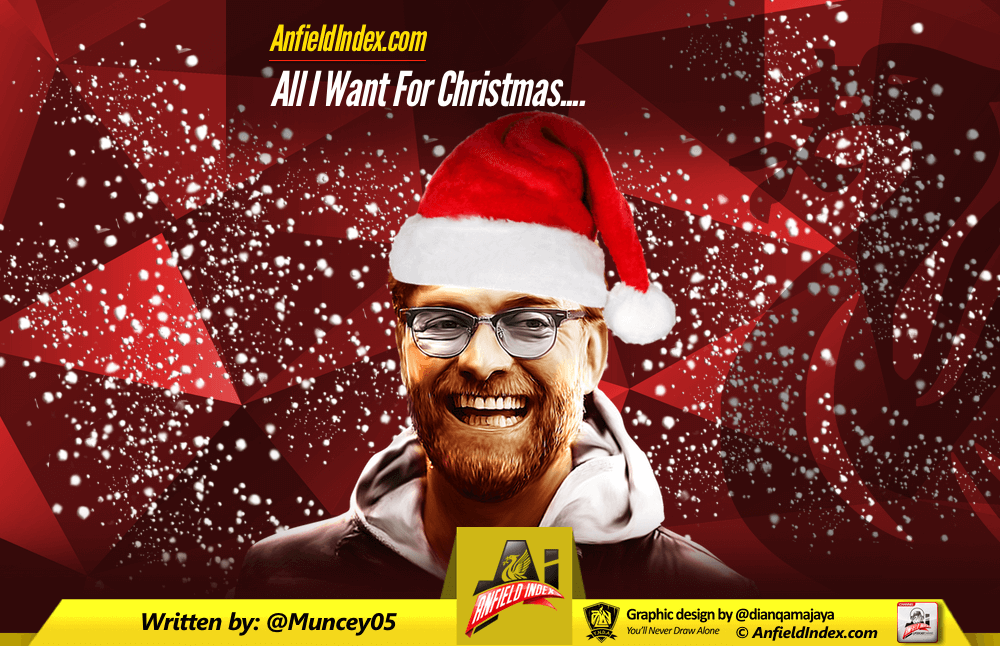 January sales are just around the corner, and is always a period where getting decent value for money can be very difficult.  Jurgen Klopp no doubt is aware from in particular the last 3 league games, reinforcements are needed, in a window of only a month even if there is plenty of money to spend (been reports there are funds available), you cannot expect wholesale changes, you need time to embed players in, but I am hoping and being realistic we may find 2/3 players, in addition to the reported purchase by some sources of young Red Star Belgrade midfielder, Marko Grujic.  And if this is the case, these are the players realistically I believe we should prioritise.
To start for me first priority is a goalkeeper.  A good keeper can be worth 15 points a season, it brings reassurance and confidence to a team.  Right now Simon Mignolet is making a number of key errors and last weekend Adam Bogdan, who I was calling for to be brought in, which I still standby, also made a crucial error resulting in a goal. Liverpool need to upgrade, there has been rumours of players such as Timo Horn, Loris Karius and Bernd Leno, all keepers who play in the Bundesliga.  Preferably I would prefer either a top class experienced keeper from Europe or a keeper who has played in Britain for a number of years.  Jack Butland from Stoke City has been linked, and I rate this keeper highly, and would be from what I have seen an upgrade in the position.  Another keeper I rate, who I am surprised is not linked more with Premier League clubs is Cardiff City's Scottish International David Marshall.  His one year in the Premier League he was outstanding and could be captured for a lot less money than Butland.
A centre back would be second on my list of needs for the rest of the season.  I have to be honest I have no faith in any of our current available central defenders, to play at a consistently high level, and to be able to defend properly. If Joe Gomez was fit, I would argue right now would be him and one other in the centre of our defence, and Gomez is a young kid still plying his trade.  The centre back I would look to bring in would be one who predominantly plays right side as right now only have Martin Skrtel, with Lovren and Sakho left sided defenders. Kolo Toure is on the books, but last weekend Klopp put Lucas back to centre back rather than bring Toure on, which says a lot.
There are a number of good centre backs out there who are better than what we have, however a lot I cannot see at this point wanting to join the club, so I would look to someone who can come in and improve what we have.  Joel Matip has been linked, who looks a decent footballing type centre back , but I would prefer a centre back who is more of an aggressive ball winning type defender and for this I would go in for Neven Subotic from Borussia Dortmund who is out of favour at the German club.  Klopp knows the player well and he knows what he can bring to the team, which is a bit of leadership and does the basics well, both attributes which are seriously lacking within the team at the moment.
My third priority would be a defensive central midfielder.  Liverpool have employed Allen, Lucas, Can and Rossiter in this role, but I think they need an enforcer type to stabilize the fragility defensively.  Players such as Gundogan, Alonso and Neves have been linked, but I don't see any of those being available in January, plus I don't see any of those players as enforcer type players, to break up opposition play.  I would look to players such as William Carvalho and Sven Bender. Both are very good at the defensive side of the game, both are young at 23 and 26 years of age respectively.  Carvalho would cost more than Bender, but I would be happy with either joining the playing ranks at Liverpool.  With either of these in the side this would then release Henderson, Can and Milner to play to their stronger strengths.
In closing, Klopp needs a few transfer windows to build the squad that he wants, not as it is now.  There will be players coming in and players leaving, but for this season there will be highs such as the Manchester City match and lows such as Watford, but I trust in him and want he will bring to the club. Us fans just need to be patient and believe.
@Muncey05