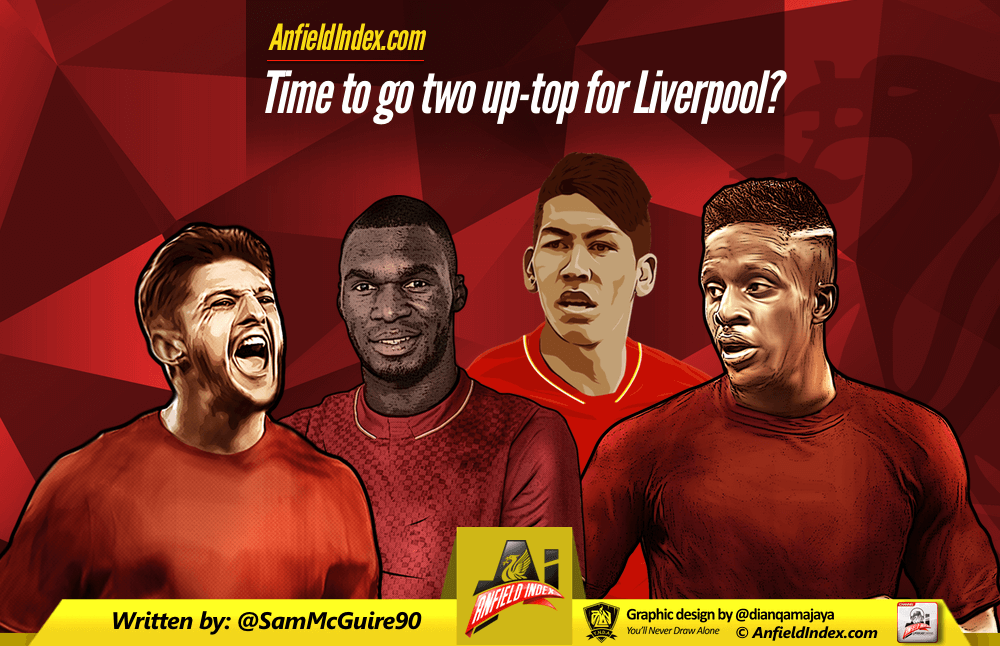 Time to go two up-top for Liverpool?
The blueprint for Brendan Rodgers' successful Liverpool side in 2013/14 is being used by a few teams that are surprising the Premier League this season. Two mobile strikers who combine pace and power.
It's not a revelation of course, the two man strike force is something we're accustomed to seeing in the Premier League. However we were used to seeing a different dynamic. It used to be a little and large partnership. One big striker and one smaller striker.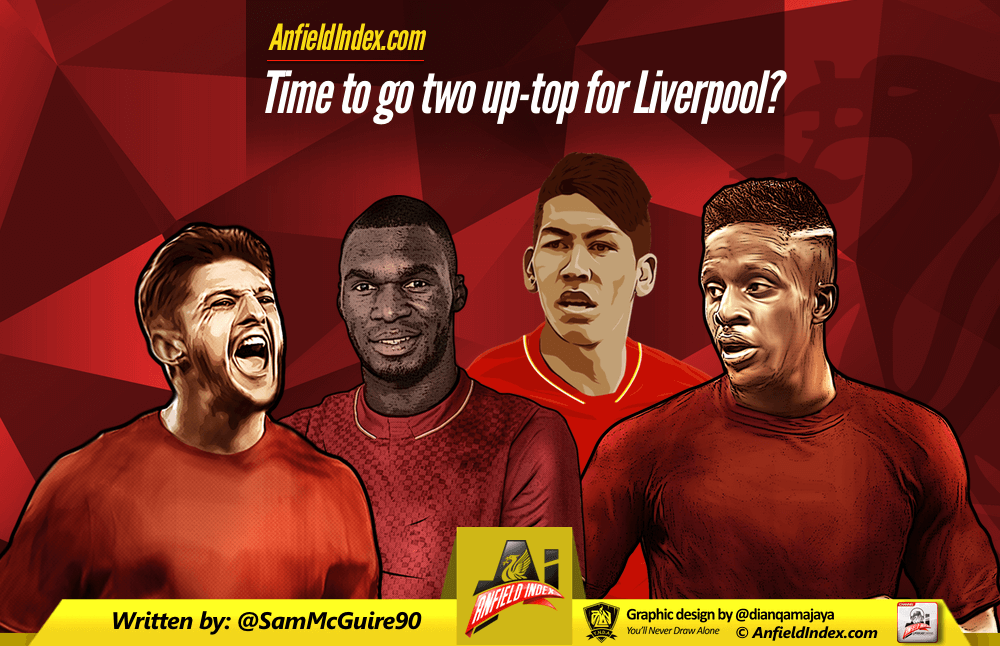 When Brendan Rodgers used Daniel Sturridge and Luis Suarez it highlighted just how poor defensively teams are in the Premier League. They can't cope with quick players. They struggle with movement. Combine the two and it's embarrassing for central defenders.
Both Watford and Leicester are upsetting the odds this season and both sides are using a strike partnership made up of pure pace and power. It's paying dividends.
Watford currently have 28 points, a single point off 4th spot and we're 17 games into the season. Leicester City are going into Christmas as Premier League leaders having amassed an impressive 38 points already and losing only once so far.
Current leaders Leicester use Jamie Vardy and Shinji Okazaki as their strike partnership with Leonardo Ulloa replacing the latter in certain games. The idea in fielding both Vardy and Okazaki is pretty obvious. Both strikers have pace, both have the work rate off of the ball and both are sorts to not give defenders a minutes rest. When Vardy and Ulloa are selected the dynamic changes. Ulloa occupies the defenders and Vardy exploits the space the big striker creates.
The three Leicester strikers mentioned have 19 goals between them this season and 6 assists. Not only this though, they also have Riyad Mahrez in the form of his life. The Leicester midfielder has 13 goals and 7 assists in 15 starts. He's their Raheem Sterling, the third muskateer running riot in the space created by the two strikers.
Liverpool conquerors Watford deploy Troy Deeney and Odion Ighalo as their strikers. These two built up quite the formidable partnership in the Championship last season amassing 41 goals between them and this has continued on in the Premier League with the two of them scoring 17 of the 21 goals The Hornets have scored.  The pair have 6 assists between them.
This partnership maximises what both have to offer with Deeney often dropping deeper to use his presence there to create space for the quicker Ighalo to make use of and that's just what the Nigerian forward does.
Everton aren't having the best of seasons but they are currently the third highest goal scorers in the league with 31 goals, only one behind Man City. This healthy goals scored column is down to Roberto Martinez using both Arouna Kone and Romelu Lukaku. They may not start in a stereotypical 442 but Kone drifts infield from a wide position to play off of Lukaku and its chaos for defenders, they can't seem to cope. The two strikers currently have 18 league goals between them and it's possibly the only thing keeping Everton from being involved in a relegation battle this season as their defence is nothing to write home about.
Liverpool showed it in 2013/14 and Leicester (on course to concede 53 goals) are showing it this season, you don't have to be the best defensively to win games in this league, and if the Liverpool of 2015/16 want a strong finish to the season maybe it's time we played with two strikers?
Liverpool have the players to play two strikers. It was an utter annihilation when Liverpool fielded Divock Origi and Daniel Sturridge against Southampton. However it was tragic to watch Christian Benteke alongside Divock Origi in the defeat to Newcastle. I'm not saying we just throw two forwards together. Their styles need to complement one another.
We should be able to make a functional two from Christian Benteke, Roberto Firmino, Divock Origi and even Adam Lallana to some extent. I've never seen Benteke flourish in a traditional two but maybe alongside Firmino or Lallana it could work. A forward player to do the leg work that Benteke looks uncomfortable doing. Benteke having a partner making those runs in behind that he doesn't would benefit the 32.5 million striker and the team as a whole.
Perhaps Liverpool could use Origi and Firmino or Lallana. We saw how effective Origi could be beside a striker with similar movement to his in Sturridge and  I think Firmino is the closest player we currently have fit that could potentially mimic that sort of style.
Something needs to change though, as things stand Liverpool are on target to score less than 50 league  goals and concede around 50  given what they're averaging per game now. That places us in the 7th-10th bracket.
I know playing two strikers probably isn't a long term solution to what's going on at Liverpool but could it be the perfect short term fix?
The goal shy team have currently scored less goals than Norwich, Chelsea, Bournemouth, Southampton and only have a goal more than Newcastle.
This season is like a long pre season for Klopp but it doesn't mean we can't qualify for Europe. Liverpool FC needs European football.