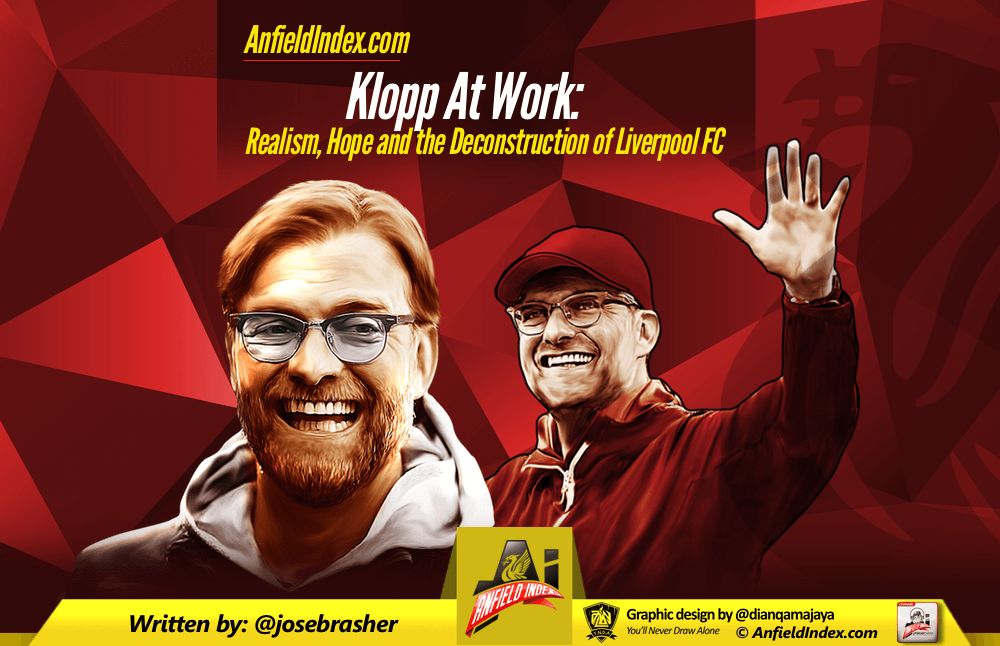 Klopp at Work: Realism, Hope and the Deconstruction of LFC

The great American poet, Eminem, once said in his sweeping, modernist, self-biopic poem song, "Lose Yourself":
"Snap back to reality, oh, there goes gravity,"
And for many Liverpool fans, that's where we find ourselves this week. After floating in the ethereal clouds of what-could-be, following epic wins versus Chelsea, Man City and Southampton, we're now plummeting back to earth after draws with FC Sion and WBA and defeats to Newcastle and Watford. No longer able to make the excuse that it was just a "one-off" performance, we now have to take a sober look at ourselves and our team and try to assess where we are and where we are going. As fans, what should our posture and attitude be going into a new year with our beloved club and newly-beloved, hug-happy manager?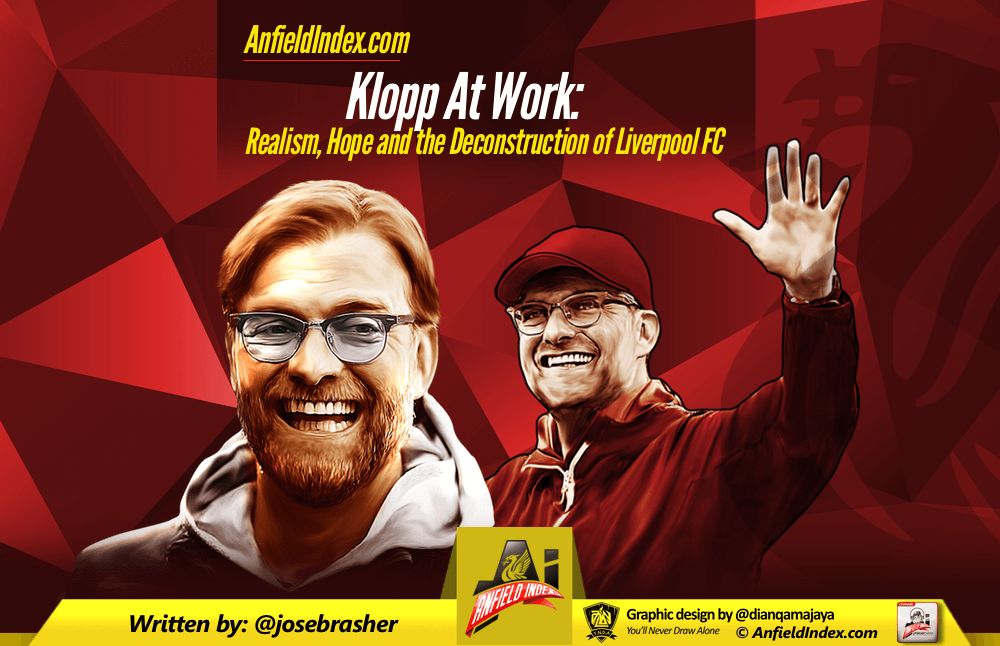 Realism
Any good psychologist will tell you that in order for you to understand your problems and the things causing you pain, you have to first understand who you are and have a concrete idea of your own identity. I think for many Liverpool fans we're not sure what our identity should be. Following the most successful team in the history of England, with more trophies than some teams have real fans, Liverpool FC fans should hold their head high when they speak of their club and expectations should be nothing but exceptional, but we also have to adjust those binoculars to help us focus on the present day. With all the money that is in the league, coupled with a decade or so or ineptitude, Liverpool fans need to think "small steps".
The thousand mile journey begins with a single step, as the old proverb goes, and while we should be demanding recovery and progress and eventual league domination, we need to understand that progress takes time and that progress is often times plagued by stalls and stops, steps forward and steps back. Therefore, progression for the club is the operative word and if you haven't seen it in the last few months, you truly haven't been paying attention.
We also need to be realistic about our squad. By and large, this is still the same roster that lost 6-1 to Stoke, got smashed at home by West Ham and squeaked out a win against Bournemouth. Make no mistake about it, no world-class players are coming through the doors at Anfield (unless perhaps it's Sturridge on crutches) and while Klopp is insistent that he doesn't need reinforcements, the roster needs to be updated and the deadwood cast off. As Klopp said after the last thrashing at the hands of bully-ish Watford, he knows the potential of our players, but the fact of the matter is our players aren't going to be playing beyond their ability every week (which is what I think we saw at the Etihad). They are going to have a stinker of a game every once in a while, and they need to have the overall quality to do the job and right now that's just not the case.
So you, LFC fan, need to take a deep breath and realise that Lallana likely wouldn't get a minute on any of the top four sides (including Leicester) and Skrtel is about four years past his above-average prime. Our three biggest gaps on the roster got exposed on Sunday, in my estimation: goalkeeper, right-sided centre-back and out-and-out striker, and those holes will take some time to fill with the kind of player that Klopp wants.
Patience
One thing western culture in general, but modern sports fans in particular are not good at, is having patience. People often say, "Managers like Fergie don't come around anymore," a manager who stays with his team for decades and builds up a dynasty from the ground floor up. But perhaps what we're experiencing isn't a managerial problem but a patience problem. In order to have a man stay loyal to a club, the club (and fans) should be loyal to him. Man United stayed with Ferguson even through some shaky early days and eventually were made good on their commitment. Liverpool fans quickly forget that the man who has been immortalised with a statue outside of Anfield and made LFC largely what it is today, was in the 2nd division for THREE YEARS before he got the side promoted.
With that said, I believe it's going to take just about as long for the Jurgy-bear to get his pieces in place and really start raiding the top of the table. This is because he is not a plug-and-play manager like Ancelotti, he doesn't just come in to change a system of play and help players reach their potential. Klopp is coming to rebuild the club from the ground up, but unfortunately in order to construct something beautiful you must first deconstruct what was already there.
In those first days, Klopp showed us the blueprint to this beautiful new Liverpool Football Club and we got a glimpse of the future with some marauding wins at Chelsea and Man City, but now comes the hard, dirty work of tearing down the place and we're finding some dirty secrets behind the dry-wall. As Liverpool fans, we need to be okay with this process and patient with the gaffer, confident he has a long-term plan and will lead us to the promised land if given time. Patience is key, and if we can continue to give support like we did in the final minutes against WBA, despite losing away at Watford, then the club and us fans will be all the better for it, eventually leading us to spend club money on expanding the trophy room instead of on another mid-table midfielder with great character.
Hope
So take heart, you Reds, there are great things ahead but a need for proper perspective. We need to be okay (not excited or even expecting, but just okay) with another possible mid-table finish this year as Klopp continues to construct his gegen-machine to ravage the league, remembering that Klopp at Dortmund, finished sixth and fifth in his first two seasons, before crashing the party and winning back-to-back league titles. This is the proper mindset in my opinion, to be realistic about and patient with the progress of the present as well as being hopeful for the future. I'll finish with a fittingly American anecdote.
I grew up in the American South, in the state of Alabama, for those that can find their way around a US map. In the United States, many universities have American football teams and over the years it has turned into a huge enterprise. Where I grew up, we didn't have any professional teams close by, so college football was king and there was no bigger team then that at the University of Alabama. A team much like Liverpool, one of the most successful programs of all time, was wallowing in mediocrity several years ago, until a man named Nick Saban took over the helm. To say there was excitement around his appointment would be a grave understatement as people were naming their babies after him and would line up for miles just to shake his hand. The word "rockstar" often came to mind in that summer leading up to the first season. However, much like our Klopp, Saban inherited a poor team and finished his first year with seven wins and six defeats (in a league where losing more than three games is considered a failure). One particular loss, to the equivalent of a second-division team, was so embarrassing that Saban made the unfortunate remark that it was the team's "9/11 moment, and that they needed to wake up". However, the fans in the first season knew it was a process and since, in the last seven seasons, Saban has become a legend, winning three titles and raising expectations so high that anything less is considered a failure. Saban, like Klopp, understood the importance of building a culture and that it's, at times, a painful process, but in the end worth every drop of blood, sweat and tears. When it was officially announced that Klopp had taken over at Liverpool, my brother shot me over a text. The text simply read, "This is huge. This is Liverpool's Nick Saban moment".
We have a culture-builder on our hands, in Klopp, and we have to give him time to shore up the foundation.
***
So all that is left to say Reds, is that we have a world-class manager that could literally walk into any club on the planet and he's at ours. He has the car pointed in the right direction and while the road may be long and winding, we need to trust the driver. He needs to get his players in place and figure out who can handle the heat on the current roster. We need to be understanding when we lay an egg against a side we should beat, but also not be too wild with wonder when Klopp pushes all the right buttons and we thrash a side we probably shouldn't. Contractor Klopp is following his blueprint and the demolition is well underway. It will be ugly at times, but like our main stand currently under construction, the headaches will be all but forgotten when we see the finished product. So while we "snap back to reality" let's remember that while we fall back to earth, Jurgen will be there to catch us and get us back on our feet, as if to say, "Alright then, let's get on with it."