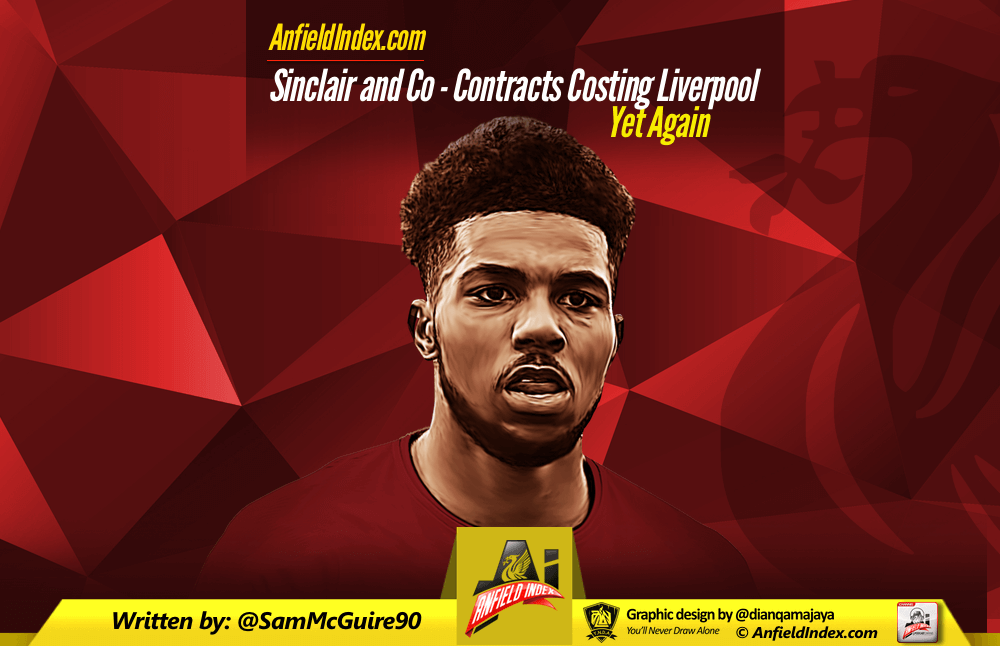 Sinclair and Co - Contracts Costing Liverpool Yet Again

From the moment Jean-Marc Bosman won his case which allowed players to move to clubs in different countries football has been ruled by the players.
Players and agents collude with one another looking for that one big payday and it often means their current clubs either lose the player on a free transfer, have to sell the player for a knockdown price or alternatively give in to their demands and pay them what they want to keep them at the club.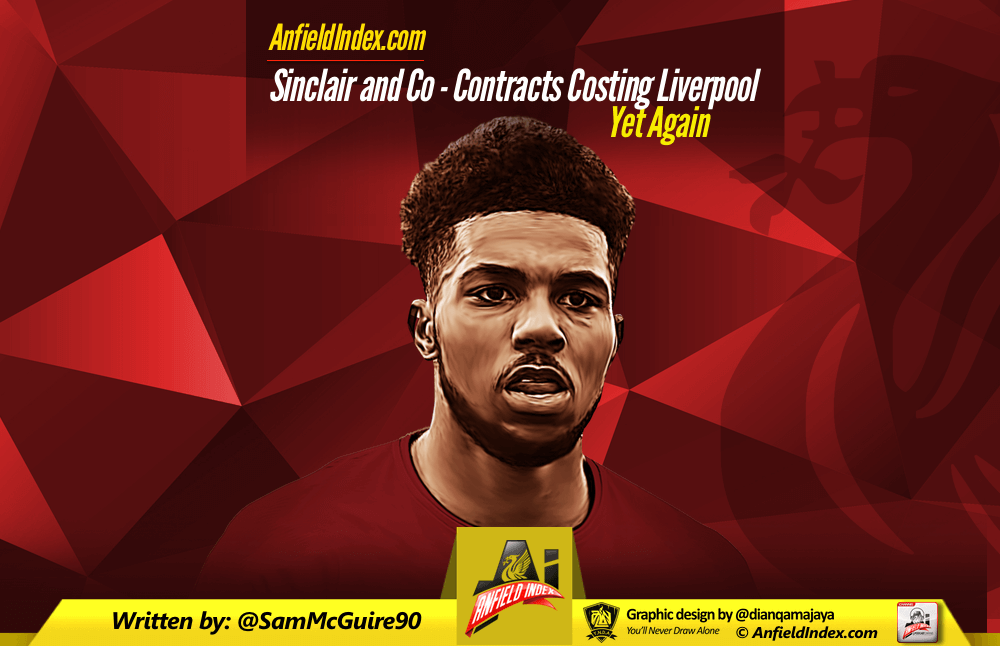 Liverpool don't have the best history when it comes to this. Steve McManaman ran his contract down and joined Real Madrid on a free transfer. Real Madrid returned a few seasons later when they signed Michael Owen after the player made his intentions clear about not signing a new deal and the Reds had no choice but to sell him for a mere £8 million, about £12 million less than he was worth.
They're just the outgoings.
The list of free signings Liverpool have made isn't good viewing for fans. Phillip Degen joined Liverpool from Jurgen Klopp's Dortmund side in 2008. Rafa Benitez described him as "an offensive player with great energy and a winning mentality. His strength is going forward and I am confident he will be prove to be a quality addition to our squad". He made 7 league appearances before moving to Stuggart.
Andriy Vorinin and his viking hairstyle joined Liverpool from Bayer Leverkusen on a free in 2009. In his one season with Liverpool he managed to score 6 goals in 27 appearances. It's not *that* bad but he hardly set the league alight. The club however did make a £4 million profit on him when he was sold to Dynamo Moscow.
Milan Jovanovic: the parting gift from an ex. Signed by Rafa but only joined after he'd left, the Serbian failed to make an impact at the club worthy of his £90,000 per week wages.
Joe Cole: heralded as a coup for the club when he signed from Chelsea it was soon abundantly clear his best years were behind him. The only professional player I've seen out of breath after participating in the warm up. Liverpool paid the midfielder a rumoured £100,000 per week and the return on this was 5 goals in 18 months.
If reports are to be believed them it's looking like the Bosman ruling will come to bite Liverpool in the arse yet again.
Jon Flanagan, Jordan Rossister and Jerome Sinclair are free to agree new deals with foreign clubs in January and Liverpool are once again in a tricky predicament . Do they gamble as they did with Brad Smith, who last summer was out of contract but no club took a gamble and he later returned to Liverpool, accepting their initial contract offer. This looks like an unlikely scenario for Jerome Sinclair, the striker is interesting Spanish side Espanyol and Dutch side Gronigen. Flanagan's situation is different. The full-back is only just coming back from a serious injury so his options may be limited if he were to leave so why isn't he signing a new deal? Rossister is highly rated by the club and losing him for nothing would be bad PR.
Liverpool need to weigh up their options wisely. Should they bite the bullet and offer them what they want in the hope the players have value if they're to be sold?
Do the club hold their stance and risk being known as the club that not only lose their star players they also lose youngsters too?
More importantly, what's going on behind the scenes? Are Liverpool really lowballing these players? Martin Skrtel came out in the summer and made some remarks about the contract he was offered at Liverpool not being what he'd expected. Could this be the same with these younger players?
I don't know any of them personally but they don't strike me as greedy players. They seem to be players that want to play first team football and be paid what the going rate is. Are we seeing the negatives of yoyo-ing between having a good squad and having an average squad that will haunt the club with these young talents?
Flannagan was part of the squad that finished second. Sinclair was used in a must win game against Chelsea as Liverpool chased 4th spot. Now both players aren't likely to feature in the squad because Liverpool went out and spent money. It's like rolling out the red carpet for these guys and then pulling it from under them before they reach the end.
Liverpool clearly value these players as they've offered them new deals. Losing them may not be detrimental in the short term but long term it means Liverpool miss out on a transfer fee, which in an inflated market that we're in could have been £10 million for the three players minimum. There's a thin line that Liverpool have to carefully tread; they can't be taken for a ride by players but they can't be seen as weak in the market.