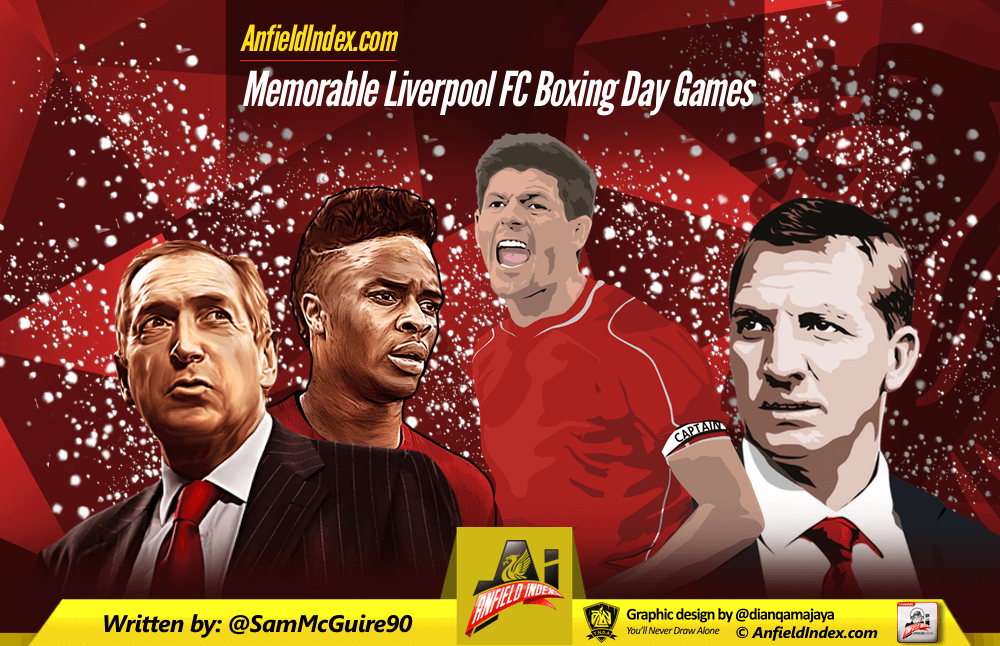 Memorable Liverpool FC Boxing Day Games
I'm an advocate of changing the Premier League schedule so clubs have a mini winter break. I think it'll benefit the clubs in Europe and it'll benefit the league in the long term as you won't be blitzing the players and having them play in something silly like a game every 3 days…but, at the same time I think Boxing day football is alongside the opening day of the season and the final game of the season for games I look forward to most.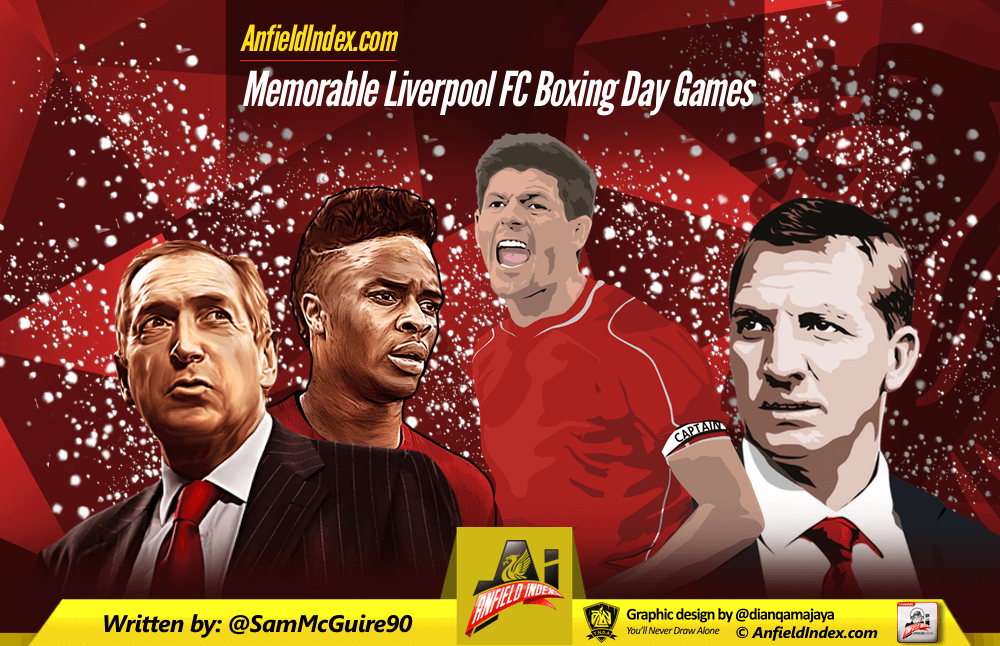 The only thing better than gorging on Christmas food is gorging on Boxing day football alongside it. It's truly a magical day.

This season Liverpool are at home for the Boxing day clash against league leaders Leicester. When the fixtures were announced in July I think many had this game down as an easy 3 pointer but Liverpool could potentially be going into this game as underdogs. *Shudders*.
The last time the two clubs met on the 26th December was way back in 1996, Stan Collymore grabbed an equaliser for The Reds in a 1-1 draw that only sparked into life in the final 15 minutes. I wouldn't take a draw with Leicester at home but with so many injuries I think many Liverpool fans would be relieved to pick anything up against the surprise leaders. With free scoring Jamie Vardy and Riyad Mahrez facing a half fit Mamdou Sakho and Dejan Lovren it could really be a Christmas cracker.
How have Liverpool faired throughout the Premier League years when playing on Boxing day? Of the 20 matches they've played they've won 11 of them, draw 5 and lost only 4 so history favours a much welcomed Liverpool win.
Have there been any memorable Boxing day matches?
West Brom 0-5 Liverpool, 2004.
Rafa's first Christmas as Liverpool manager saw his side turn it on away to West Brom. A John Arne Riise rocket saw Liverpool take a 1-0 lead into the break before two goals in 4 minutes early in the second half, one from Pongolle and the other from Gerrard, really killed the tie off. Luis Garcia and a second for Riise gave Liverpool a just deserved emphatic victory.
Manchester City 2-1 Liverpool, 2013.
Liverpool ended up losing this match controversially after the linesman flagged Raheem Sterling offside despite the fact he was about 2 yards onside. A Simon Mignolet error (sounds familiar, right?) helped the home side come from behind to win it. It didn't tell the whole story though. I came away from that match feeling encouraged at what I'd witnessed.
Stoke 3-1 Liverpool, 2012.
I realise I've chosen 2 of the 4 Boxing day defeats so far but hear me out. Before Penaltypool became a thing there was an FA conspiracy to not award a penalty for a foul on Luis Suarez in the area. I can't remember how long this went on for but it was like an unwritten rule. Suarez could get assaulted and the ref would momentarily lose his sight. In this loss against Stoke it changed. In the 2nd minute of the game Ryan Shawcross tangled with Suarez and Steven Gerrard stepped up to convert Liverpool's first penalty in 31 league games.
Villa 1-2 Liverpool, 2001.
I remember watching this in the pub with my Dad and Granddad. I was about 10 at the time so getting an invite to watch the game with those two was a big deal for me. Ex Manchester United legend Peter Schmeichel had the ball in his hands as he looked to start a Villa attack. As he launches the ball it hits referee Andy D'Urso on the ball of the head and falls perfectly for Jari Litmanen. The Liverpool striker nonchalantly passes the ball into an empty goal and wields away to celebrate knowing full well he's been gifted a goal. Lee Hendrie equalised for the Villains before Litmanen missed a penalty. It was up to Vladimir Smicer to win the game for Liverpool with a goal in the 73rd minute.
What are your memorable Boxing day games?