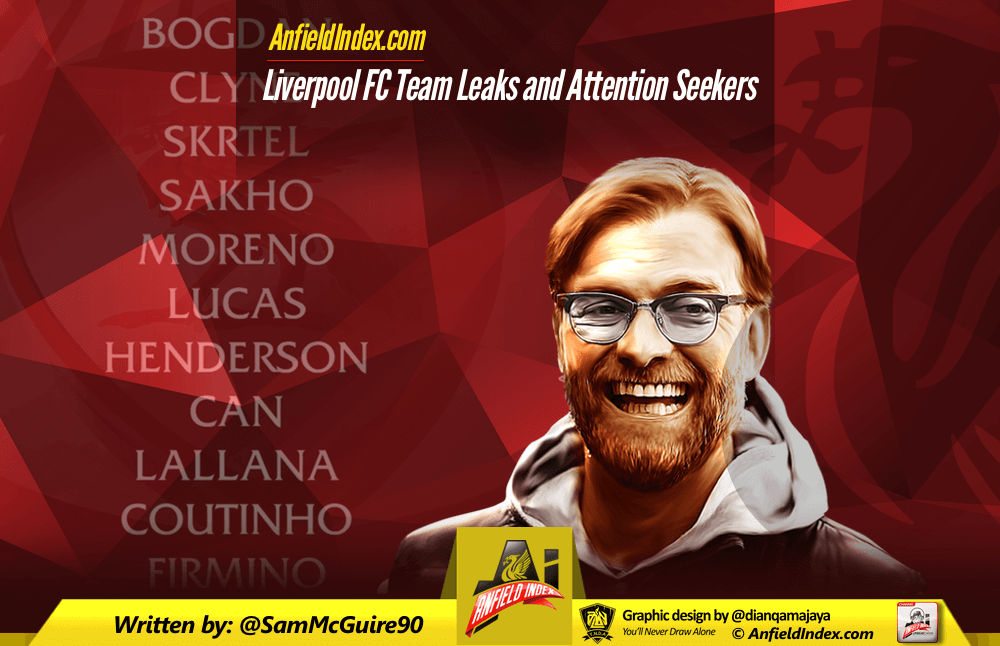 Liverpool FC Team Leaks and Attention Seekers
Football Twitter is like the animal kingdom. It's competitive as many accounts scrap for that top position as most reliable associated with the club they support. There are accounts that offer fan opinions, some that provide news and then there are those that are lucky enough to hear about club news before most and they bring this news to the masses on Twitter. Large Liverpool accounts fall into these categories and it's generally accepted. Fans know where to look for certain things. There is this unwritten rule for Twitter though; don't leak the Liverpool team.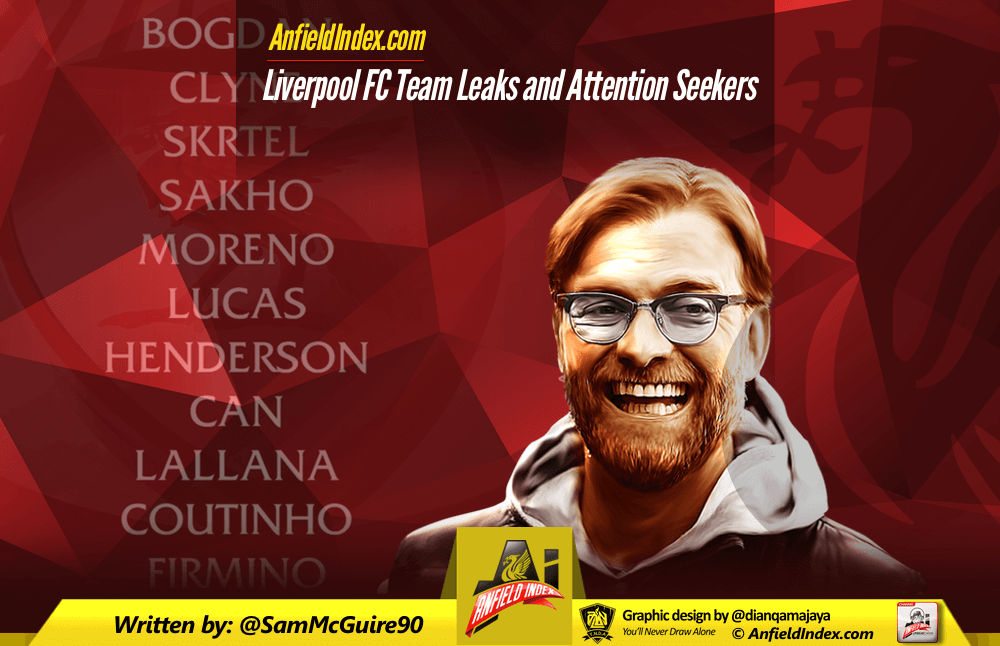 Team news is probably the easiest information to get if you know the right people, and it's the easiest way to build up credibility on Twitter as somebody who has news if you are craving that attention.

Twitter followers equate to power. The more followers you have the more validated your opinion becomes as people try to agree with you. It's the ones that crave power that cause the problems. If you have a large following, you become desirable to advertisers. They offer you money and you advertise their product or services. Power and money is too much of an incentive for many to ignore so LFC Twitter has seen a rise in accounts claiming to be 'in the know'. Liverpool fans crave knowledge.
It starts off when a new account starts tweeting large Liverpool accounts, claiming to have the match day team for the following day. The team is then announced and these large accounts give a shout out to the new account. This is step 1; gaining credibility. This is a necessity though. Without the history of getting team news correct, they don't have the foundations to build on.
If a large account vouches for you, then you are considered credible to their followers and you will gain followers by the truckload. Now the new account has to consolidate their standing as this news bringer. So they continue to post the team online for the next few weeks. Step 2 is merging the team news with transfer news.
If you have been accurate with the team news, why wouldn't you be accurate with transfer news? There is logic to this train of thought, after all. These accounts are usually smart enough to invent a rumour that has some credibility to it. I won't name the account because he doesn't deserve the publicity but after getting the team news right a few times he got into bed with a few large accounts. He started a rumour that Liverpool wanted to sign Bernd Leno and it quickly spread across Twitter. Why wouldn't it though? Liverpool desperately need a new goalkeeper so it's easy to start such a rumour because it's what Liverpool fans want to hear.
Basic supply and demand.
What's peculiar is the account in question, despite claiming to get news before anybody else, didn't know about the potential Marko Grujic deal until it was all over the internet. He must have missed that news whilst he was busy googling German goalkeepers…
Now if the deal for Leno doesn't happen they can always come out with the classic "Things change in football, I wasn't lying though, I got the team right remember?".
Ah yes, you got the team correct and only an elite few find the team out before it's announced an hour before kick-off, right?
Step 3: for them is to start mentioning current news. They are now associated with team news, transfers and general club news. They become an account people trust and their word is taken as gospel. "So and so said we're linked with X player."
A simple three step process and you go from an unknown into a reliable source on LFC Twitter. It's that simple.
These people are a disease and it's spreading. With January just around the corner, Twitter will be filled with rumours and it's the perfect opportunity for these fraudulent accounts to gain more of a following with their outlandish player links. People say it's harmless, but is it? They are conning their way into making money at the end of the day and are putting the club they supposedly support at a disadvantage. Believe it or not Premier League clubs monitor Twitter.
Liverpool have coaches on Twitter, they have dummy accounts used to see what's happening on Twitter and other Premier League teams will. If people are posting the Liverpool side at 10pm the night before a 4pm game, it gives the opposition eighteen hours to tweak tactics and, as farfetched as it sounds, they actually will. Liverpool with Benteke as their striker is a different prospect to Liverpool with Firmino so they adjust their plan accordingly. Opposition clubs don't need spies, they just browse Twitter to find out all they need.
Those that post the team news shouldn't be applauded or treated as though they are superior. Ignore them and their growth is stunted, they'll become bored and their school holidays will finish before you know it.