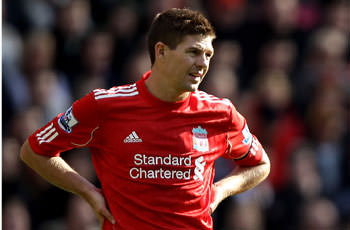 What influence does Steven Gerrard have on Liverpool
Some say he is the driving force behind Liverpool, others have said he has been part of a one or two man side for quite some time.
But what is the truth behind Gerrard's influence on the Liverpool team?
Since his inclusion in the team in the 1999-2000 Premier League campaign Gerrard has won 51% of his 375 league appearances in a Liverpool shirt.

In a career spanning over 12 Premier League seasons only once has a Liverpool team featuring Gerrard lost more games than they won.
This was during the 2004-2005 season in which Liverpool finished in fifth place.
That season Liverpool's captain featured in 30 league matches in which he lost 43 %( 13) of his matches and only winning 12 matches (40 %).
The real argument comes when you ask does Gerrard's form actually dictate Liverpool's form.
The statistics say yes, Gerrard has scored over ten league goals in 3 campaigns 2005-2006, 2007-2008 and 2008-2009.
In these three seasons Liverpool's win rate with Gerrard in the team was over 50% each season, 62% to be precise.
Below are the full list of statistics of Liverpool's wins, losses and draws with Steven Gerrard in the team.
1999-2000 – 29 games
Win: 13 45%
Draw: 6 21%
Lose: 10 34%
2000-2001 – 33 games
Win: 17 51%
Draw: 9 27%
Lose:7  22%
2001-2002 – 28 games
Win: 16 57%
Draw: 7 25%
Lose: 5 18%
2002-2003 – 34 games
Win: 16 47%
Draw: 8 23%
Lose: 10 30%
2003-2004 – 34 games
Win: 14 41%
Draw: 12 35%
Lose: 8 24%
2004-2005 – 30 games
Win: 12 40%
Draw: 5 17%
Lose: 13 43%
2005-2006 – 32 games
Win: 20 63%
Draw: 7 22%
Lose: 5 15%
2006-2007 – 36 games
Win: 20 56%
Draw: 8 22%
Lose: 8 22%
2007-2008 – 34 games
Win: 18 53%
Draw: 12 35%
Lose: 4 12%
2008-2009 – 31 games
Win: 22 71%
Draw: 7 22%
Lose: 2 7%
2009-2010 – 33 games
Win: 16 48%
Draw: 8 25%
Lose: 9 27%
2010-2011 – 21 games
Win: 9 42%
Draw: 4 19%
Lose: 8 39%