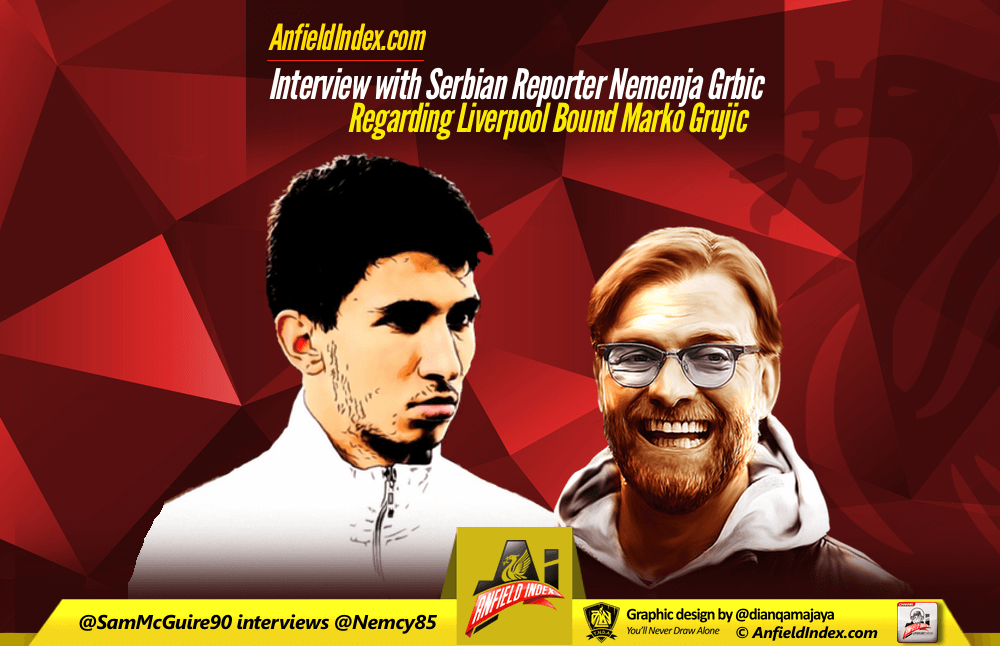 Interview with Serbian Reporter Regarding Liverpool Bound Marko Grujic
With so many questions hanging over the potential Marko Grujic transfer from Red Star Belgrade to Liverpool FC I decided to interview Serbian sports writer Nemenja Grbic (@Nemcy85) to see if he could clear a few things up. This was conducted before Marko himself told the Serbian paper Telegraf he was joining Liverpool earlier this morning…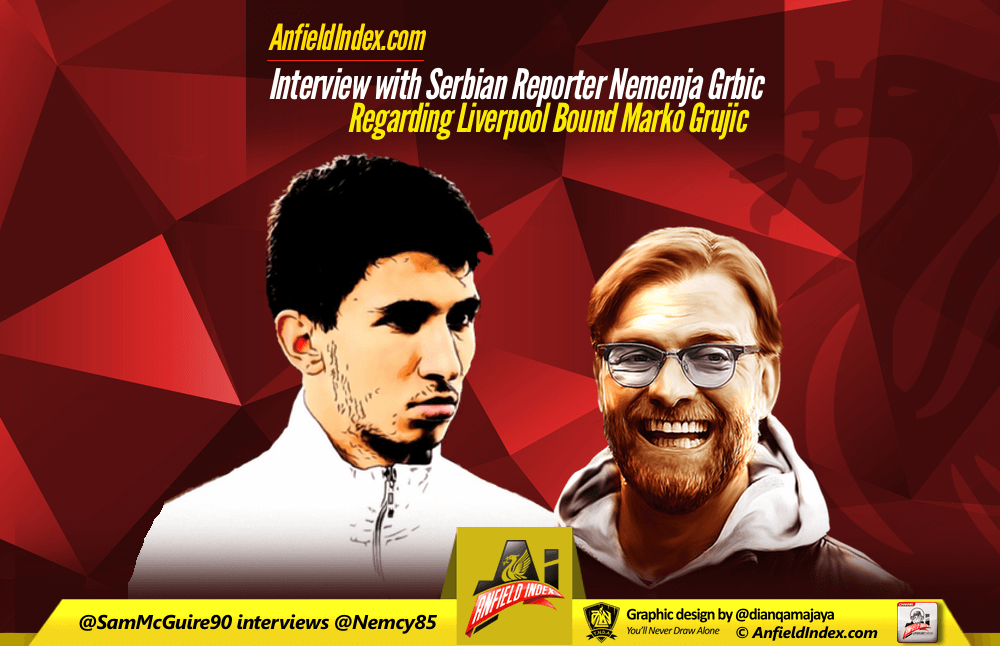 Q: Can you clear up what exactly Marko's father has said this week? Why is he so opposed to his son joining Liverpool?
First of all, I must say that Goran (Marko's father) who is a former sports journalist and an editor, has been presented in the media both domestic and foreign in the past few weeks as some kind of a bad guy in this deal, accused of controlling the life of his son and ruining Red Star for not allowing Marko to sign a contract with Liverpool. However, Goran is and rightly so, nothing more than a concerned father who is only thinking about what is best for his son, his career and his life . After weeks of speculation, Goran decided to give an interview to "Novosti", where he revealed that Marko and the whole Grujic family is under enormous pressure from the media and Red Star's representatives who are calling his son up to 10 times a day in attempt to convince him to pen a deal with Liverpool. He pointed the finger at Red Star general secretary, Zvezdan Terzic for adding more fuel to a whole story by stating that Marko will sign a contract and inherit Steven Gerrard's No.8 shirt. Basically, Goran denied all the reports suggesting that the deal is concluded, denied that his son spoke with Jurgen Klopp and denied that he will undergo a medical in the next few days and sign a contract with Reds.

Q: Why is he so opposed to his son joining Liverpool?
Goran believes in his son and his qualities as a footballer. He stated that Marko has all the necessary ingredients to become a valuable player in the Premier League, but currently lacks experience to succeed there. He thinks it is too soon for Marko to make a move there as the previous young Serbian players (Bojan Đorđić, Miloš Veljković, Adem Ljajić, Zoran Tošić, Lazar Marković, Danilo Pantić) have failed to impress in England and as a result their careers have taken a one step back. He criticised the Premier League for their lack of patience and for not giving the young players enough opportunities to prove themselves. He also mentioned Nemanja Matic who had to go through a long road before making his mark there and used the examples of Branislav Ivanovic and Nemanja Vidic as a recipe for success as both of them have already gained significant experience before landing their feet in England. Goran stated that if Liverpool truly want Marko and are convinced of his qualities – wouldn't they be pushing for the transfer to happen in January instead of agreeing that he should remain with Red Star until summer. Goran would prefer for Marko to remain with Red Star at least until summer and if it is possible even until August if he can help Red Star to qualify for the Champions League group stages.
Q: It's a little peculiar given the club opened negotiations with the family before agreeing a fee with Red Star isn't it?
This is something which can be read on Red Star's official website, as they released a statement a day after Grujic's father decided to speak with the press. However, the word "negotiations" might not be the right one to use, as the statement says that Liverpool have contacted and talked with Grujic family before they started the negotiations with Red Star. The only thing Goran confirmed is that Liverpool scouts were only present during one game this season and that before all this they only had a "chat" with Udinese and Anderlecht. He also revealed that they rejected an opportunity to sign for Chelsea earlier this year.
Q: Is it true he has history of getting involved in his son's transfer business? Didn't he prevent Red Star from selling 50% of Marko's rights to Pini Zahavi a few years back?
Goran has revealed in his interview that he prevented his son from falling into the hands of Pini Zahavi and his investment group last summer, although he did not say how much percentage of Grujic's contract they wanted to buy from Red Star. This information is very likely to be true, as the majority of Serbian clubs are forced to do business with third party companies due to their poor financial situations and as a result they option to sell a part of player's contract to them. As an example Pini Zahavi owns 70% of another Red Star promising youngster – Luka Jovic and more than 50% of Partizan Belgrade wonderkid – Andrija Zivkovic. This is one of the reasons why Grujic's father is furious with Red Star and Zvezdan Terzic, as he believes the club should show more gratitude and respect towards him. By preventing that deal, Goran has enabled for Red Star to receive a full amount of Marko's future transfer elsewhere and because of that Grujic's sale might become
Q: Just how much trouble are Red Star in financially? Is it really sell Marko or go bust?
Red Star are in big financial trouble and they have had already suffered for it. Two seasons ago UEFA denied them an opportunity to play in Champions League qualifiers for not being able to comply and work under Financial Fair Play regulations. In their latest statement Red Star announced that they were on the verge of bankruptcy 18 months ago but managed to survive thanks to the appointment of the new board at the time who solved a lot of issues. They have a certain debt to clear out and they have to pay for the salaries they owe to their players and employers until the end of this year or face further consequences from UEFA. With Marko Grujic's sale they would solve a lot of their problems undoubtedly and that is why the club is so desperate to finalise this deal.
Q: As things stand what's going on? Has the offer been accepted by the club but the contract is still unsigned?
Grujic senior is angry with the fact that his son practically doesn't have the opportunity like all professional footballers around the world to choose whether he signs the contract or not. It is his right as player, but Red Star are creating the atmosphere in which he is not allowed to say NO to the deal. Goran criticised the media for labeling his son as some kind of club's saviour – when Marko's only job is to play football and shouldn't be involved in club's financial troubles. There are other players that Red Star can sell if they want to and solve their issues. Goran is adamant in his intent not to allow Marko join Liverpool now, and he has stated that everything he says is a unanimous position of the whole Grujic family.
Regarding if Marko Grujic already signed a contract or not – Red Star have officially accepted the offer from Liverpool, but nobody relevant who is involved in this matter has confirmed that the player has put his signature on it. The key words can be seen and read in Red Star's statement where it is written that Grujic's transfer to Liverpool could be their most profitable sale in the last ten years. It doesn't say that it will be, which is something everybody would write if they are sure that the deal is done.