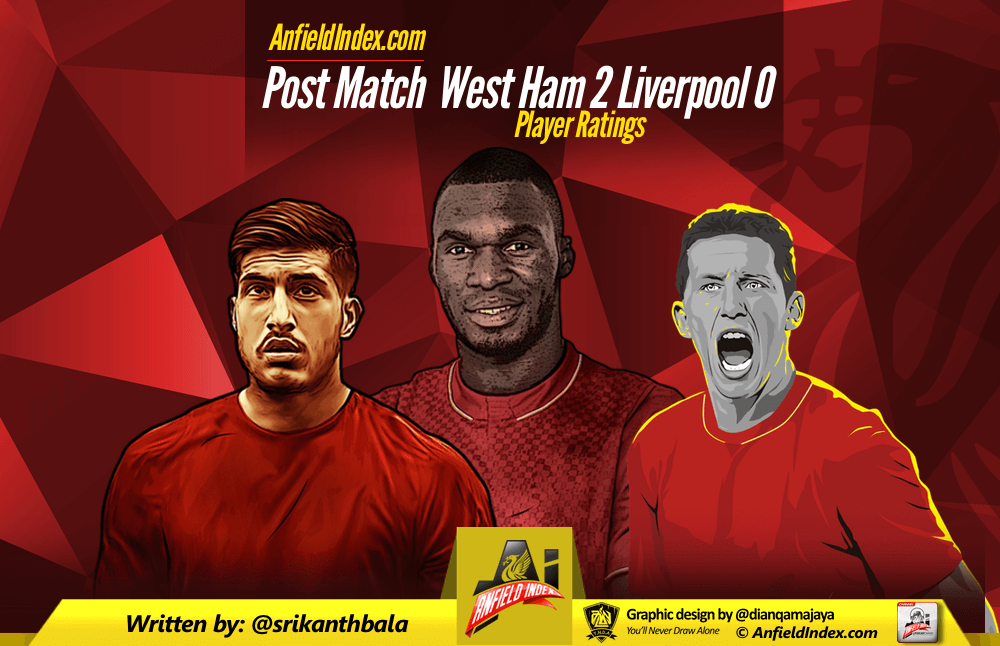 West Ham United 2 Liverpool 0: Player Ratings
Liverpool had a torrid start to 2016 as they produced a performance similar to the one against Watford. The Reds were second best in everything; be it passing, tackling, desire or invention. The level of desperation was quite clearly there to be seen as Dejan Lovren was seen taking free kicks. The lack of options in the team seems to be catching up as the games come thick and fast.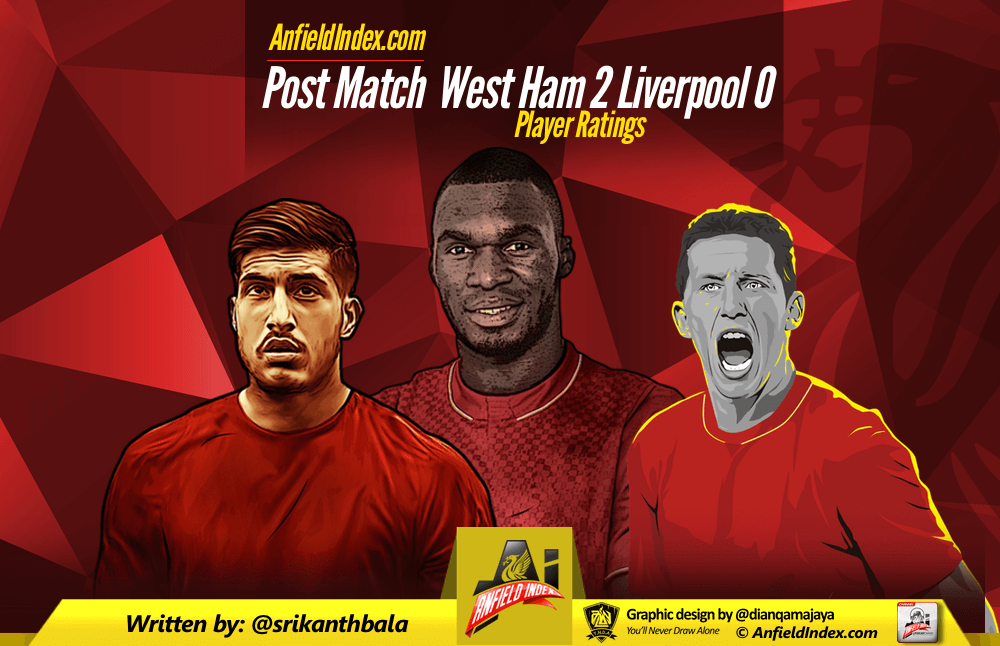 Simon Mignolet (6) – Mignolet could not be blamed for either of the headers and was left bamboozled by the double-swerve on the shot from Lanzini which hit the post. He made a great double save in the second-half, but dangerously put the ball back in play late in the same half. The game ended with him with making a decent save, as it turned out to be that sort of day for Simon.

Nathaniel Clyne (4.5) – It was a telling sign of the performance that both goals came from crosses from the left-flank and scored from the right side. Clyne struggled to win the aerial duel on both the occasions and his offensive contributions was limited too with his passing being downright abysmal at times.

Dejan Lovren (5.5) – Again a good performance from the Croat, who has refreshingly resorted to being solid rather than spectacular. He was definitely the better of the centre-backs again today. Some crumbs of hope there.

Mamadou Sakho (5) – A performance filled with some good tackles and interceptions, along with a few positional mistakes mostly when covering Moreno. Nothing much to dissect.

Alberto Moreno (5) – Tough to blame Moreno for the first goal as he had a legitimate claim of being fouled. But Moreno made many positional errors while defending, which created huge issues for Sakho who was left to cover larger swathes of space. The Spaniard was hauled off in the second-half for Brad Smith, which clearly looked like a tactical change

Lucas Leiva (4.5) – Lucas coming in for Henderson made a huge difference in terms of tempo, drive and vision. Not quite clear what Lucas contributed in the game, which made it even more puzzling that he was named captain. The massive drop in quality from midfield was hugely palpable.

Emre Can (6.5) – The best player in this game by a country mile. Can was always ready to push on and drive forward , yet careful enough to not lose possession easily as he has tended to do a lot this season. Showed lot of heart and desire today, which was missing in many of the players .

Roberto Firmino (5.5) – Roberto Firmino is becoming a difficult player to rate post-match, as the impact visible to the naked eye seems to be so minimal. However, the underlying stats post-game seem to suggest something contrary. Firmino made some great off-the-ball movements and tried to affect the game positively, but unfortunately today was not his day.

Philippe Coutinho (4.5) – The tone towards Coutinho's recent performances have been gradually changing from hopeful to frustration to downright exasperation. His preference to keep shooting from long range after cutting in from the left is so predictable. At such instances, it is easy to advise a break, but with Phil we know that it takes him a couple of games to hit his form after a break. Predicament.

Jordon Ibe (5) – Made a very bright start driving towards the West Ham defence coming in from the right-hand side. Tried to stay wide to stretch the West Ham defence which left him far more isolated. Ibe though was willing to keep trying and create something, something that cannot be said of others.

Christian Benteke (3.5) – When Benteke does not win aerial duels, it is a valid question as to what he contributes to this team. The striker was absolutely dominated by Collins, and Benteke literally won nothing. His first-touch phobia today made it even more frustrating. Nowhere near the standard that is expected.

Substitutes
Adam Lallana (5.5) – Lallana came on in the second-half, produced some neat touches and tried to close down the opposition as he has tended to do under Klopp.
Brad Smith (6) – A bright cameo for the Australian, with some excellent overlaps and couple of great crosses. Great follow-up performance to his Southampton appearance.
Joe Allen (N/A)