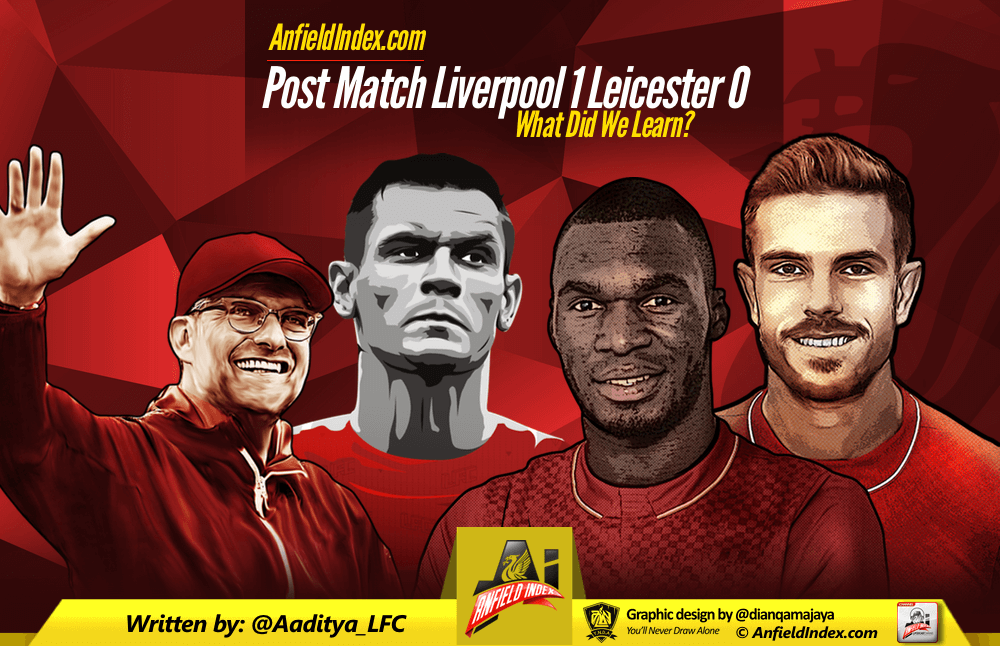 Liverpool 1 Leicester 0 – What Did We Learn?
Liverpool's three game run without a win was finally halted as Christian Benteke's goal gave the Reds a 1-0 win over the league leaders Leicester City.
In truth, the scoreline could have been much more overwhelming in our favour, but our profligacy in front of goal meant that there were a few nails being bitten in the dying seconds.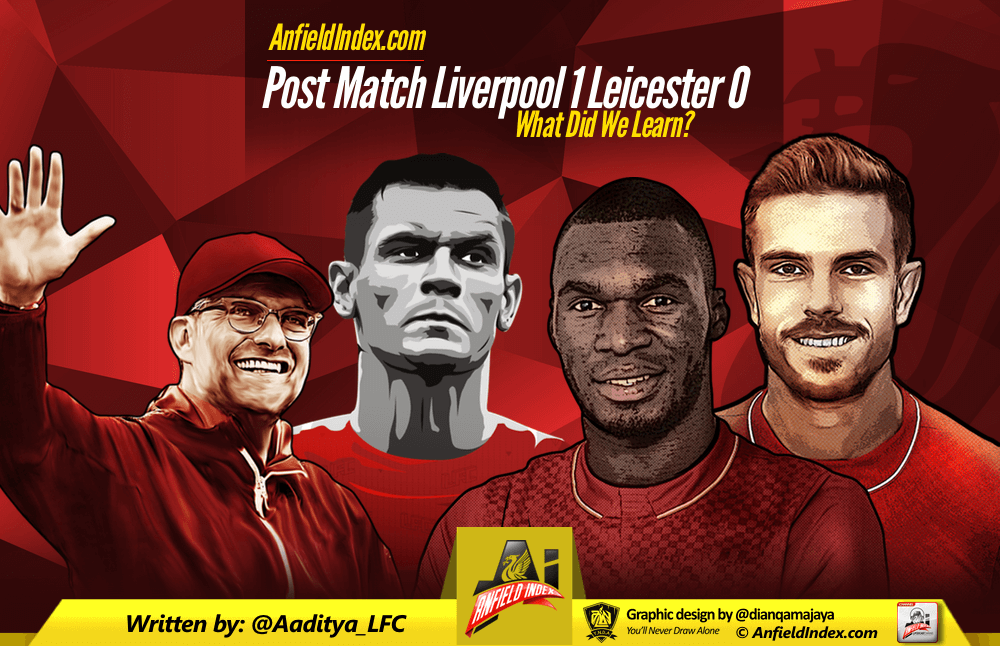 Leicester were surprisingly off the boil, and although they did make a fist of it right at the end, there was very little of note from the much touted duo of Jamie Vardy and Riyad Mahrez, as Jurgen Klopp celebrated the first clean sheet in five games.
Liverpool might be better off without Martin Skrtel. The big Slovakian is out for at least six weeks with his injury, and that might well be the time when Dejan Lovren and Mamadou Sakho bust the myth that Skrtel is our best centre-back. They made an impressive 38 clearances between them, and Lovren, in particular, had a fine game.
Jordan Henderson was sorely missed in his three months out with injury. Once again, the captain pulled the strings in midfield, and played some outstanding passes all across the field. The typical Henderson hustle was there and he showed he has quality on the ball as well. His lung-busting run right at the end typified his performance, and it was a pity that he couldn't put the finishing touches to a move he started with his desire.
Christian Benteke. Well, what can I say about this man? Came on. Got on the end of an exquisite Henderson pass in a few minutes only to fluff that chance but took his goal beautifully. And then that miss. I'm sorry, but at any level of football, a chance like that must end with the ball in the back of the net.
Dejan Lovren is a rejuvenated man. Arguably Man of the Match today. Lovren didn't put a foot wrong. Be it in his aerial battles, or interceptions or clearances, the Croat did it all, as he goes further on his road to redemption. Before today, either Vardy or Mahrez had scored in every game for Leicester. Today, Lovren was a big part in ensuring that that did not happen.
Set Pieces. The eyes bleed with each of our set pieces. Alberto Moreno is not the answer. Neither is Coutinho. Nor Henderson. In many ways, the only reasonable set-piece taker in our squad is James Milner, and his deliveries this season have been dire too. Change is needed in this aspect. And quickly.
Can we show this desire when we play all the other teams as well? As I read on Twitter, we probably would have goofed this game had Leicester been in the position they were in at this time last season. We have done alright against the teams traditionally in the upper echelons of the table. But, it is absolutely necessary that we take the spirit and desire from today, when we go to places like Crystal Palace and Watford.
Coutinho needs consistency. He might be called a one-trick pony for cutting in from the left and trying to curl balls into the far corner. Although he was almost successful at that twice in this game, Coutinho needs to stop taking those shots on as often as he does. He is a magician with the ball at his feet, and with his vision and ability, he should be creating much more trouble for oppositions than he actually does.
We have too many players who tend to over-dribble. When there is a simple pass on, which keeps the play moving, common sense would tell you to play that pass. But most of our players don't do that, and tend to over-complicate things. Today, the only one who played those simple passes and kept the ball moving was Henderson. The others, especially Firmino and Emre Can tended to dwell on the ball for far too long, by which time the chance was gone.
Ultimately, a huge three points that many of our rivals have not been able to get this season. However, we must build on this. With Sunderland and West Ham away followed by Stoke at home, I don't think it is too unreasonable to expect at least seven points from our next three games.