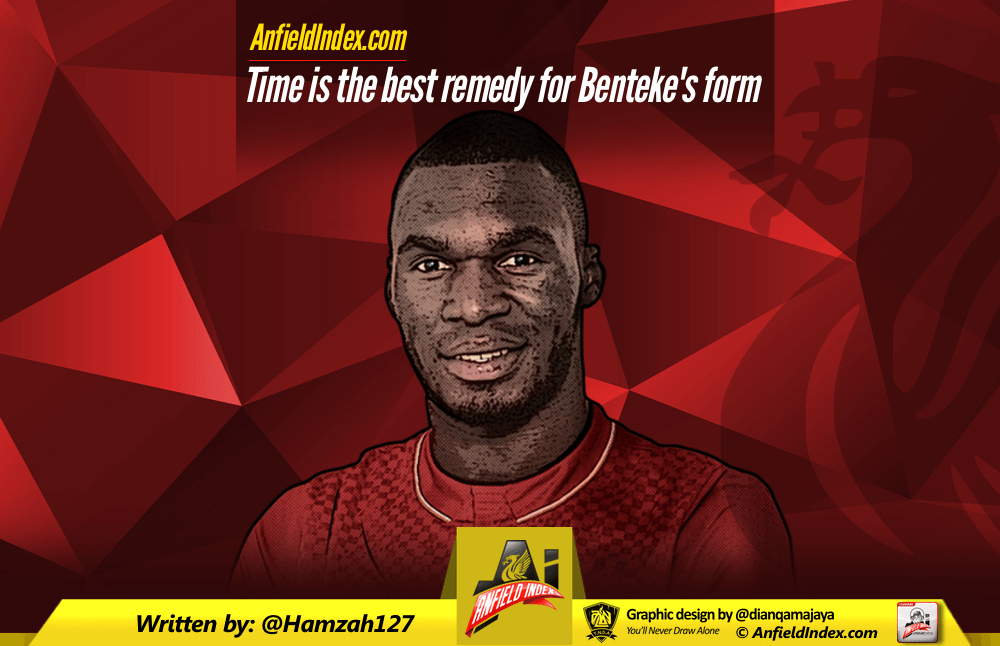 Time is the Best Remedy for Benteke's Form
Christian Benteke has been subject to heavy criticism amongst the Liverpool fanbase in recent weeks, with some drawing parallels between his and Andy Carroll's fateful move to Liverpool. Yet in the league, Benteke has made 15 appearances, started on 10 occasions, and scored five, and even chipped in with one assist. In comparison, Luis Suarez in his first season for the club (played 12 in the league), only managed four goals and three assists. When considering these figures, criticism of Benteke seems undeserved, but the underlying issue is whether he can fit into Jürgen Klopp's Liverpool side, not just scoring goals, but contributing to the team throughout the game.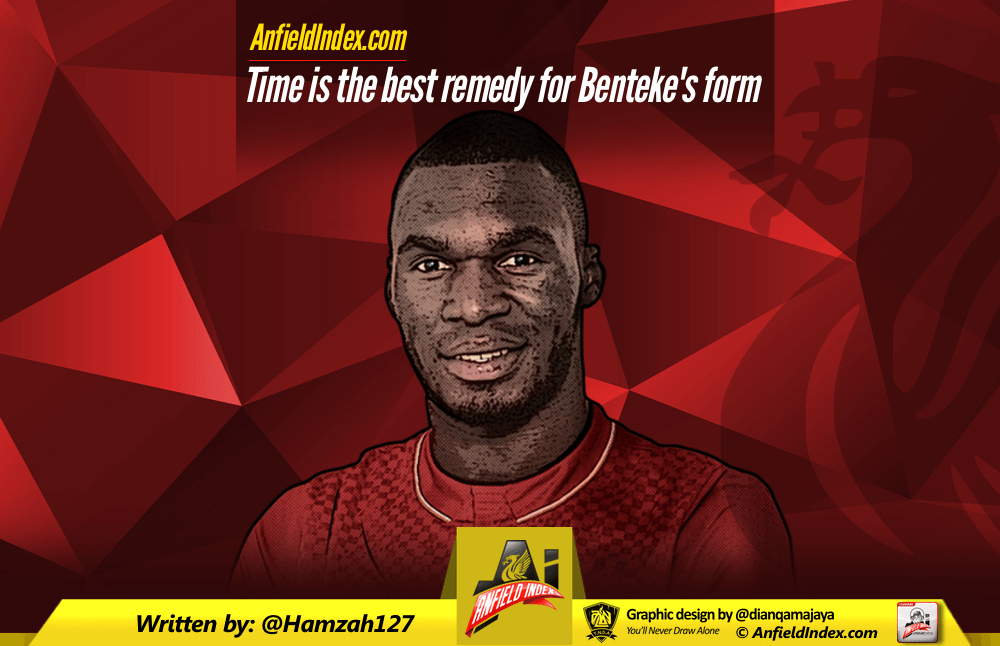 Over the years, I have been privy to a fairly large handful of Aston Villa matches, and in that time I saw why Aston Villa fans hold Benteke in such high regard; he scored 19 league goals in his first season, prevented Villa from being relegated and excited the fans with a smattering of breathtaking goals. One particular goal he scored, against Chelsea (11/05/13), was reminiscent of Fernando Torres, with a burst of pace against the defender to make space, and a cool finish at the near post to cap it off. Most Liverpool fans will remember his goals against Liverpool too, all sharp finishes in and around the box.

Liverpool supporters are expecting him to create and finish his own chances, but that simply isn't his game; unlike Suarez or Sturridge, Benteke simply isn't a player that will regularly forge chances from nothing, however he is a player, that when presented chances, will put the majority of them away. If you look at any of Benteke's highlights reels, it soon becomes evident that he is simply a top-class finisher.
There is nothing wrong at all with a striker who is just a finisher, some of the finest players around are 'just finishers', Benzema & Lewandowski are two perfect examples of players who just prefer to receive the ball so they can finish the chance off.
Expecting Benteke to become a chance crafter, like Suarez was, is simply unrealistic and also unnecessary, it should be incumbent on the midfield to provide chances for the strikers to finish – something Klopp has stressed recently, wanting Coutinho, Firmino and Lallana to step up; and just because Liverpool have been fortunate enough to have players like Suarez and Sturridge who can create their own chances, does not mean the strikers should always be expected to, or be creating chances for themselves.
The jury is out will Benteke stay or go? You can have a punt on this with the bonus code of Bet365!
For a team like Liverpool, whose supporters demand goals, Benteke seems a decent fit, a player who prefers to get the ball given to him in the box, where he can quickly finish the chance off. It's been a while since Liverpool have had a player like that, but it is worth noting that Benteke has also contributed in different ways too – his introduction against Chelsea this season showed some of his best qualities, he grabbed an assist through winning a long pass played towards him, and scored the second by calmly strolling through the box and striking home. According to Squawka, Benteke played a mere 26 minutes and won three aerial duels – showing his value as a physical asset when Liverpool struggle to break down more defensively rigid & solid teams.
Worries about Benteke not fitting into Klopp's system are also slightly exaggerated, Benteke fitted seamlessly into Aston Villa's fast counterattacking team as the focal point; Liverpool supporters will no doubt remember his performance in Aston Villa's 3-1 victory at Anfield a few seasons ago, where he finished with aplomb from outside the area, assisted another fine move with a one-two backheel, and then held off two defenders to dispatch his second goal – displaying all the attributes Liverpool want from a striker: pace, link-up play, cool finishing and power.
Some detractors argue that big strikers cannot fit into a passing team, but you need only look at Chelsea, Bayern Munich/(Dortmund with Lewandowski) or Arsenal to see that if utilised properly and incorporated properly into the team, with good support provided, that physical strikers can quite easily fit into a passing team, and flourish exceptionally too.
At the moment it can certainly be argued that Benteke does not look comfortable within the system, but on the majority of occasions that he's played this season, he hasn't been paired alongside another striker, which is much more natural for him, and allows him to either run behind the lines, or drop back in attacks, which is where he usually gets his goals from – nor has he been at full fitness ether according to Klopp. His goal against Leicester is a perfect example of him pulling back his run to create space for a goalscoring opportunity as aforementioned.
Goals alone are not the issue for the supporters though – Klopp knows Benteke can and will score goals, but Klopp requires a contribution to the team effort by every player.
In a recent interview Benteke stated, that after a meeting with Klopp, he concluded:
"I think I have to run more and I have to be there for my team-mates." – illustrating that he understands the demands of his new manager and is actively making changes to his playing style for the good of the team.
Klopp wants Benteke to be involved more within general play, this includes coming deep for a short pass, winning knock-ons for teammates, but most importantly for the manager – pressing.
Pressing is crucial to Klopp's philosophy, but for a big player like Benteke, pressing does not come naturally, he will need time in training to adapt to this new system, and will also need time to know when to press with his teammates – pressing for a striker is much easier when they have a partner upfront, but knowing when to press as a lone striker is harder and more taxing on a player's energy levels too.
Throughout Klopp's short tenure, Benteke has rarely looked sharp though, but the manager has often pointed to Benteke not being entirely fit, and we can expect that with more game-time, and more time getting to understand his teammates, both his sharpness and link-up play with the team will improve.
In another recent interview, Klopp stated his belief in Benteke,
"He has natural skills, he just has to try and be more involved in the game. In the end, a striker has to make goals in game but there are other moments in the game when we need him, such as defending set plays. He has big qualities and it can work. He is a player with such potential… He is a high quality player."
With time, Benteke will fit into Klopp's system better, in the Leicester game, he showed a willingness to change his usual style, attempted to press, and make the runs that Klopp expected of him.
The following link is to a podcast specifically on Liverpool's pressing against Leicester, and you can see Benteke pressing as part of a unit.
When Liverpool finally have two fully fit strikers, Liverpool fans may well get a chance to see the best of Benteke, with another striker alongside him, he has more space to operate, which will inevitably lead to him scoring more goals; under Klopp's tutelage Benteke can grow into an even bigger goal threat, and Benteke's willingness to adapt his game – seen in the Leicester match – will only help him develop into a better player.
"Of course I am still a young player and I want to learn. He is the right manager for me to help me in my development… I can adapt." – Benteke shows his willingness to adapt and learn for Liverpool & Klopp; the fans need to give him a proper chance to prove himself, so he can replicate the form he showed at Aston Villa.
With Benteke, a more considered approach should be taken by the fanbase. Despite him costing £32.5 million, he still has years ahead of him to prove his value. He could potentially be a huge asset with set-pieces, providing the attacking threat from corners and free kicks that Liverpool have lacked in recent times.
I would urge patience amongst the supporters with him, currently his confidence is low, his fitness is not at 100% and he is adapting to a new, taxing tactical system without a strike partner alongside him – give Klopp time to work with Benteke and his best qualities will undoubtedly shine through eventually, and maybe with time he will become a fan favourite like he was at Aston Villa. He certainly has the quality and his stunning goal against United pays testament to that, but will he be afforded the time by the club and the supporters to achieve his full potential and fire Liverpool into the top four?