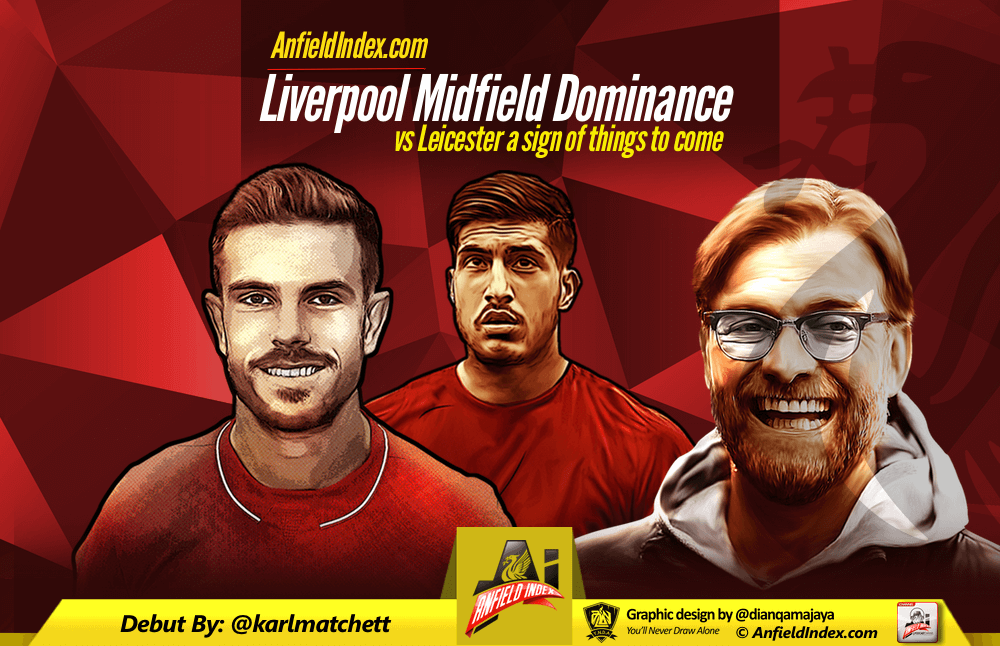 Liverpool midfield dominance vs Leicester a sign of things to come
Eyes were widened and surprise stated as Liverpool's lineup for the Leicester City game was confirmed, with Jurgen Klopp abandoning his usual 4-3-2-1 system since joining the Reds and matching up to the Foxes in a tactical sense with a 4-4-2.
Pre-game (and, for some unfortunate watchers, in-game) chatter was about how Klopp was affording such respect for the league leaders that he was altering his own preferences for the side—but instead, what this really was for Liverpool was another step toward the most likely long-term structure once the boss has everyone available, and is able to shape the team his own way with future transfers.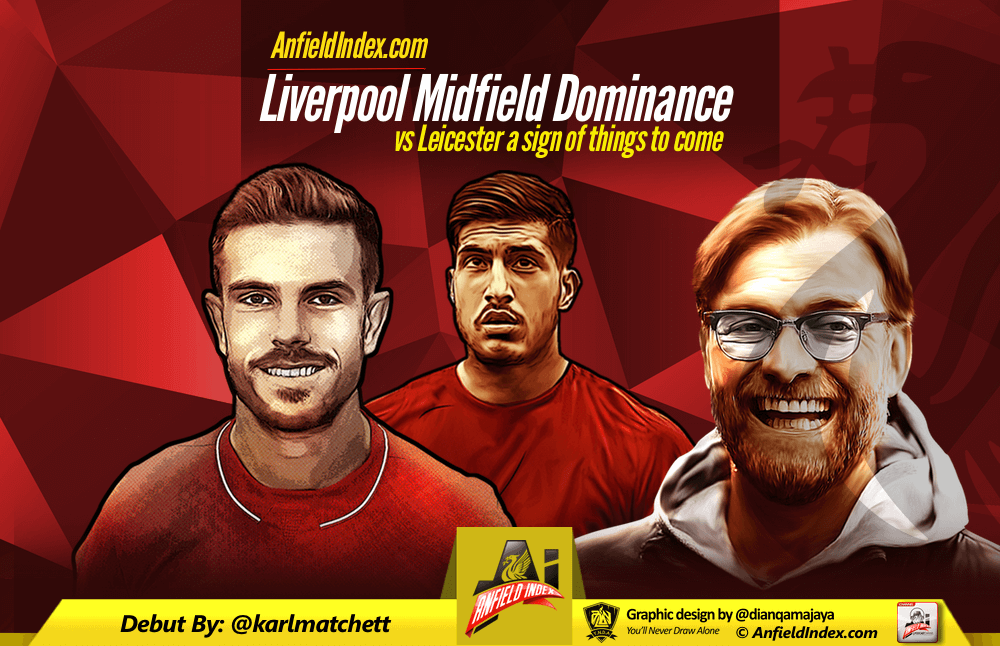 The way Liverpool set out, on and off the ball, mirrored the overall approach of Klopp's Dortmund side in terms of shape and which groups of players pressed in partnership together, and as result, can be viewed as the basic blueprint to move forward with at Anfield too. It has been seen in flashes already: the Capital One Cup against Bournemouth and late on in games including Southampton both saw the Reds feature four across midfield, with either two out and out forwards or one attacker playing just off the front man.
More frequently referred to as a 4-2-3-1, Klopp's BVB system essentially asked two to play in tandem and make the initial press in attack, with a structured four in midfield behind them…exactly as seen against the Foxes on Boxing Day. The "-2-3-1" comes from inventive movement once in possession, interchanging positions in the attacking midfield buildup, with one rather more penalty box-oriented striker continually making runs to stretch the defence, create spaces in front of it and either quickly link play, or get shots away. 
It's the exact template which many have been expecting to see since Klopp arrived, and should be one seen more frequently going forward. 
The strengths of this particular midfield arrangement are numerous, both on and off the ball.
With the Reds now looking far more organised out of possession than at any point over the last three years, working harder not just to close down passing lanes but also, vitally, doing so in shape, the defence is much more adequately protected for more of the game and Liverpool are conceding fewer clear chances on goal as a result. It's not necessarily the most natural thing in the world for the likes of Philippe Coutinho and Adam Lallana to track all the way back to the corner of their own penalty area and tuck inside continually when the buildup comes down the opposite flank, but neither is it an alien task. Both—as well as Jordon Ibe and James Milner it should be noted—can do the job without it impacting on their capacity to break forward into space quickly and create danger at the other end.
As for the central players, the double pivot is as far removed from a defensive midfield partnership as possible. While both clearly have defensive responsibilities, the principle idea of the system relies on groups of twos and threes working together to close spaces, win the ball and exploit the gaps behind those who lose possession—and both Jordan Henderson and Emre Can excel in those situations.
It isn't always ideal to have two forward-thinking individuals in place, but with the amount of possession the Reds enjoyed against Leicester it was imperative that the two central players contributed going forward, in two ways in particular.
First was in breaking into the final third centrally, simple straight-line runs forward at times which Leicester's midfielders failed to track. It can help to create a surprise overload or simply be an extra body in the box to reach a knock-down, rebound or wayward cross, as evidenced by Henderson's goal against West Brom recently. It seems an obvious point, but the natural reservations of diligent midfielders often means that they don't take that extra step, getting into the box and trying to be a goal threat rather than just recycling the ball from deep.
The other method is more focused toward Klopp's particular requirements; the rapid and continual overlap of Henderson (or Can) around Lallana (…or Coutinho…) on the right (…or left!) channel, ready to whip across a first-time delivery or else pull the full-back out of position, in turn creating space for Lallana or the two forwards to move into. With the more creative, technical players able to then remain in central or channel areas, Liverpool side-step the loss of the two "10s" caused by shifting away from the 4-3-2-1 which initially worked well and continue getting their playmakers in possession as often as possible. 
Klopp has already alluded to the dominance of the ball that Liverpool enjoy in high, wide areas; against Leicester it was seen to an impressive scale considering the Foxes topped the table at the time and that extra movement from in-to-out gives not only an overload in those areas where short passes or crosses can come in from, but also lets the ball be moved at a greater tempo.
As discussed on a recent AI pod, whatever personnel or team shapes are employed, it's inevitably the speed of the attack which enables bigger teams to break down deep-lying defences—or prevents it.
Going forward, it's reasonable to think that the players selected by Klopp to play across a midfield quartet, particularly in the central partnership, may change at times. Not only is it a physically and mentally demanding role, it's also a tactically important one and when the Reds are facing better sides (in terms of them dominating and attacking in midfield, not in league position!) it's possible Klopp will want a more fixed holding option at times. 
Personnel aside, though, it's a system which better suits the ability to press and dominate that the manager wants from his players on a regular basis and is extremely likely to be the shape seen more frequently as this season, and Klopp's tenure overall, goes on.