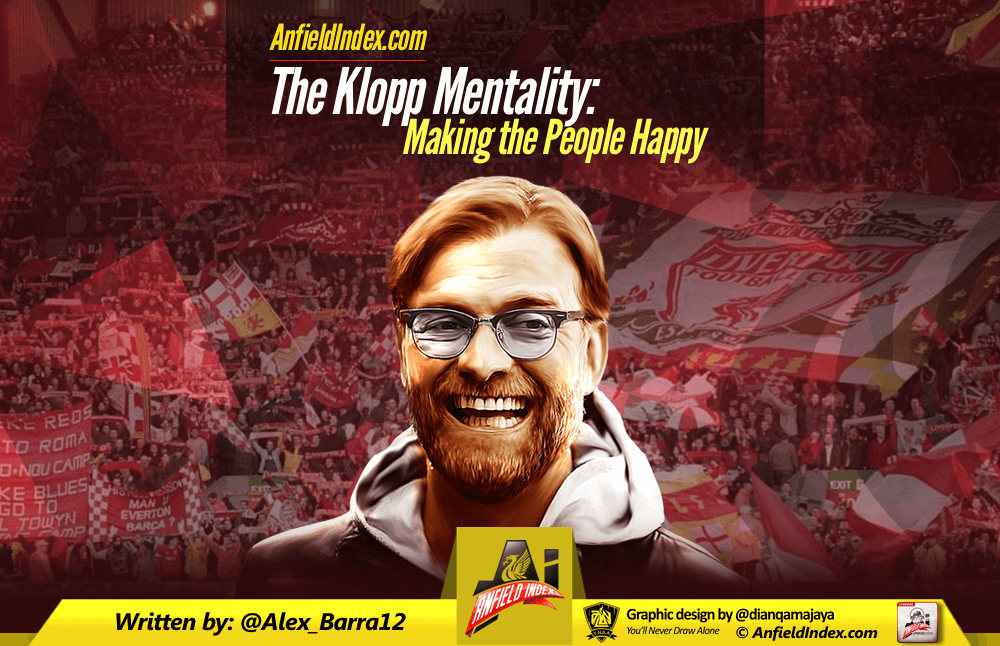 The Klopp Mentality: Making the People Happy
In a football world often described as savage, unrelenting and uncompromising, it's a pretty good feeling to watch a Jürgen Klopp interview. In such a harsh, embattled landscape where managers all strive to achieve excellence largely through one pre-determined template of how to act in front of the camera and on the touchline, Jürgen Klopp is a breath of fresh air; one that's only been witnessed a select few times since the rise of the most decorated manager of recent times, Alex Ferguson. Klopp belongs in a category of those in the uppermost echelon of modern managers. Managers who define.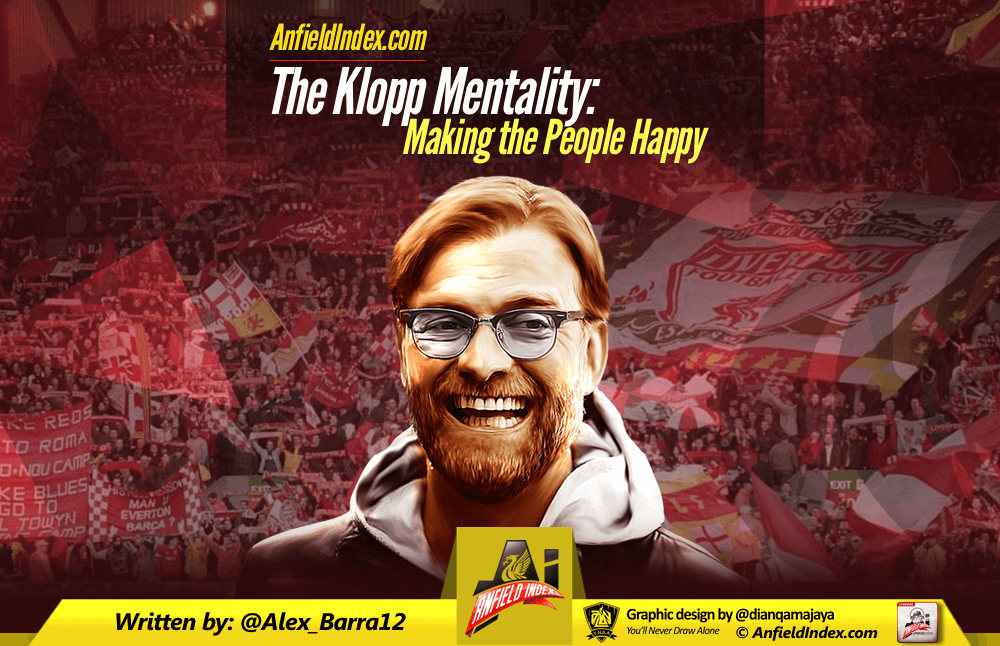 The level of a manager who is able to tactically or uniquely define a generation of managers and make their stamp on the game is shorter than most think. Superb managers whose ability cannot be questioned are aplenty in the world game; yet managers whose profile define their generations are exceptionally rare; in this writer's opinion, in the last ten years there have been only three managers who can say they've tactically defined how many will look back at this period in football's long and decorated history. The first is Jose Mourinho, for his sheer ability to win no matter where he goes. Porto, Inter Milan, Real Madrid, Chelsea twice, and undoubtedly wherever he ends up next, the adaptability of the "Special One" cannot be denied. Resources or not, there can be no question to his superb tactical ability.

The second, Guardiola, is tactically the most influential manager of our generation. He took a Barcelona side littered with superstars but lacking in meaningful direction and turned them into the most impressive team many had ever laid their eyes on. His tactical planning and coordination is second to none.
The third, well he took a Mainz side struggling to remain in the 2. Bundesliga and got them promoted to Bundesliga football. He then took the sleeping giants who'd finished the last season in a miserly thirteenth place to the top of Europe; only a late winner from Arjen Robben denying his passage into the famed collection of manager with UEFA Champions League titles to their name. He overcame the biggest club in world football twice to lift two straight Bundesliga titles and was single-handedly responsible for taking the youngest side to ever lift the Bundesliga title to the pinnacle of their careers.
Yes, this is subjective hyperbole. Yes, this is all in the view of an ideological writer whose fascination with tactics and the finer things in football will always twist his views on what is more often than not a results game. Yes, people will disagree.
But it doesn't matter. Because we've got Jurgen Klopp, and they don't.
It's not the results that matter, it's how he got those results. It's the innovation of a pressing game not seen before; the 'gengenpressing' system that Liverpool is yet to actually witness. It's the organised chaos that erupts onto the pitch when 11 players with the Klopp-inspired wind at their backs take to the battlefield feeling like they can achieve anything. It's the same mentality that saw Robert Lewandowski put four past Madrid, and that saw the Yellow Wall erupt into party mode when their team put five past Munich.
Klopp, like Guardiola, is a manager whose achievements can be derived from the effect he has on his players, how he makes them better, how he brings them to incredible heights.
But you already know all of this.
Liverpool supporters were shown a glimpse into those very same heights when Klopp's side travelled to Chelsea and City and put a combined tally of seven past the defending champions and runners up. The heights had equal lows when his side travelled to Watford and defensive frailties reared their ugly head once again. The sticking point amongst all of this? What Klopp did to City was with a squad he'd worked with for less than a month. What Klopp suffered at Watford was, in equal measure, with a squad he'd worked with for two months. For every glimpse into the talent of the German maestro, there's equally a reminder that with all of Klopp's determination, charisma and passion, the squad he's inherited is one that finished sixth last season and one that's only finished in the top four once in the space of six years.
The key, defining factor of it all, however, is the realisation that the virtue of patience will reap the most glorious of rewards.
In the same way that his impact at Mainz wasn't immediate, and his initial impact at Dortmund, though notable, wasn't immediate, Klopp's Liverpool tenure will need to be given time. What we have been given, however, is a glimpse into the mind of the unique, charismatic, charming man who's taken a fractured fanbase and begun to make them believe again.
"In the football world, if it is not possible for a team to show they are thankful for the atmosphere, and someone is saying "These are only for special moments", why? The people are celebrating each goal."
There's a saying around the fields of Anfield Road. Bill Shankly made the people happy. All Jürgen wants to do is make the people happy, and that's why Liverpool supporters can't shut up about him. That's why going from someone who's never lifted a trophy in his short managerial career to someone who's beaten Bayern Munich on multiple occasions was enough to put a spark in Liverpool Twitter not seen since Luis Suarez. People can judge, sure, but in the end, only we matter. Because only we are the ones with Jurgen Klopp. He doesn't need to be the best manager in the world to manage Liverpool, he doesn't need to have the most impressive CV in world football. He just needs to make the people happy, and the people will get behind him with a support unmatched by most sides in football.
"We are not on the world to do what everybody wants. LFC is family and friends."
Such a distance from the fractured fanbase which fought over the tenure of Brendan Rodgers. A fanbase stricken by a complete lack of hope. And yet, it is in Jurgen's mentality to unite the fanbase in a chorus, because that chorus can be as powerful as any "world-class" player.
Take a look at the 2013/14 season if you don't believe it.
"Everybody's asking me for winter transfers…how can we take four new players, what do we do with the other four? Should the world work like this where we have four new, then [the rest] just go?"
There's a very Anglo-derived feeling amongst the Premier League, that if something doesn't work, you replace it. Outright and without much thought for the ramifications, you simply replace the parts of the machine that can be upgraded and move on with the collective running a lot smoother. And yet, the machine can only function as well as the sum of its parts can work together; and indeed the German mentality of cohesiveness and individuality is something Jürgen Klopp emblemises.
To Klopp, football is not exclusive from how the world should work. Transfers are a key factor in any team; and Klopp's ability to develop players' strengths to their individual maximum is undoubted.
However, the collective identity matters more than the strengths of the individual.
There's no thought in Jurgen Klopp's mind to simply discarding Dejan Lovren, James Milner and Lucas Leiva purely because they don't suit the way he wants to do things. In the way that most fans of Anglo-descent would be inclined to simply replace and upgrade without any thought towards the collective identity and the human aspect, Klopp believes in attempting to develop players to suit him, to see how the human beings in his team can adapt.
Just the other day, Christian Benteke mentioned how Klopp had an in-depth, deep conversation with the Belgian front man whose performances had been lacklustre, and illustrated what Benteke needs to do to play his role in Jürgen Klopp's Liverpool team. He's giving Benteke the same chance he gave a 19-year old Polish youngster wanting to make an impression on his new boss; he instils the confidence and belief in a player's mind that they can be as important a player as any in world football, and lets them go about achieving it. If they don't, they'll be moved on, because that's how football works. But to serially replace human beings as if they're simple commodities without any thought as to the ramifications is not the mentality Klopp wants around Anfield, it's not how Klopp developed his side of world-beaters and it's not how the youngest team to ever be crowned Bundesliga champions ascended to their throne.
There was a team, developed into believing they could beat anybody on their day.
"Football becomes the game it is today because you work together. In this moment we don't only have the players; we have to work together with all the supporters around the world. That's what I believe in. If we are strong and do this, then we will succeed for sure."
The old anecdote about a team of champions versus a champion team of course springs to mind, and in the big German's methodology, the collective will always be more important than the individual.
And possibly the best insight into the fantastically excitable German is the quote he shares about celebrating in front of the Kop following a dramatic 2-2 draw with West Bromwich Albion.
"We don't know how long we live so we have to take the day."
There's no point having reservations about the past if it hinders the future, and there's certainly no point in playing a conservative, repressive style of football if it means the fans will not be entertained. High octane, intense, aggressive football, all with a cocoon of playbooks and calculations and development on the training ground. All in the name of making the people happy.
Perhaps the best example of that are the reactions to Klopp's departure in the clubs that grew to love him like a father. Mainz and Dortmund both held up banners with his face on the front, his beaming, joyful expression stemming from the love he has for the "beautiful game of football", that same love that the fans all share when he pumps his fists on the sidelines. They loved Jürgen, and now he's ours. Perhaps it will end with a similar celebration when his time's up at Anfield, having delivered on all of the promise his name and reputation brought upon his arrival. Perhaps it won't. Who cares?
Right now, the future is as brighter than any Liverpool fan could possibly have imagined when Stoke put six past Brendan Rodgers' side on the final matchday of the 2014/15 season. Right now the world of endless possibilities awaits a Liverpool fanbase united behind the club we all adore. So be patient, enjoy the ride, enjoy every beaming grin and pumped fist on the touchline and enjoy every maniacal press and deft touch from players with the wind at their back.
Jürgen Klopp wants us to believe. So let's start believing.
*Quotes courtesy of the BBC and Sky Sports