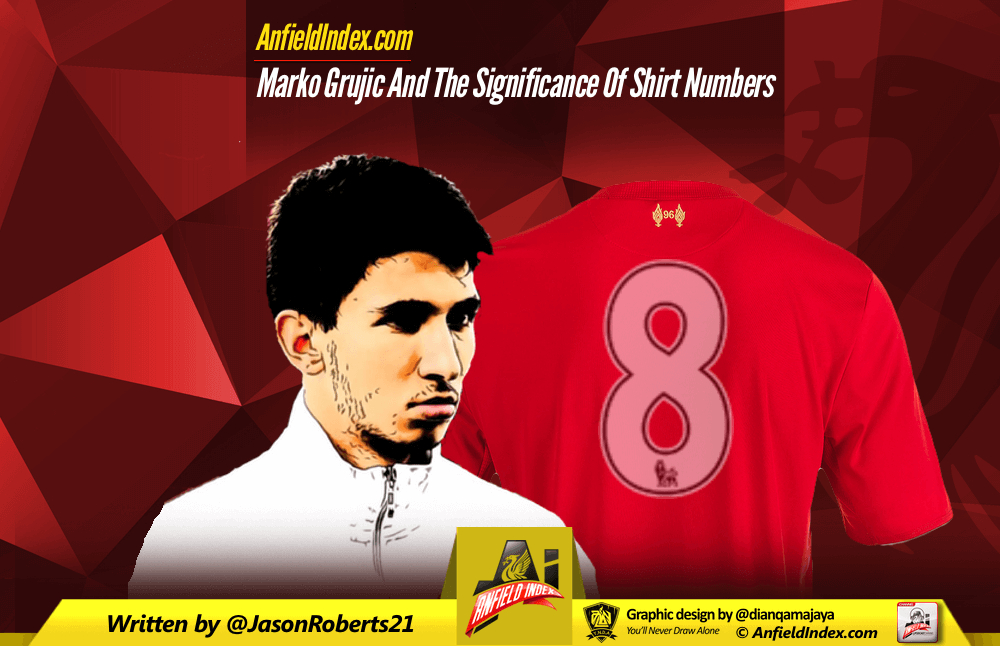 Marko Grujic and The Significance of Shirt Numbers
Marko Grujic. Up until a couple of weeks ago, the vast majority of Liverpool fans likely wouldn't have heard of him. Yet now he's the name on everyone's lips, as his controversial move to the Reds gets ever closer to being signed, sealed and delivered.
I say controversial, not because of the young mans reputation, or doubts over his ability from those who have genuinely seen him play. I'm not even referring to the slightly strange situation relating to his father, who has apparently been very vocal in his unhappiness at the prospect of his son being sold to ease Red Star Belgrade's financial issues.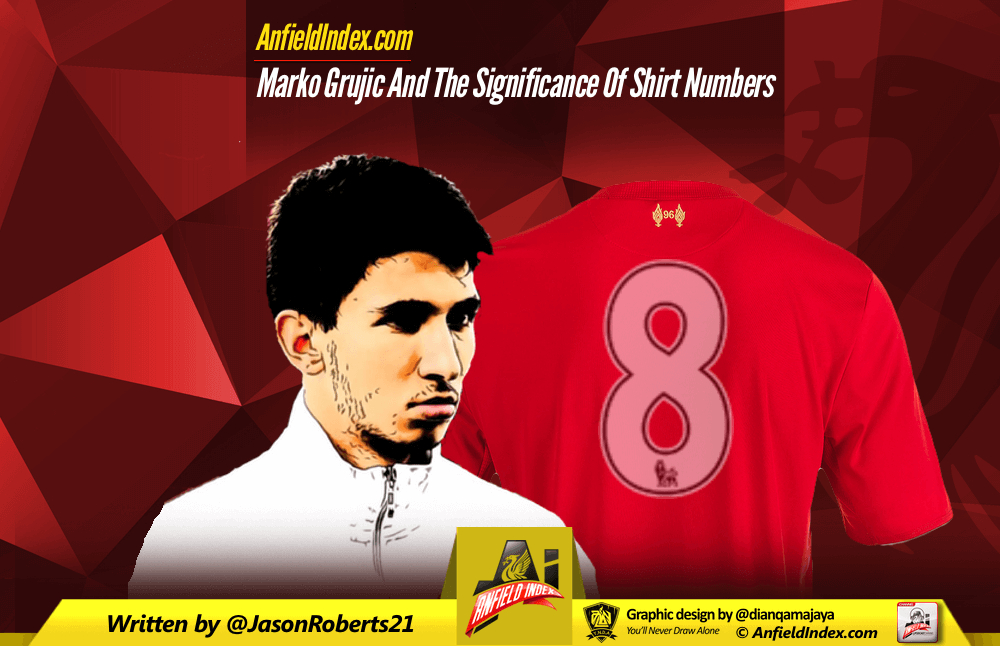 No, what I am referring to is the hornets nest which was seemingly aggravated amongst Liverpool fans when it has recently been suggested that Grujic will wear the number 8 shirt, if/when he signs for us. The initial suggestion and then subsequent reaction to Grujic posting a picture on his Instagram page of himself and Gerrard, has sent a large number of fans into a frenzy. So much so that in response to a separate post from him, some Liverpool supporters took it upon themselves to beg, plead and in some cases demand that he not take the famous number eight as it is Gerrard's shirt. The insinuation (and in some cases blatant message) being that he is undeserving of the number.
And this is where I have a problem. In fact, two problems.
The first being what I perceive to be the sheer stupidity of some people, to take to social media and aggressively message this young lad. We, as Liverpool supporters, pride ourselves on being one of the most intelligent and supportive of fan bases. And whilst this may be true for some people, the reality is that nowadays this is little more than a self-professed notion that most of us want to believe, but is continuously proved wrong through the mediums of Twitter, Instagram, Facebook etc. where the dregs of society (and as a consequence, our fan base) seemingly go out of their way to disprove it.
Surely to goodness you can appreciate that if you want to see players signing for Liverpool, then as supporters we can play our part by being exactly that – supportive – and show potential signings the class of the fans that he could be playing for? Surely you can see that sending stupid – and in some cases aggressive and insulting – messages to someone who is considering signing for us, is counterproductive and a negative reflection on the fan base? Obviously not everyone can.
The second being the emphasis that many people put on particular numbers and significance behind them, to the point that massive debates rage about who is deserving of wearing certain numbers and on what basis someone merits the privilege of displaying said number(s) on the back of their shirt.
The three prime examples of this from a Liverpool perspective are the number 7 shirt, forever associated with Anfield greats Dalglish, Keegan and more recently Suarez. The number 9 shirt donned by goal scoring heroes Rush, Fowler and *cough* Torres *cough*. And now we have the number 8 shirt, worn by our legendary former captain, Steven Gerrard.
Over the years and in between the periods that the number 7 and 9 shirts were donned by those superstars named above, a number of other, less glorified players have also worn those numbers with mixed results.
Since the dawn of the Premier League, the number 7 incumbents have included Nigel Clough, Steve McManaman, Vladimir Smicer, Harry Kewell and now James Milner. Of those players, Clough signed from Nottingham Forest and despite scoring a couple on his debut, he was part of a struggling Liverpool team managed by Graeme Souness and after 2½ years at the club he'd scored 9 goals in 44 appearances.
McManaman earned the number after previously wearing number 17 and for many was seen as one of our better players in the mid-to-late 90s before he went on to join Real Madrid. He has, however, never been held in the same esteem as fellow Liverpool academy graduate from the same era, Robbie "God" Fowler.
Smicer's time at Liverpool is seen as underwhelming on reflection, mainly down to a combination of injuries and inconsistent form. Despite this, he amassed an impressive trophy haul that included 2 League Cups, 1 FA Cup, 1 Community Shield, 1 UEFA Cup and of course, he scored the second goal plus a penalty (after coming on as a substitute for the injured Kewell) in the famous Champions League victory against AC Milan in 2005.
Smicer had given up the number 7 shirt to Kewell upon the exciting Australian international signing for Liverpool from Leeds to much anticipation (and some controversy) in 2003. Kewell was seen as a worthy inheritor of the famous shirt, such was his scintillating previous performances for Leeds Utd, and many (myself included) couldn't wait to see him play a significant role in us finally winning a Premier League Title. Alas, it never transpired and whilst he showed his undoubted ability in glimpses, it was all too few and far between as his time at Liverpool was littered with injuries and question marks over his fitness and attitude.
As for James Milner? Our current number 7 and vice-captain joined to much outrage from sections of the fanbase. Him taking this number, receiving high wages and being given the vice-captaincy meant that he was on the back foot with the fans straight from the off, who felt he was undeserving of it all. His performances since he signed have been uninspiring in the main, so thus far the supporters have a right to have been underwhelmed at his signing. However given the fact that, Suarez aside, the other incumbents of the famous number 7 shirt over more than two decades have far from added to the aura around it, then surely this should be the least of the reasons to criticise him.
When you consider players who have worn the number 9 shirt since the inception of the Premier League, it makes for similarly mixed reading. In between and around the aforementioned Rush, Fowler and Torres, the list reads as follows: Anelka, Diouf, Cisse, Carroll, Aspas, Lambert, Benteke.  Are you inspired and excited by this list?
Anelka was on loan with us which was (unfortunately?) not made permanent, so we don't know how he would have worked out over time. Given his success with other clubs, he could well have been one of the better number 9s we've had.
In terms of the others – Cisse scored 24 goals in 79 appearances which shouldn't be sniffed at, however the controversial frontman had his Liverpool career blighted by injury and being played out of position.
Carroll was never going to live up to his £35million price tag and injuries plus a limited skill set meant his Liverpool career never really got going, despite scoring goals in the 2-1 FA Cup Semi-Final victory over Everton and vs Chelsea in the final.
Aspas will likely be remembered for a long time by Liverpool supporters – not because of his goalscoring antics, but more for one of the worst corner kicks taken in living memory. Lambert was seen as a low cost, low risk, sentimental signing as he joined his boyhood club. Needless to say, he left the club after making very little impact a year after signing. And Diouf? Well, the less said about him the better.
The jury is still out on Benteke, however the general consensus so far shows him potentially adding to the list of players who have "failed" as our number 9. Time is still on his side though and hopefully he goes on to prove the initial doubters wrong.
I'm inclined to think that you surely cannot judge whether or not a player is going to make a success of their Liverpool career and whether or not they will be worthy of a particular number until you have the benefit of hindsight. Until you can look back and reflect on their time with us. These numbers carry a lot of weight with Liverpool fans, however is it justified? Looking at the list of players mentioned, the answer is surely no. However, you could be forgiven for thinking that the "failures" make you truly appreciate when a superstar comes along.
If Grujic does sign for us, and does take on the number 8 shirt, then he should be credited for doing so in the face of the nonsensical reaction from some Liverpool fans. Maybe he will fail to cut it at Liverpool, like many others before him, and the number 8 will move on to the next hopeful. Maybe he won't be the next Steven Gerrard.
But he could become Marko Grujic – superstar number 8 – in his own right, and should be afforded the opportunity to do so by the Liverpool supporters. Hindsight will determine whether or not he is deserving, not some idiots ranting on social media.