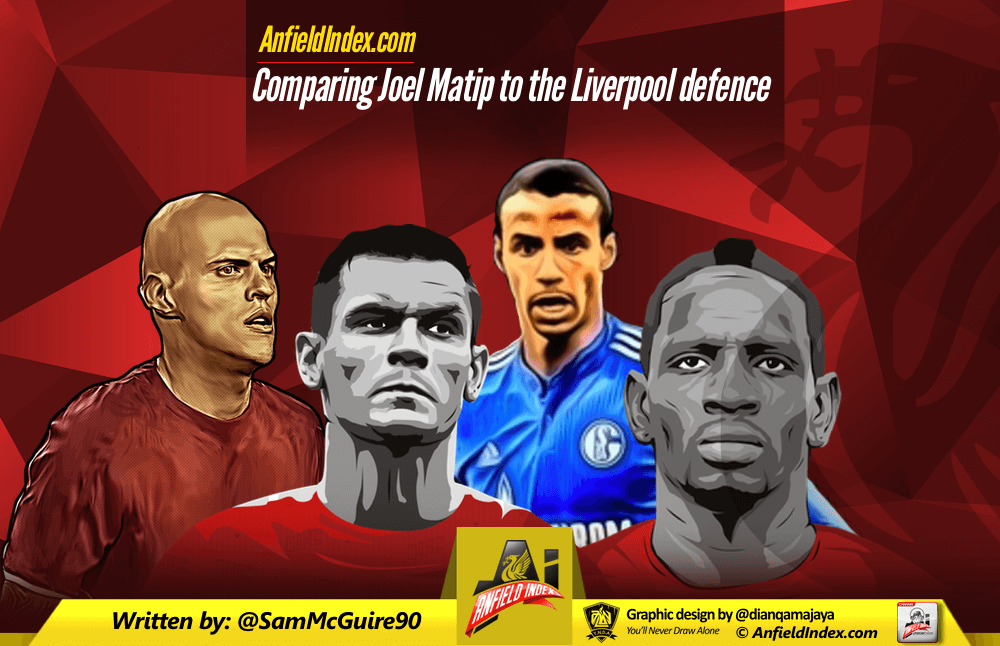 Comparing Joel Matip to the Liverpool defence
Schalke player Joel Matip has been linked with a move to Liverpool in the January transfer window in a cut price deal due to his contract coming to an end in June.
You'd be forgiven for not being too clued up on Matip, when thinking about Schalke defenders it's usually Benedict Howedes and the now departed Kyriakos Papadopoulos that are at the forefront of your thoughts but it's the lesser known Matip that's been impressing for Schalke this season.
Matip, who has 25 caps for Cameroon, is primarily a centre-back but can also do a job as a defensive midfielder and is seen as an ideal squad replacement for Kolo Toure, who is leaving The Reds this summer. The 24 year old is closing in on 200 appearances for Schalke already having made his debut for the side at the tender age of 18.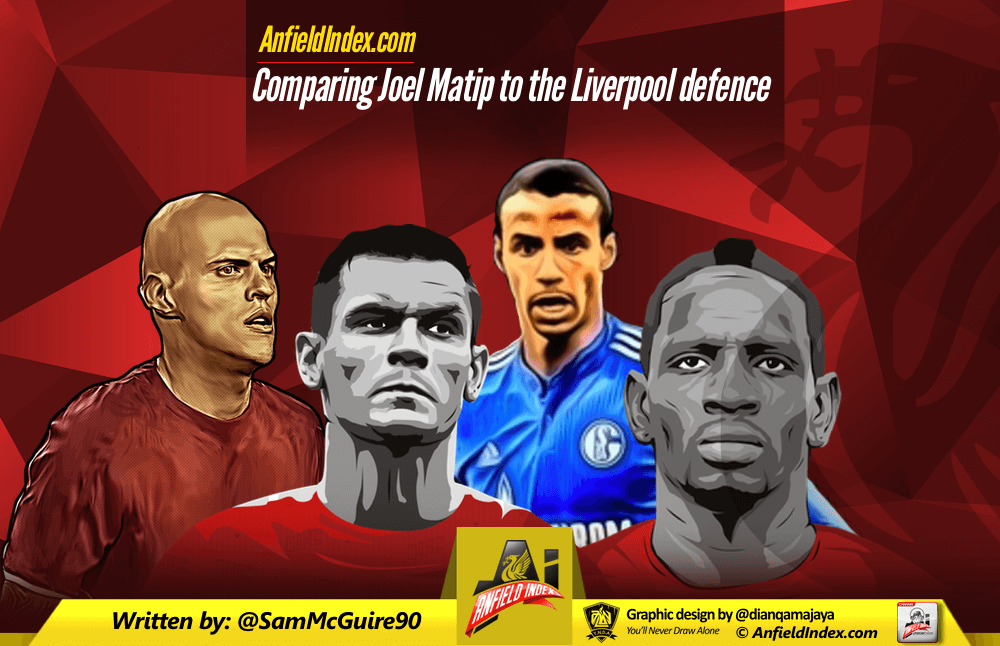 Strengths
| | | | | |
| --- | --- | --- | --- | --- |
| | Martin Skrtel | Dejan Lovren | Mama Sakho | Joel Matip |
| Goals scored | 1 | 0 | 0 | 3 |
| Headers won | 2.2 | 3.4 | 3.3 | 3.7 |
| Tackles per 90 | 1 | 1.3 | 1.7 | 1.5 |
| Pass success % | 85 | 87 | 90 | 85 |
Matip is a bit of an all rounder. It's hard to ignore his height, at 6ft he's a threat in both penalty areas.  Defensively he puts his height to good use, winning 3.7 aerial duels per 90. He's already scored 3 goals and grabbed an assist in the first half of the season to make him an offensive threat too.
When looking at tackles per 90 he's sandwiched between Dejan Lovren and Mamadou Sakho and he averages 0.5 more tackles than Skrtel does per 90.
Importantly for a Liverpool defender it's good to see what he's like with the ball at his feet. His pass success rate is in the mid 80's which is where you find both Skrtel and Lovren, with Sakho averaging 90% of his passes. So looking at these stats it's safe to say Matip wouldn't look to out of place if he carries on his Schalke form.
As I mentioned earlier, he's an all rounder. He's just as comfortable stepping out and winning the ball as he is covering for his centre-back partner when they're stepping out. Looking at the options at centre-back he seems like he'd compliment the other three well if partnered beside them.
Another positive when looking at Matip is the fact he's only been cautioned twice this season despite appearing in 20 games. He's not a red card risk. He's not the type to pick up silly bookings which nullify him as a player.
He's not got blistering pace like a Tiago Ilori but he's got enough not to be exposed in a high line. The fact he's also able to play as a defensive midfielder aids him when playing at centre-back as he's not a reactive defender, he's a proactive one and he's always on the front foot, something Klopp likes in his defenders. This is highlighted in the interceptions stat, he currently averages 3 of them per 90. He's eager to win the ball and get the team on the attack.
https://www.youtube.com/watch?v=WPTQUek961c
Weaknesses
It's not really a weakness but he has some Dejan Lovrenesque traits about him. He gets a little confident on the ball at times when bringing it out from deep and he can be caught on it from time to time. Eager to read the game and intercept a pass he is culpable of leaving space in behind him if he does miss the initial press. No team deserves two Lovrens but there are signs that Dejan isn't as dangerous these days and Matip has it in him to iron out these sorts of mistakes.
At the age of 24 he is still fairly young for a defender but he brings plenty of experience. He's played in Europe, both the Champions League and the Europa League, and he's at a knock down price due to his contract coming to an end. Liverpool may be signing an aerially commanding, ball playing, versatile centre-back at a quarter of his actual value. It's these sorts of deals Liverpool should be looking to make.