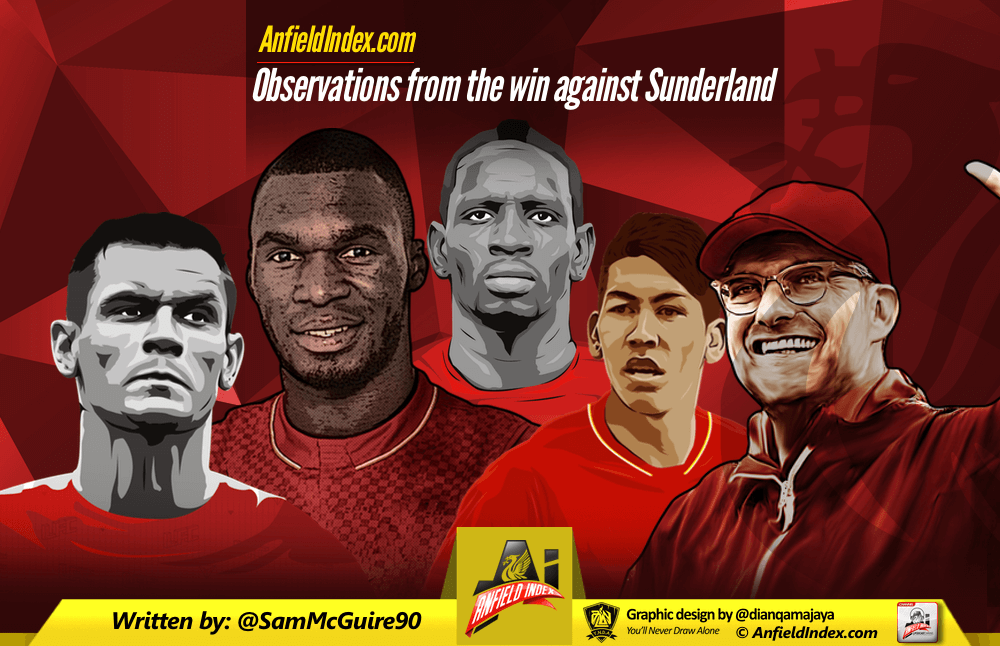 Observations from Liverpool's win against Sunderland
Two consecutive 1-0 victories against Leicester and now Sunderland have seen Liverpool rise up to seventh in the table, level on points with Manchester United. The win on Wednesday night saw similarities to the win on boxing day; an unconvincing 1-0 victory. Benteke bagging the winner but missing a late sitter in both games, and the opposition sending their goalkeeper up for a corner in added time.
More importantly however, Liverpool capitalised on United dropping points. The Reds are now only five points off fourth place as we enter the second half of the season. It wasn't pretty nor was it a game the neutrals could appreciate, but at the end of it, Liverpool walked away with the all important three points.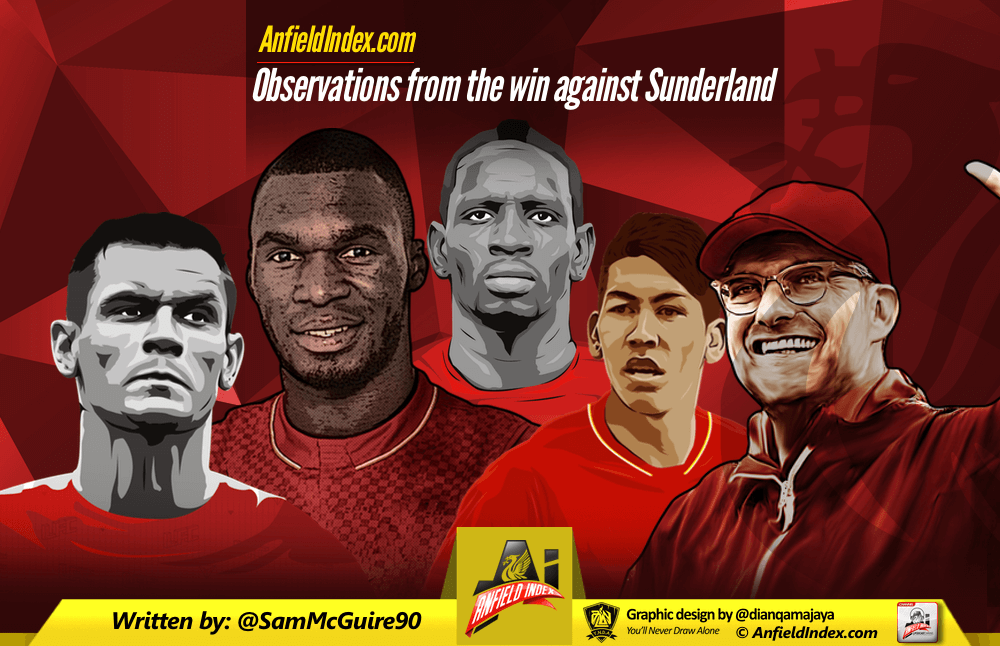 Depending on the type of person you are, this victory can be filled with positives if you like to see the glass half-full, or riddled with unanswered questions if you are a glass half-empty kind of person.
People are quick to criticise Roberto Firmino. The £21 million signing from Hoffenheim is yet to light up the Premier League as he did the Bundesliga, and I have seen him torn to shreds on Twitter this evening.  He is an easy target. As Gags mentioned on the Anfieldindex pod earlier in the week, he does a lot of work off the ball and is key to the pressing game Liverpool use. Not only that, but against Sunderland he created two clear cut chances and had a thirty yard drive smash the post after Mannone got his fingertips to the shot. Not really a bad day at the office, is it? If Christian Benteke and Jordon Ibe put away the chances then the number eleven finishes the game with two assists.
He didn't have a full pre season, picked up an injury early on, has had two managers at the club in five months and he only completed ninety minutes against Leicester on Boxing Day. So, why the rush to write him off?
Christian Benteke. He is a bit like my girlfriend when she asks me to choose what we are having for tea, as she will have anything before but then quickly reject everything I suggest. I am left confused.
He's got this habit of scoring winning goals but doing very little else. Liverpool look disjointed and blunt when he starts but then he pops up with important goals. Uncomfortable 1-0 wins could have been solid looking 2-0 victories had Benteke took the chances presented to him late on in both of these games. He has scored seven goals this season, a good return for a striker that has been in and out of the squad with injuries, but how many easier chances has he missed? He could be on 12/13 goals this season had he shown the necessary composure.
I remember being told this sort of form was unsustainable and he would start finishing these easier chances. We are half way through the season now and it's still continuing…but I can't stay angry at him because his goals are winning us games.
*Head explodes*
Jordan Henderson. Our captain lasted sixty minutes before being replaced with a recurrence of his heel injury. It is not an injury that will ever be correctly healed so he will have to be managed properly moving forward. This was his third game in ten days (with I njuries forcing Klopp's hand). Against Leicester he was instrumental alongside Emre Can in Liverpool winning the midfield battle.
If it is indeed his heel giving him grief again, how long do we give him before he's considered a luxury? If your captain cannot play the majority of games, does he get demoted to a squad player? This may well be a conversation Jurgen Klopp has with Jordan in the summer if this heel injury continues to plague him.
Dejan Lovren and Mamadou Sakho. Both players have their backers and their detractors. Both still aren't fit after returning from injury but since being paired together Liverpool have played two and conceded 0. In the seven games they have played together they have kept five clean sheets and Liverpool have won six of these matches. This is a partnership that should be encouraging for Jurgen Klopp. There seems to be a good understanding between the two; when one attacks the ball the other sweeps in behind. They both hold the line well and both seem to keep it simple and look to play the ball out from the back instead of hoofing it long like Skrtel is so fond of doing.
I'm not a massive fan of Dejan Lovren but against both Leicester and Sunderland he has cut out the Lovrenisms we had become accustomed to. Less is more with Dejan and he's been performing much better.
If Klopp nurtures this partnership then there is no reason for Martin Skrtel to be a starter for Liverpool ever again, and it means Liverpool may not have to go centre-back shopping in January.
Come May, we could look back at these two 1-0 wins as a massive six points in our push for a top four spot.