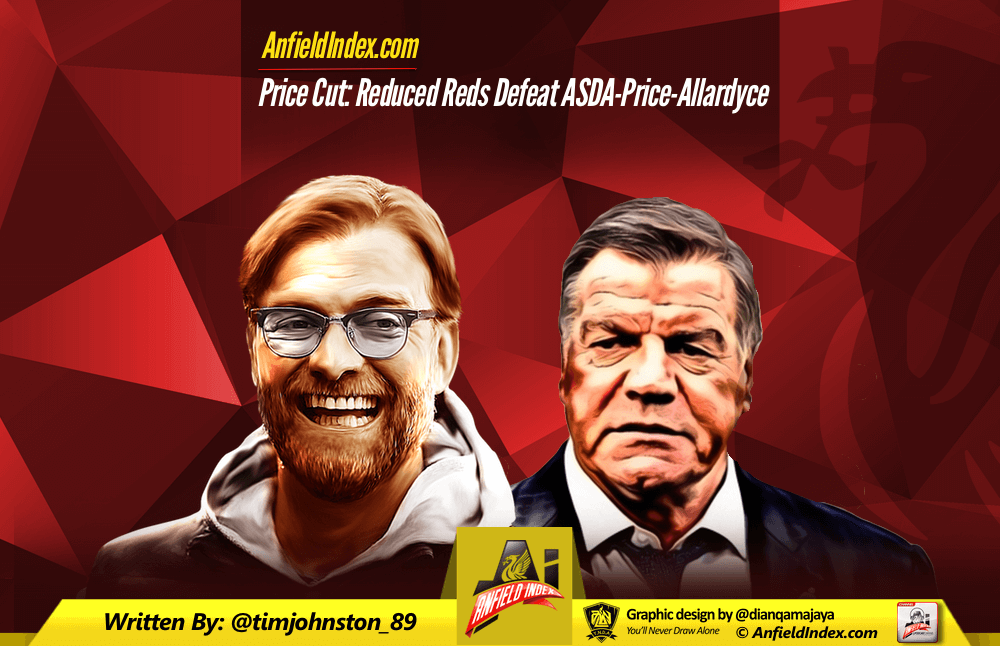 Price Cut: Reduced Reds Defeat ASDA-Price-Allardyce

"Playing against a defensive position is just as bad as making love to a tree." – Jorge Valdano
A couple of weeks ago I tweeted that, by beating Leicester and Sunderland, Liverpool could finish the year just nine points off first.
The response was typical.
I was met with groans of, "easier said than done", "this season, you can't predict anything" and, "well, this is Liverpool."
Sitting here on New Year's Eve we are just three wins off the top of the Premier League.
In a season in which Leicester can be level on points with Arsenal – top of the Premier League table – and with no newly-promoted teams looking in the mood for relegation; it is increasingly obvious that "logic" doesn't really have a place in today's fixtures.
Billions from new TV deals has sparked uncertainty and opportunity at every club, big or small. A snowball effect of new kit sponsors, ticket sales and merchandise has led to huge adjustments in wage structures and transfer budgets. There is quality in every team – something Liverpool had the misfortune of experiencing over the last few weeks. No team is safe. No team is in danger… But you have to care.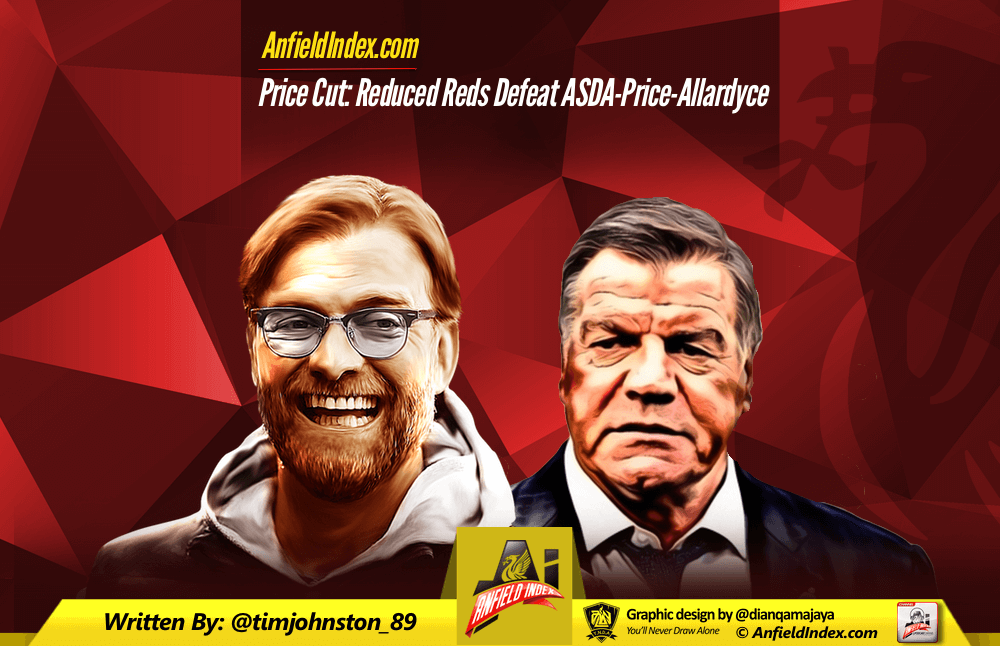 Context
Prior to Liverpool's win, Sunderland had lost their previous 4 games, including a 4-1 pasting by Manchester City, just three days earlier. They needed to bounce-back and were due some good fortune.
Having emphasised the importance of "winning second-balls", showing more "togetherness" and being "in [our] faces", Sunderland did a good impersonation of a team that cared; that wanted to stay-up.
But if ambition was what Allardyce wanted, perhaps he should have shown more.
Paper cup in-hand, all this gum-choking tea-swigger could muster was a 90-minute rant to his assistant manager.
Even before the game, this "fighter" and "old-school geezer" berated the lack of quality in his squad; throwing everyone under a bus that was yet to leave the departure lounge.
Of course, Sunderland still had quality. But leaving Jeremain Lens on the bench only demonstrated the lack of quality in "Big Sam's" own judgement; bringing the veteran Dutch winger on 60 minutes too late.
Sunderland were unsurprisingly improved at his introduction and, for the first time, applied some consistent pressure to in-form defensive-duo Lovren and Sakho.
Had Martin Skrtel been playing, the last two clean sheets may well not have materialised. His injury has been a blessing and a welcome factor in Liverpool's recent defensive form.
But this was not a "vintage" Liverpool performance (whatever that is).
This was a game executed with the same lack of ability as Sunderland's front line… But we won.
What we lacked in offensive creativity we made up for in defensive solidity. The last two games have demonstrated a different and welcome side to Jurgen Klopp's Liverpool: a purge in fragility and upgrade in mentality.
At no point did we look like conceding.
Even against the "Big Sam Set-Piece" – and there were a few of them – Liverpool always looked solid. Unthreatened by corners and long-ball situations, Liverpool can take this solidity into the next three, tricky Premier League fixtures: West Ham, Arsenal and Man United.
What's next
On Saturday we play the first Premier League fixture of the New Year against the first of these three teams: West Ham. Win the game and we will be just 6 points off 1st-place. For a couple of hours, at least.
As has been the case under Klopp so far, the latter two games look to be the easiest; turning it on against the "big teams," with real opportunities to climb the table.
Going into 2016 a potential 6 points off the top of the table, an open transfer window, four competitions and half the season still to play for, we have every reason to be positive.
And if that's not enough for a mentality change, I don't know what is.
Happy New Year.