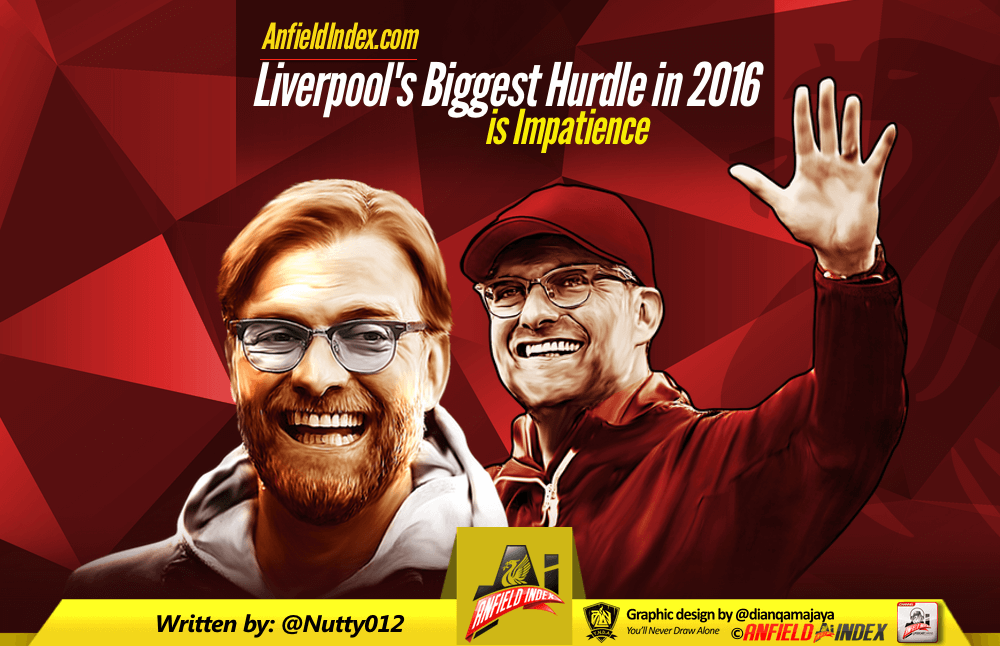 Liverpool's Biggest Hurdle in 2016 is Impatience
It's easy to look at the United fans with their radically pre-emptive Mourinho scarves, and their Sharpie covered kitchen-towl signs, and to forget that Liverpool fans can be pretty stupid too. Jurgen Klopp alluded to one element of the idiocy, or at least childish impatience, in Reds fans, when he said of Liverpool's inconsistent performances that "of course, there are explanations for this, but nobody wants to hear these explanations". There are swathes of football followers who you can rely on to form crude, over-simplified conclusions like clockwork. But, simplifying problems and solutions in such a messy sport like football is a terrible crime.
Football is only beautiful and fun in its difficulty and complexity, in its randomness, in its chaos. Football is 'messy', balls bounce of dodgy body parts, ricocheting like a pinball; goals are frequently the result of one of the countless mistakes made a game by either the players or the referees. The outcome of matches is decided not just on dominance over the pitch, but frequently on tough decisions, as well as the extremely difficult skill of finishing – you can dominate a game, have more chances in better areas, but often lose; upsets and unlikely results happen regularly. This is frustrating, but also why football is great.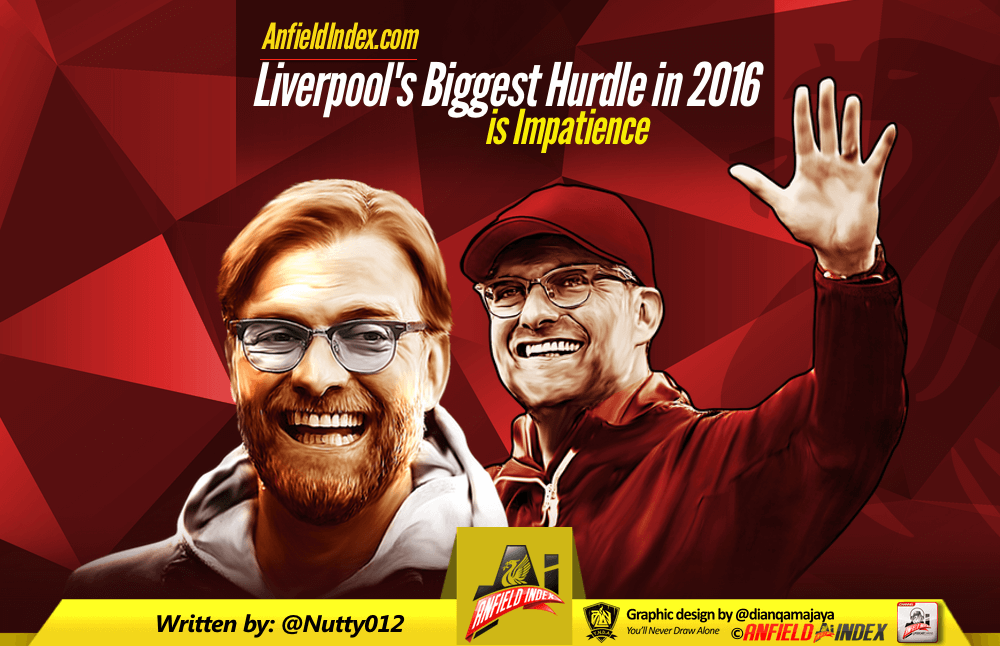 The real fun in football only comes when you embrace the cacophony of action; as Liverpool fans we should know this better than most, having enjoyed Suarez, the ultimate agent of chaos, for three and a half years.  And, at our helm now is Jurgen Klopp, who upon arrival talked about an intense heavy metal brand of football, and dragging down opponents to our level. It is not to say that Klopp does not have a plan, but it shows how he respects the complexity of football. Whereas a Guardiola might try and exert control, Klopp wants to be the architect of his opposition's chaos.
One might think then that Liverpool fans over many would respect the natural complexity of football. This respect would hopefully manifest as a calm critical philosophy towards football, a patience that transcends flukes and extreme moments. This is anything but the case. After beating Manchester City, we were suddenly title contenders; after losing to Watford, Klopp was no better than Brendan Rodgers. Stupidity has infiltrated football, and it has taken the form of impatience and fickleness. Opinions are quickly formed and quickly lost, all at the expense of the long term future of the club.
The stupidity can make life very difficult for those people who are actually trying to win games for the teams –the manager and the players. Recently, Roberto Firmino has been the victim of this stupidity. We all want to understand the player that we have bought, but apparently this endeavour of curiosity ceases after about 15 appearances, when apparently we have sufficient information to form strong conclusions.  Perhaps it is just superficial fickleness for those who are paid to form and write opinions quickly, but it is lazy and impatient for the legitimate fan and supporter to form such casual, sloppy and malleable opinions.
The product of our impatience is that we ignore Firmino's fantastic seasons in the equally competitive Bundesliga; we ignore his Brazil caps; we ignore how he has moved from a tiny rural German town and a mid-table club to a huge urban conurbation like Liverpool and a club with global aspirations; we ignore his performance against Manchester City; we ignore how the equally average performances from his attacking peers. The only way that one can draw strong conclusions about a player from such a short amount of time is by deliberately overlooking an immense amount of context.
Unfortunately, many people can't suspend their urge for instant feedback, their urge for instant success, enough at least to give new players an actual adequate chance. An example that we should learn from is Lazar Markovic, who's loan to Fenerbache has to be one of the worst transfer moves in the last 5 years of terrible Liverpool transfers. After one slow season, we decided a 20 year old who is settling in to a new club and country should be shipped off to the other side of Europe, for another one season stint in a completely foreign club and country. There will inevitably be foolish expectations that Markovic will be magically settled at the club upon his return, as if spending a year away from a place that you weren't settled him will somehow have settled him more. We need to nip this impatience in the bud.
The first article that I wrote for AnfieldIndex actually looked at Liverpool's recent trend of extremely high player turnover, in which I asserted that patience with players is one of the keys to success – far more important than buying new 'better' players. Over the last 18 months (three transfer windows) an astounding 35 players have come or left the club. This is the most in the last 10 years of the club (the period that I researched), and I showed a correlation between high player turnover and low league performance. Not only would new players need time to settle in a new team, particularly if they come from abroad, but if the whole team is new then the time needed for all the players to settle is even longer. Patience breeds success in football; one squad of the same good players, playing together for a stable period over a few seasons will be obviously perform better than a squad of good players who get reworked and reshaped every summer.
Perhaps its symptomatic of a wider trend in modern football, but both employees of the club and Liverpool fans have had a contemporary history of fickle behaviour and impatience. The dilemma for Liverpool and Reds fans now is whether they have the patience to persist with their current crop of young players, even if it means no champions league football for another year or two. Because unless Liverpool go out this summer and limit themselves to a transfer window in which they just buy two or three elite players for key positions (extremely unlikely given our past record), we will probably find ourselves behind at least four rival clubs come next season.
Liverpool can however be positive about having a genuinely top class manager, and an incredibly young side that is crammed full of potential. The average age across the first team squad is 25.1 years old, the second youngest in the league; in a couple of years, this same squad can easily grow into one of the most formidable in England. If you look at the personnel, there is a complete absence of players of the optimum age for their position. There are obviously youngsters like Gomez, Ibe and Origi who have immense potential, but even current stars like Coutinho, Sakho, Henderson and Sturridge have age on their side. Liverpool have the making of an excellent team, but unfortunately the biggest hurdle to our own success could be our own impatience.