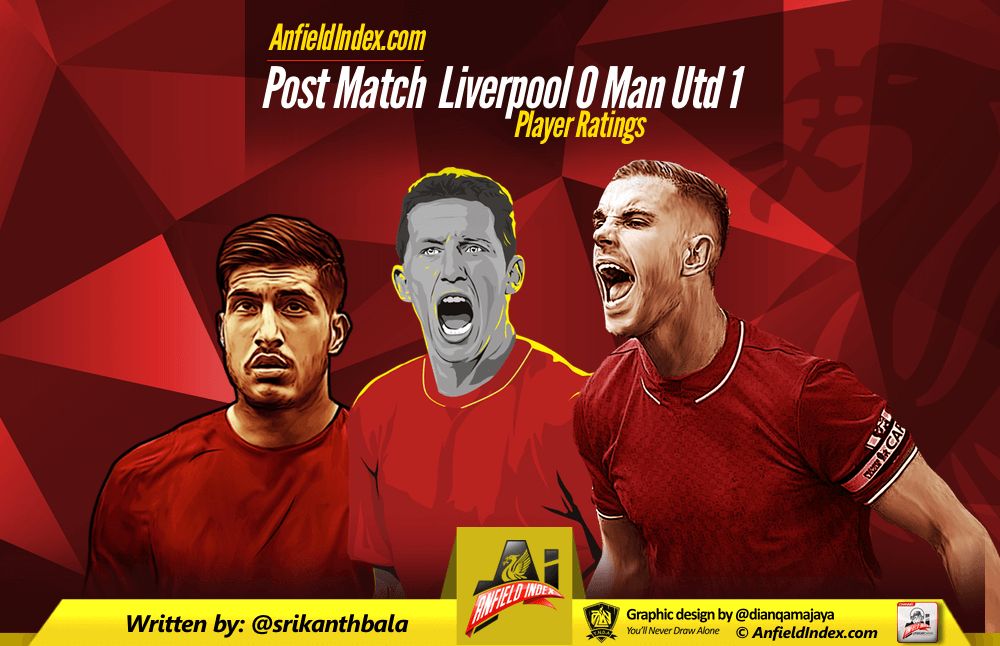 Liverpool FC 0 vs Manchester United 1 : Player Ratings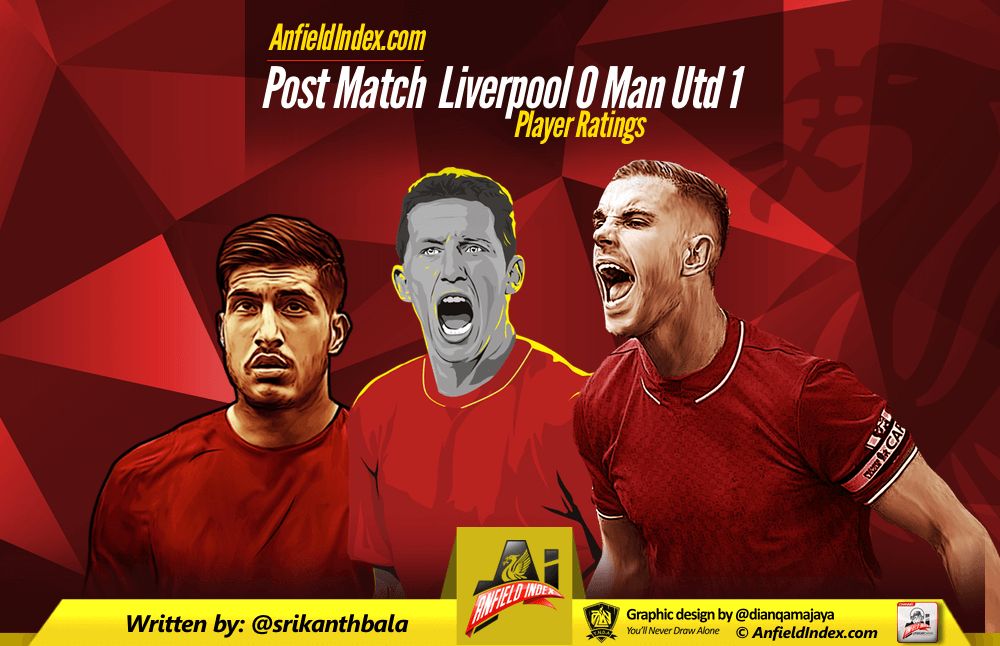 Simon Mignolet (6.5) – Was literally a spectator in the first-half. Had nothing much to do in the second-half (including the goal). Caught a couple of balls that needed to be caught.

Nathaniel Clyne (6.5) – Was far more influential offensively in this game, making a couple of great diagonal runs infield on the overlap. Was defensively solid with the little Liverpool had to deal with.

Kolo Toure (7) – Did his job with earnest and honesty. Kolo was solid at the back alongside Sakho and was great tracking back and dealing with his man. He was substituted late on as Liverpool went in search of the equalizer.

Mahmadou Sakho (7) – Sakho was great defensively and imperious aerially. Sakho must have had fifty odd touches in the first twenty minutes alone. A bit careless when making his usual forward passes. On the whole, it was great to see Sakho improving leaps and bounds compared to the previous game.

Alberto Moreno (6.5) – A far more subdued performance in an offensive sense from Moreno, but handled his defensive duties well with few a well-timed challenges and interceptions. Was caught out of position a couple of times which could have caused problems for Liverpool.

Lucas Leiva (6) – Lucas Leiva wasted no time in getting into the thick of things with his duel with Fellaini. Won a fair share of his duels in the midfield. Clearly lost Rooney on the set-piece, from which the striker scored. Moved into the centre-back position late on in the second-half.

Emre Can (7) – A great follow up performance from the German in the same week as he drove ahead from the midfield with great gusto. Turned the ball a few times over due to overthinking with the ball. Had a great effort on goal turned away by De Gea.

Jordan Henderson (6) – A good performance from the captain as he started out on the right-hand side. Was wasteful with a few efforts way over the goal. Henderson also side-footed a decent chance straight at De Gea.

James Milner (5.5) – A hard working performance from Milner, without any great output; a pattern which has been common much too often this season. Liverpool need more contribution from their midfield.

Adam Lallana (5) – Speaking of contribution from the midfield, I have forgotten when Lallana last scored. This performance literally went about in circles, as every touch turned into three. Lallana has begun to frustrate me immensely now.

Roberto Firmino (7) – Excellent performance from Firmino in an atypical role. Often dropped deep or went wide to hold up the ball. Was excellent with his touches and lay-offs. Missed a golden chance to equalise late on, ironically due to improper control.

Substitutes:
Jordon Ibe (N/A)
Christian Benteke (N/A)
Steven Caulker (N/A)
All the substitutes failed to create any impact in this game, unlike previous games. Ibe had a shot that he sent wide.