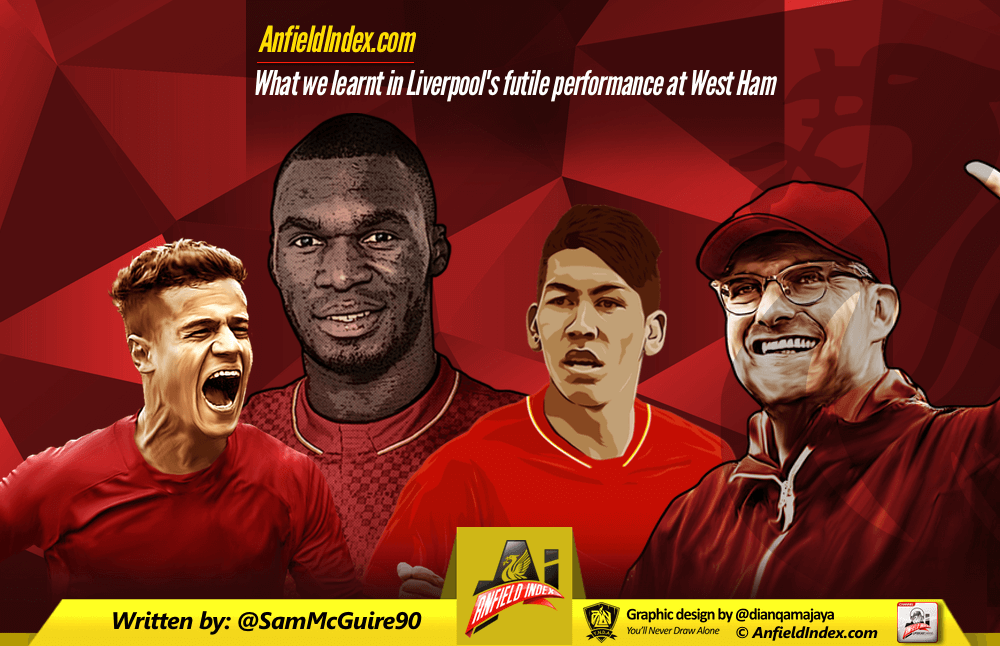 What we learnt in Liverpool's futile performance at West Ham
It is not how we expected to start the new year. A frustrating Liverpool performance saw West Ham finish as 2-0 victors to complete a Premier League double this season. With the early kick-off, the Reds had the chance to move up to fifth but if results go against us we could be as low as tenth come the end of play today, and possibly eight points behind fourth spot.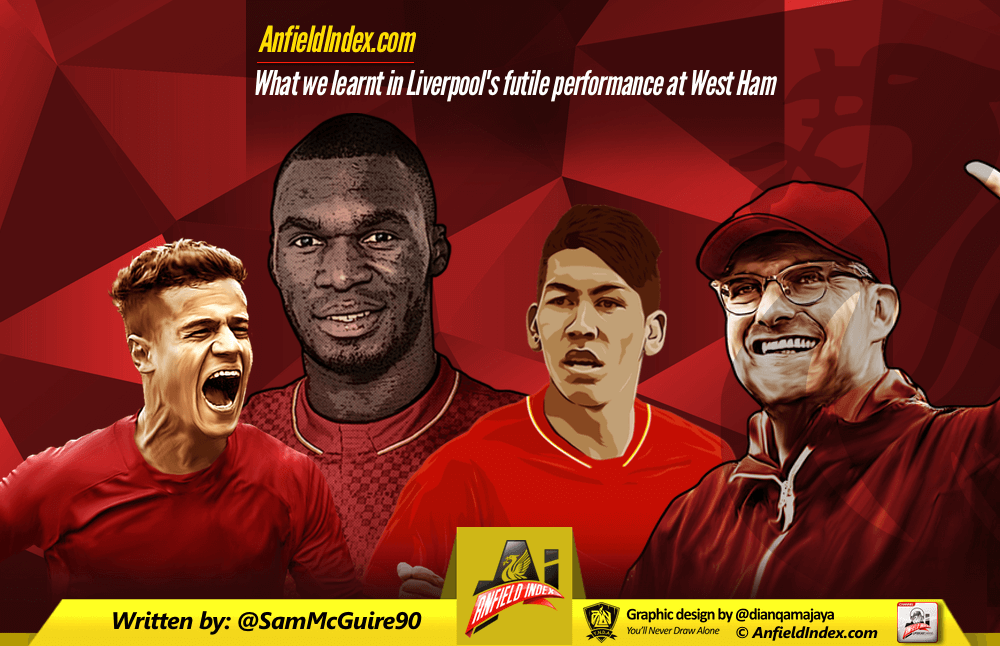 I wasn't feeling very confident going into this game. Had Liverpool had the likes of Jordan Henderson, Daniel Sturridge and Divock Origi available, then I may have been slightly more optimistic but the strengths that those three bring to the side were always going to be sorely missed.

Henderson's engine and quality on the ball was lacking in midfield today. Lucas looked off the pace from the off, which was understandable having not started since the Watford defeat. We can't afford to carry any passengers in midfield and his attempt at preventing the first West Ham goal was pitiful. He gave them all the time in the world on the edge of the area to pick out a cross; this from your shielding midfielder.
If the heel injury that kept that captain out is going to be something that persists, then Jurgen Klopp will have yet another headache. With the January transfer window now open, should he bring in another midfielder? At full strength the midfield isn't an area that needs addressing immediately and the funds could be spent elsewhere. But with Joe Allen being prone to an injury, Lucas not able to play as frequently as necessary and Henderson's heel injury, we are relying on Emre Can and James Milner.
Aerially weak. Klopp's reign at Liverpool started off well defensively. The team didn't look as exposed and I didn't clench anytime a team attacked us. It was a nice experience. Old habits die hard though, and in the twelve league games under Klopp we have conceded fourteen goals. Of those goals, six have been headers; whether they were open play or set pieces is irrelevant. We simply can't defend crosses. It's our Achilles heel.
Klopp alluded to this in his post match interview. It was two crosses and a few set-pieces that had done the damage.
Coutinho and Firmino both need to do more. The two Brazilians both need to do more than they're already doing. I know Firmino is still bedding in although he is showing glimpses of what he can do; he is neat in possession but it's not enough. Coutinho doesn't seem to link well with Benteke, so instead of showing patience he resorts to taking on shots from 30/40 yards. It's wasteful, counterproductive and petulant. These are our game changers. The ones we look for when we need a bit of magic and instead they are pissing us off because we know they can do more.
Christian Benteke. He's not shit, he's just shit for us. That is the best way I can sum up the situation. Obviously, the big Belgian has strengths. He has shown he can be a match winner when on form. He is a monster when confident and unplayable when the team plays to his strengths.
Unfortunately, the team doesn't play to his strengths.
He likes the ball to his feet and wants to knit play that way, but we persist with going long. He seems to linger near the edge of the box looking for a pullback when you would expect him to get into the area. He doesn't attack the far post when that's where the space is. Both the Brazilians seem to link with movement ahead of them but Benteke doesn't really offer this. He clogs the space up when looking for the ball to his feet instead of looking to get in behind.
He mentioned before kick-off that Klopp had asked him to run more and if this was his response it's alarming to say the least. He needs to do more. He needs to be better at what he's already doing. I wouldn't want Andy Carroll back at Liverpool but his performance today is what we should expect from Benteke. He lead the line well for West Ham, worked hard off the ball, made a nuisance of himself and more importantly he got into the area and caused havoc because the team played to his strengths.
Klopp mentioned it was a time to be angry. I expect a much improved performance in the next few games because the players need to react.