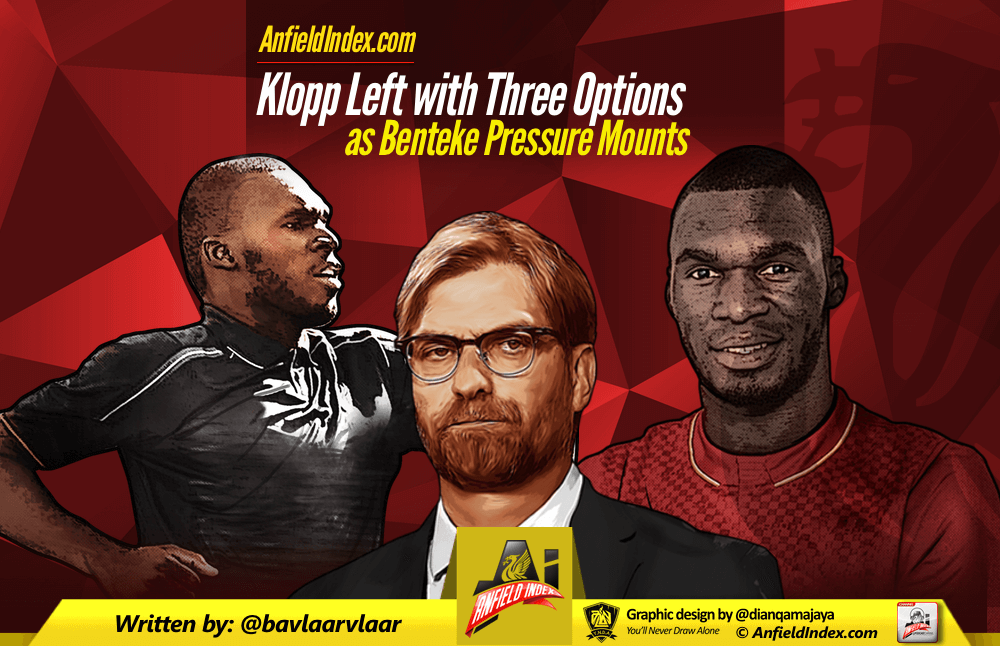 Klopp Left with Three Options as Benteke Pressure Mounts
Another week, another mixed set of results, another chorus of grumbling from Liverpool fans over their £32.5m striker. Saturday's 2-0 loss at Upton Park provided the latest round of evidence in the trial of Benteke, a cloudy affair in which almost everyone employed by the club, from scouts, to former managers, to current owners, to Brazilian playmakers has been at least partially indicted.
It is a trial that began when rumours of Brendan Rodgers' interest in a brand new target man seemed like a mean joke concocted to torture Kopites. Large sections of a fanbase that had spent the previous nine months enduring Balotelli and Lambert howled that Benteke's relatively static style would not suit a team designed to press the opposition and weave intricate passing patterns.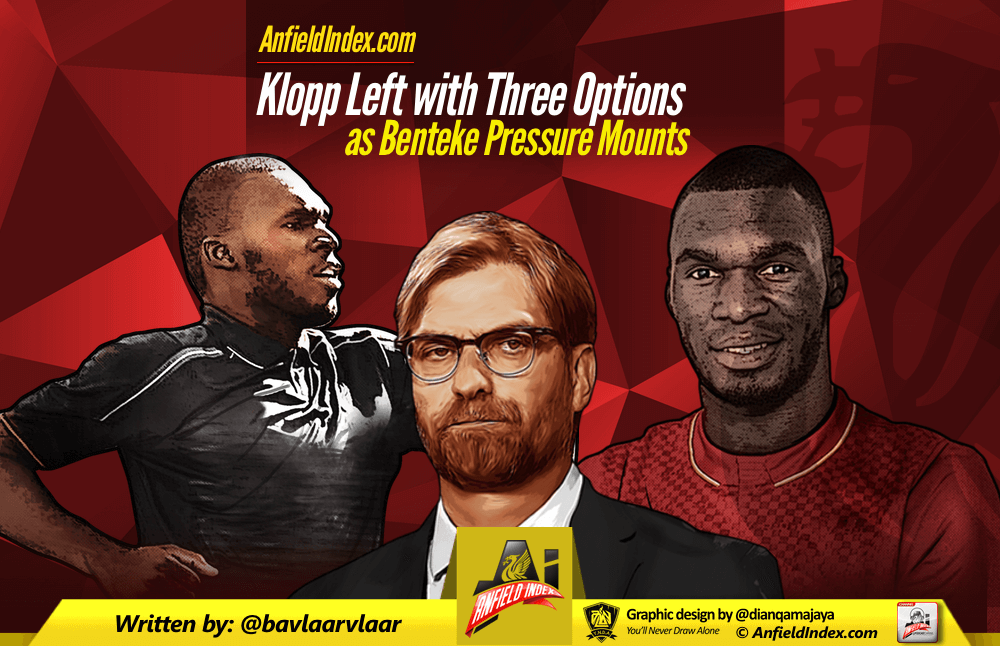 Benteke was not fazed. He muffled dissenting voices with an indomitable display away to Arsenal and silenced Old Trafford with a goal for the ages. This, it appeared, was a higher level of target man, and despite having sworn off brutish, leggy forwards following Andy Carroll's disastrous Anfield stint, many formerly apprehensive Kopites had seen enough by September to welcome (if not wholeheartedly embrace) the latest in a long line of red giants.
Sure enough, it wasn't to last, and over the festive period the case took on its current (far murkier) complexion. Some fans applauded his winning goals in consecutive games, whilst others lamented the grating sluggishness that characterised the majority of his performances.
As was often the case with Carroll, Benteke's leaden frame tends to act like an electrical conductor, sapping energy from Liverpool's creative sparks. The pitch seems to shrink when he stands with his back to goal rather than running past defenders, and as a result, Adam Lallana, Philippe Coutinho, Roberto Firmino et al are afforded less space and fewer passing options. The players seem confused as to how they are supposed to attack, and all sense of vigour and purpose has drained from their offensive efforts.
Oddly, the swell of frustration surrounding Benteke has been provoked less by a slump in form than by the steady erosion of an idea. The theory that over time Benteke would adapt and form what has been termed a 'relationship' with his more creative teammates rings increasingly hollow with every passing game. If anything, his touch and link up play are worse now than they were months ago, and against West Ham even his aerial prowess deserted him.
However, Saturday's result colours the debate in an excessively bleak light, and there is a counter argument that deserves to be heard: this season, in the face of multiple injuries and consistently shoddy service, Benteke boasts an impressive record of scoring every 193 minutes. Premier League goalscorers with that sort of ratio are rare – why, then, have his net-bulging exploits have done little to stem the tide of condemnation? Boxing Day's win over Leicester proved an especially telling episode, as fans and media alike paid little attention to his decisive strike, instead focusing on his failure to slot the ball into an unguarded net late on.
After Benteke's strike downed Sunderland last week, Jürgen Klopp summed up the situation as honestly as he could allow himself to: "A striker who scores a decisive goal is always a positive thing, but I'm sure Christian knows he can play better." Unfortunately, as he would learn three days later, Christian can also play a great deal worse, and a feeling that his goals just don't make up for his deficiencies threatens to undermine his prospects.
That brings us up to date – now what? With the January window ajar, Klopp has a chance to perform some emergency surgery on his forward line. Should the German place his faith in a striker whose goals arguably belie his level of suitability, or should he seek out an alternative who would (theoretically) bring out a better level of performance from the team? Below I set out three directions in which Benteke's career could continue.
The Compassionate Option: Don't Blame-teke
Proponents of this option insist the problems plaguing Liverpool do not originate with the number nine. Instead, admirers emphasise his respectable strike rate and bemoan the club's lack of an excellent crosser or set-piece taker. As Harry Redknapp has suggested in analysis, perhaps a more direct style of football would allow Benteke to put the most powerful tool at his disposal – his forehead – to more effective use.
Let's put that one to bed immediately – route one is not for this club. No Liverpool fan wants to see their team imitate Tim Sherwood's Aston Villa in a bid to realise one player's potential, and if that player is to succeed, it is him and not the fans' appetite for flowing football that must adapt. The player and his team-mates would be well advised to study the sensational 24-month period enjoyed by Mario Gomez at Bayern Munich earlier in the decade.
Between August 2010 and June 2012, Gomez's cumbersome style proved no barrier to success, and he was able to gorge himself on 80 goals as the team behind him took care of general play. It's a huge ask, but if Klopp can mould the team behind Benteke into something comparable to Bayern under Jupp Heynckes, then his striker's better qualities could come to the fore.
The Proven Option: Bench-teke
Even Benteke's most vehement critics will recognise that his mountainous physique and sledgehammer right boot offer a powerful alternative to the squad's other offensive talents. Just as the correlation between poor Liverpool performances and Benteke starts can no longer be ignored, nor can his effectiveness from the bench. Incredibly, three of his seven goals have come from just 179 minutes of substitute action (better than a goal per hour).
Perhaps most memorably, his half-time introduction to the game against Chelsea appeared to unnerve the opposition, who had spent the first half acclimatising to less brawny threats. The role of the 'Plan B' or 'super-sub' can sometimes be just as crucial as that of a starter – Ole Gunnar Solskjaer springs to mind as one player adored by a club's fans despite rarely partaking in the pre-match huddle. Benteke may not have what it takes to be Klopp's number one striker, but he could become his number one sub.
The Radical Option: Bin-teke
Benteke's case may eventually prove almost identical to that of Carroll, the £35m purchase from Newcastle who was eventually offloaded to West Ham for around £18m having being replaced by the twinklier-toed (and far cheaper) Daniel Sturridge.
With Sturridge's fitness a matter of perpetual anxiety, Klopp would surely cherish the funds to recruit a similarly-styled but more physically robust alternative to his English star: a striker who will provide not only goals, but also sufficient movement, work rate and dribbling ability to complement the club's attacking midfielders.
The £20m or so that would probably be recouped through Benteke's sale could go towards precisely that player. Surely the club would be better off with Michy Batshuayi, Odion Ighalo or someone else with similar core attributes. Such drastic action would be unfair to Benteke himself, but as the case of Carroll suggests, it may well be in the club's best interests.
Decision time – which option would you like to see Klopp take? Is it possible that blame is being placed at the feet of the wrong man? Would Benteke work better alongside a partner, perhaps? Whatever you think, tell it to the comment box.