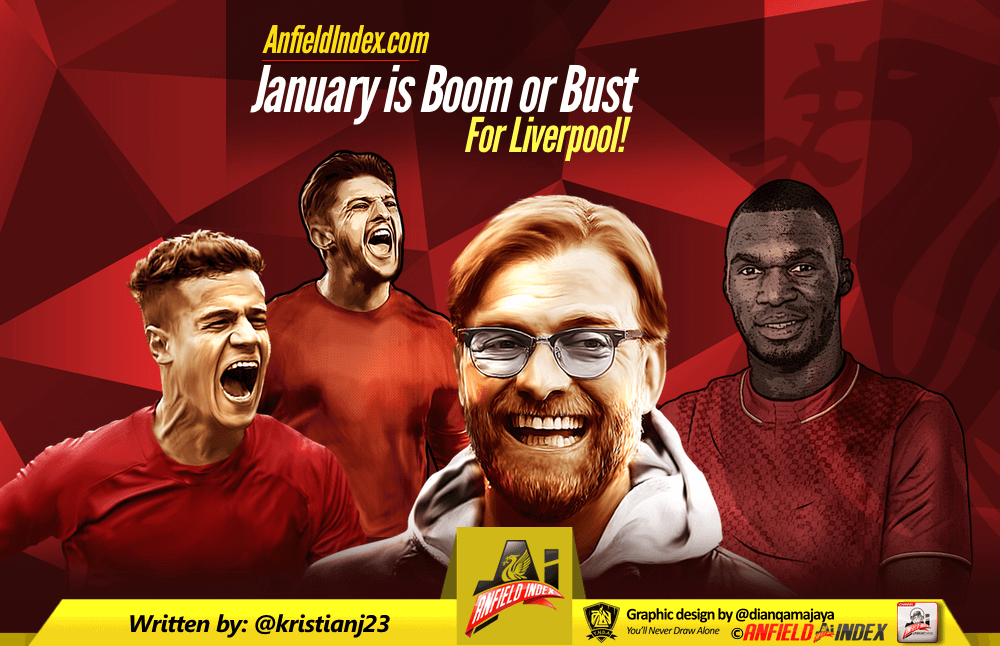 January is Boom or Bust for Liverpool
Just one month ago I wrote on this parish about my excitement for the festive period. It wasn't just the thought of excessive drinking and mounds of mince pies that made me giddy, but the possibility of Liverpool building some momentum.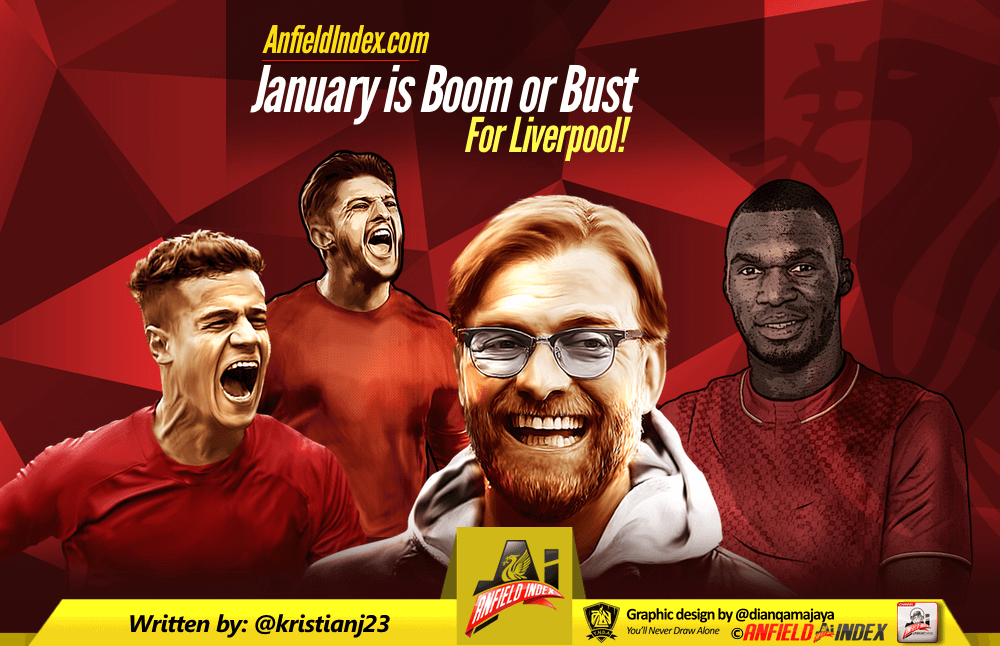 The Reds had just come off the back of three successive victories and I was full of confidence.

"We've overcome our tricky set of away fixtures and are just six points off the top," I wrote. "Drink it in."
The league table was beginning to look more promising and with one glance at the forthcoming fixture list I declared: "If I were to pick an arbitrary figure out of the air, I'd be disappointed with fewer than 16 points from that run of games."
I should have known better. When do we ever follow the script? Like plenty of Liverpool fans the world over, I slipped into the naive assumption that "every single one of those games is eminently winnable."
Three defeats, two narrow 1-0 victories and a 2-2 draw later, I was left with egg on my face. Instead of picking up the 16 points I thought was probable, we ended up with a pathetic seven points from six games.
Some are suggesting that we can afford to drop points and still come fourth because this season is bonkers.
However, the average total needed to make the top four in a 38-game Premier League season is 68.4 points. Spurs are currently fourth and if they continue to pick up points at the same rate as they have for the first 20 games of the season, they will finish on exactly 68.4 points. In other words, Spurs are in pole position to come fourth purely because they have been astoundingly steady in such a topsy-turvy season.
Predictability is often a derogatory term, but Mauricio Pochettino has turned his side into an impressively predictable outfit. They have everything we lack – a top-class goalkeeper, a solid back five who play together almost every week and a reliable goalscorer who stays clear of injury.
Spurs are in pole position to come fourth purely because they have been astoundingly steady in such a topsy-turvy season
If Jurgen Klopp's Reds are to be successful this season, they must become predictable. They must start scoring goals regularly. They must find a way to coax Philippe Coutinho back into form. And Simon Mignolet must stop gifting goals to the opposition.
While our last set of six league fixtures looked comfortable on paper (always a dangerous term), the next six are a mixed bag. We play three of the current top five – Arsenal, Manchester United and Leicester City – but also face three sides who will be scrapping for safety come the end of the season – Norwich City, Sunderland and Aston Villa.
What will make these fixtures all the more difficult are the cup ties littered throughout. The squad is at breaking point already, but a two-legged League Cup semi-final and FA Cup fixtures alongside the league games could prove too much for a team looking devoid of confidence, goals and energy.
I won't make any bold predictions this time. There will be no points totals thrown around. Instead I'm going to sit back and hope the Reds can prove me wrong yet again, but this time in a positive manner.