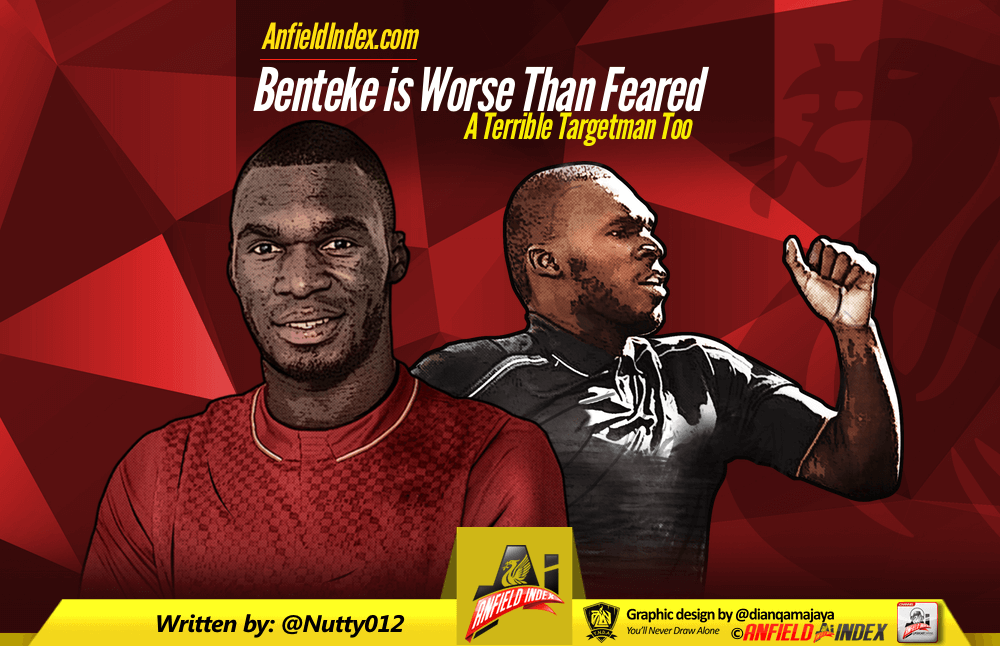 Benteke is Worse Than Feared - A Terrible Targetman Too
Popular opinion isn't exactly on Christian Benteke's side; an ESPN article gave him a 2/10 against West Ham, which doesn't really require much context. A 2/10 is a polite version of 1/10. It means you have failed at every task you would be typically asked to do in your position, but the qualifier is that you have not done anything out-of-the-ordinary bad, like being racist, or getting sent off for kneeing an opponent in the back at a critical time in the match; basically he was awful but at least he wasn't John Terry.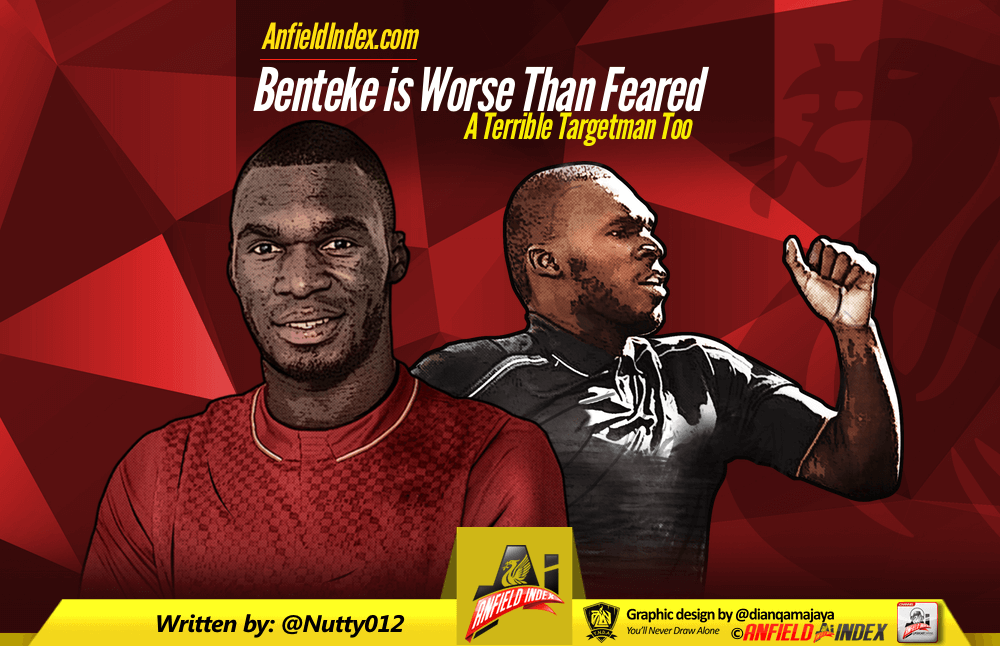 Benteke has become a popular figure to write about, and the common theme though throughout these pieces is that he is a square peg in a round hole, a target man in a team that couldn't be less suited to playing with such a target man. But I want to refute this. The biggest problem with the Belgian is that he is actually awful at his supposedly 'natural game'; he is not even a square peg in a round hole, but rather some sort of irregular shapeless variety of peg that wouldn't fit in a square hole either. It turns out that Christian Benteke is an imposter of an imposing striker, as I shall show.
One aspect of being a target man is hold up play, which he was woeful at on Saturday. The big Belgian was completely unsure of when to offer for a pass from midfield, and his first touch was less the deft cushioning of the ball expected of an international footballer than it was the the typical touch of your mal-coordinated mate who has come along to a game of park football just because the rest of his mates are there. Benteke was also tackled 4 times (double anyone else on the pitch), completed 0 dribbles, and had a pass completion of an extremely average 75%.
Benteke was also poor in the air for someone his size. He won 2 out of 14 aerial duels against West Ham (offensive and defensive) – an utterly abysmal 14% of such endeavours. Andy Carroll, a striker who is actually good in the air, won 9 aerial challenges over the course of the game (56%). Despite Carroll's dominant display of heading, Sakho and Lovren managed to record solid records in aerial challenges (63% and 60% respectively). Sakho and Lovren are hardly the most dominant defenders when it comes to heading, but against a striker who is strong at heading they still won headers at over 4 times the rate of Benteke.
In reality, the only reason Benteke is considered a target man by Liverpool fan for two reasons. Firstly, because he managed to look imposing against Martin Skrtel a few times (an incredibly easy feat, just ask Matt Smith, now a sub on Fulham's bench, who scored 2 of his 9 Oldham goals from 63 appearances in his one appearance against Liverpool). This problem of signing players who have played well against us is incredibly embarrassing and shamefully common, as Adam Bogdan and Andy Carroll's purchases prove.
Secondly, it is assumed Benteke must be target man because he is so clearly not an advanced forward a la Sturridge. His offside awareness is actually a statistical weakness according to WhoScored, which is astounding and incredibly frustrating as he so rarely even tries to beat the offside trap – most of those offsides are him just being too lazy to catch up to play for a long ball. Benteke is then laboured in what movement he does possess, and his finishing of big chances that he has the time to think about is utterly terrible. Sam Maguire's recent article showed that Benteke has had more than adequate service of 1 clear cut chance every 87 minutes, but has scored only 2 out of the 12 chances that he had had at the time of writing. That is poor, but reflects a career of poor finishing of the biggest, easiest chances.
It's not like Liverpool don't have other striking options in the meantime. Liverpool's best performances of the season came with Roberto Firmino leading the line against Chelsea and Manchester City, and they were both games that managed the rare feat of getting the best out of Adam Lallana. Against West Ham Firmino shone as the only attacker who seemed to remember the objective of goals. He completed 3 dribbles, was not dispossessed once, recorded an 85% pass completion rate, and was cruelly denied a Can assist by the post. Firmino won 3 tackles, which is not surprising at all as his attacking work rate is second to none in European football; he won the ball the most time of any other playing in the attacking third of the pitch last season, and continually performs outstandingly in this site's pressing statistics. He has averaged between 2-3 tackles per game every season of his career, compared to Benteke wallowing at 0.2-0.3 tackles.
In a system designed around winning the ball off opponents high up the pitch, having such defensive deadwood like Benteke in the side undermines the overall performance of the system regardless of how well he is even playing offensively. He won 0 tackles against West Ham (his Premier League average this season is 0.2 tackles per game). Recent analysis on AnfieldIndex shows how poorly Benteke performs in comparison to peers such as Lallana and Firmino when it comes to pressing actions in the game, so perhaps it is unsurprising that he wins so few tackles.
Other articles on this website by Harry Snowdon and Hamzah127 have laid out the options for the future in far more depth about Liverpool's striker conundrum. The disappointment for me though is that the initial fears of many Liverpool fans like myself about Benteke have not just been confirmed, but actually understated. My temporary solution would be to bench the Belgian, as he can still be relied upon for the odd goal from the bench. Then start Firmino as a lone striker until the return of our three other competent strikers, Sturridge, Ings and Origi, before offloading Benteke in the summer. It may not be perfect, but Liverpool's record is so diabolical in the transfer market that the unknown of more transfers is a far bigger risk than my reasonably stable solution that still has the potential for some success.  It is clear though that no solution will be centred around the Belgian imposter of a target man than we bought for £32million last Summer.