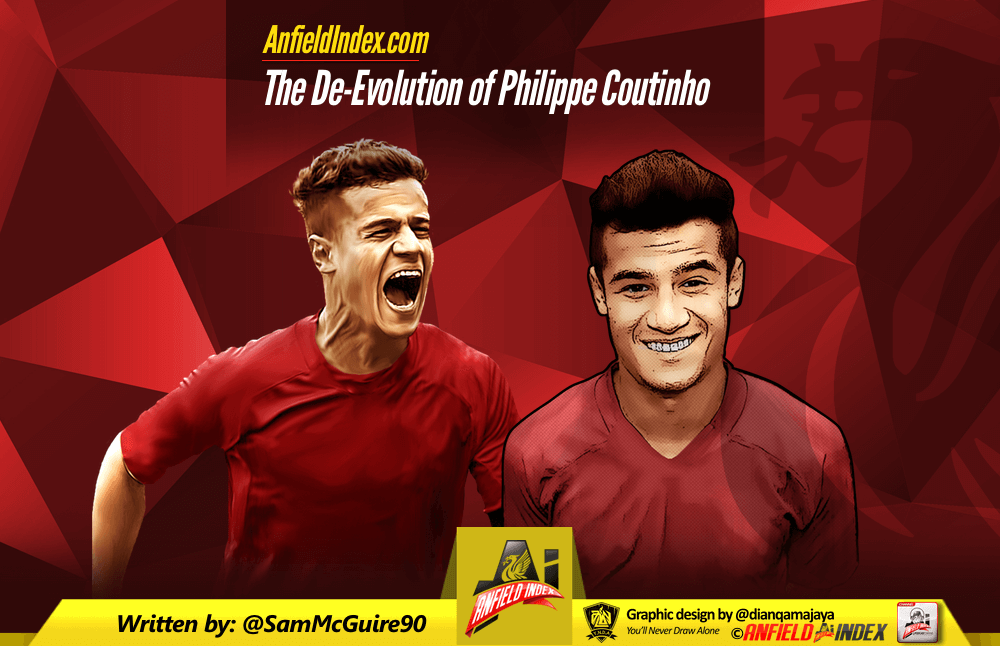 The De-Evolution of Philippe Coutinho
I remember when we signed Philippe Coutinho from Inter Milan. I hadn't seen much of him other than a few games at Espanyol and the odd Inter game, one of which being their 4-3 victory over Spurs when Gareth Bale grabbed a hattrick. It was the Welshman that grabbed the headlines but I was quietly impressed by with the Inter number 29.
Such tight close control, an eye for a pass and the technique to execute it. He had that Brazilian flair but it was mixed with this passion to win. It wasn't all about style for him, he didn't mind putting in the graft.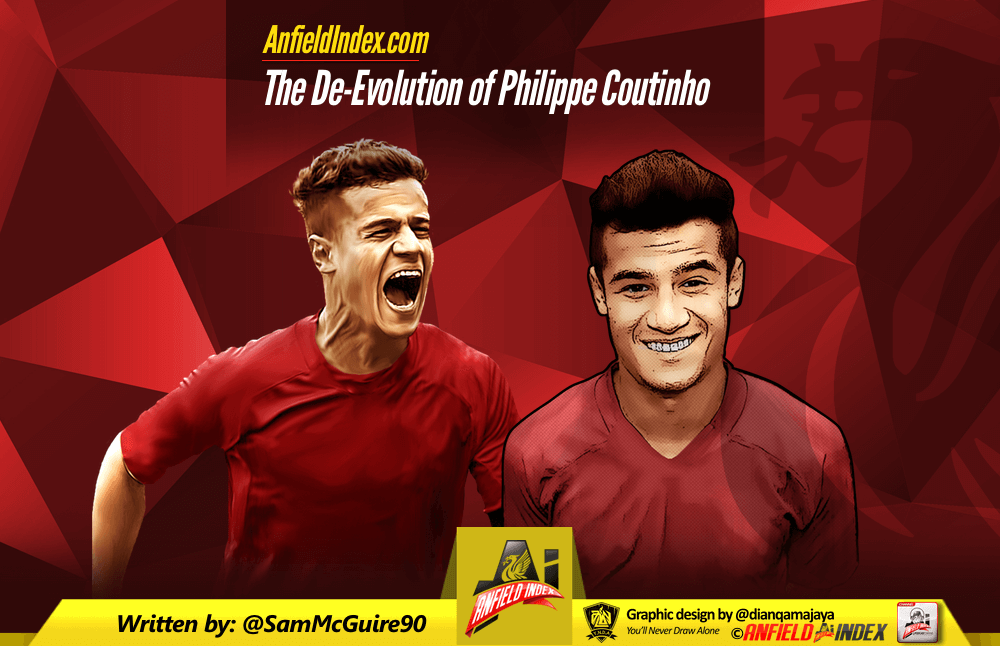 Our little Brazilian gave us a glimpse into the future during the 2013/14 season. Frighteningly good, he tore teams apart from deep with his incisive passing combined with his tenacity to win the ball back , he wanted to make the team tick but he didn't want the other midfielders to be the batteries. He was a our very own wind up clock. Daniel Sturridge, Luis Suarez and Raheem Sterling all benefited from playing the number 10 in a slightly withdrawn role.
In this role he had a bigger view of the pitch. He could thread a pass from deep against a much higher line who weren't set for the turnover of play. He thrived in this role and demonstrated just how effective he could be in the 5-1 demolition of Arsenal at Anfield. It was ironic really, Jack Wilshere, penned as the new breed of England midfielder, was out fought by a Brazilian. The famed British desire overshadowed by the brutish Brazilian as Coutinho ran riot. Stereotypes went out of the window.
Vs Arsenal
The Liverpool fans adored him. The magician had found his audience and he was eager to entertain on a regular basis.
Coutinho 13/14
There was a period of time commentators didn't start their sentences with 'Coutinho' and finish them with 'over the bar', 'pulls it wide' or 'has his shot blocked'. Magnificent, extraordinary and amazing used to be their words of choice following on from mentioning Philippe. Of course he's still young, 23, so dips in form are expected but this season especially he seems to be a zombie of who he once was. This isn't the Coutinho that earned the adulation of the Kop. The baby-faced puppet master that had Premier League defences on strings.
What we're seeing now on a regular basis is a shadow of his former self. One dimensional, wasteful and uncreative. As a youngster he was taught the importance of keeping the ball, to cherish it almost, now we see him gifting it to the opposition whenever he's within 30 yards of goal. It all seems so unnatural. I think that's what's grating on fans. This isn't Coutinho's natural game so why are we seeing it on a regular basis? He's the only player to have more than 70 shots in the Premier League this season. He's had 7 more shots than his nearest rival (Harry Kane) yet has had 12 less shots on target than the Spurs hitman.
The image above is courtesy of Dan Rhodes (@AnalyseSport). This one is specific for midfielders in the Premier League.
It's all pretty self-explanatory really. The conversional section indicates Coutinho has put 28.6% of hit shots on target and converted 6.5% of his shots in goals. What you'll also notice is he's had 30 shots inside the penalty area meaning he's had 47 shots outside the area which equates to him having a shot outside the penalty area every 31 minutes.
At the current rate he's scoring 1 goal every 23 shots from outside the area. This opposed to the 1 goal every 10 shots within the penalty area.
His nearest rival in this image when it comes to quantity of shots is Alexis Sanchez with 57, meaning Phil has had 20 more shots this season than a player that's played as a forward at times. Despite this he's scored a goal less than the Arsenal player.
Of the 19 players in the table Coutinho has had the most shots, he's had the most shots from outside the area, second most shots blocked and he's ranked 13th for shot to goal conversion.
Over the past three seasons the average for converting shots into goals from outside the penalty area is 3%. Meaning 3% of the total shots from outside the box end up a goal so basically you're best off moving the ball into the area in the hope of scoring. It's not rocket science.
Look at Spurs' Christian Eriksen in the table. He's scored the same amount of goals as Coutinho from outside the box but he's done it in 20 less shots. He's scored a goal every 13.5 shots from outside the area.
It's also alarming to see Leicester's Riyad Mahrez having had one more shot inside the area than Philipe Coutinho but have 8 more goals for the season. Not only is Coutinho wasting possession with shots from distance he's also not converting his chances as effectively as others when he is inside the area.
Quantity doesn't represent quality.
The image above is once again courtesy of Dan Rhodes and this time it shows how Premier League strikers match up in comparison to Coutinho.
Philippe hasn't always been like this.
| | |
| --- | --- |
| Team and Season | Average shots per 90 minutes |
| Espanyol 2011/12 | 2.5 |
| Liverpool 2012/13 | 2.8 |
| Liverpool 2013/14 | 2.8 |
| Liverpool 2014/15 | 2.9 |
| Liverpool 2015/16 | 4.6 |
(Stats via Whoscored.com)
Phil's average before this season was 2.75 shots per 90 meaning this season he's averaging 1.85 shots more per 90. That may not seem like a lot but it means over the entire season he's having over 70 shots more than he usually would.
This season the number 10 is on course to have over 170 shots and score just the 8 goals if he carries on as is. That may be a personal highlight for the player, record number of goals in a season, but by law of averages you're bound to score one if you're having x amount of shots.
What's happened?
He's no longer playing as part of the deepest three in midfield. He's no longer got the movement ahead of him on a regular basis that he so yearns for but even so, is what we're seeing from him enough?
It's easy to lay the blame firmly at the feet of Christian Benteke. You often see the big Belgian shouting for the ball as Coutinho lines up a 30 yarder that's inevitably blocked. I've seen many say on Twitter how they'd be shooting too if they were in the same situation as Coutinho. I acknowledge there must be some frustration on the part of Coutinho having to watch Benteke do what he does, but he's an international footballer and he's expected not to be petulant. He's the maestro, the creator, the magician. He should be looking at ways to solve this disjointed attack. On the pitch lately he's coming across as the sort of person that just puts all his rubbish in his wardrobe and carries on as normal.
You can't ignore the problem. Shooting from distance won't make Benteke a better player and we're stuck with him.
The Daniel Sturridge connection is an easy one to make. Those two seem to have an understanding but in the Aston Villla game when Sturridge scored twice and Coutinho grabbed two assists the latter still had 7 shots that game, 5 of which arrived from outside the area. So this isn't just a Daniel Sturridge fixes all. Coutinho persisted with having shots from distance despite Sturridge being there making the runs Coutinho likes. It's a small sample of course but even when we've played with movement upfront (Ings, Origi, Firmino) he's still firing those shots in from 30 yards.
Adapt or Perish.
If Philippe Coutinho wants to be a regular in the Brazilian set-up then this is something he's going to have to cut out of his game when he is back from the injury he picked up at Stoke. Or once he's back he may have to participate in extra shooting practice after training because this kind of wastefulness can't continue. World class players don't need the perfect storm to be able to perform on a regular basis.