I remember it well. The final game of a legend, of a man that had exemplified what it meant to wear the Red on Red kit for a generation and embodied the spirit and mystique of Liverpool Football Club for a certain, young American fan discovering this wild world of English football for the first time. Stevie G was an anchor in a hectic world of managerial changes, misguided transfers and general club upheaval and now it was his time to go. Imagining the grand captain would be given a chance to ride off into the sunset like the good guy in a John Wayne western, I felt very confident about the final game of the season at the Britannia, even against a plucky Stoke side. But then, disaster. The first goal, and the second and soon goals where raining from the heavens and the final voyage of the SS Gerrard ended in epic calamity.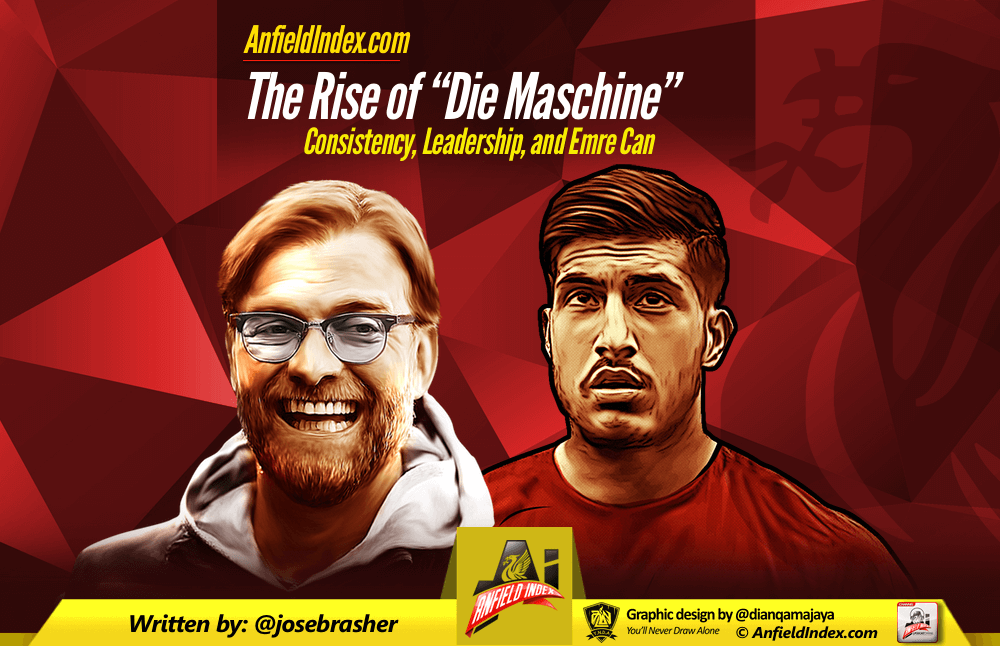 However, I look back on that day, and on the first half of our current season, and I've realised that we not only lost a legend and perhaps one of the top 5 greatest players to ever dawn the Liver Bird on his chest, but when Gerrard walked off that pitch for the final time, we lost our leader. Now this might sound obvious but I think few people anticipated the real vacuum that the long-time captain's absence would cause at the club. People can look at the downturn of Stevie's career and say his legs were gone, he didn't have the same pop or the same gumption to get up field into the box or hit that one-off cracker from 30 yards, but one thing no one ever doubted was who was the leader and captain of the team. And as Gerrard went so went the presence and aura that held the team together for all those years. Who would step in his place and who would fill the void?

Over the summer, our own, less likable version of Mr. Rodgers elected Jordan Henderson as our captain, to understandably mixed reviews. And to be fair, Henderson has been injured most of the year and we have not been able to really see him in action as captain, though in limited appearances, he seems to not shrink under the weight of the armband (which can't be said for a certain steel-jawed vice-captain). But another fair point to make is who was Rodgers to choose instead? An increasingly unreliable, downward turning, and non-vocal Martin Skrtel? An out of favor and admittedly geriatric Lucas Leiva? Or maybe the affable and nicely-bearded Danny Ings (since Rodgers seemed so keen on giving the armband to a first year player…. Joking, or am I?) There honestly weren't many options at the beginning of the season and as the year drags on, Klopp will continue to make his assessment of a team that is supposedly without a leader and that has endured a rash of injuries that would make a trauma surgeon blush. But leadership is an important part of any collective body, so it remains, where do we go from here?
Back in October, at the infancy of the Klopp-mania, our own Jaime Carragher made this assessment of the first games under Jürgen, "They're not aggressive enough, they're too nice….Liverpool have been playing like a church choir," Carra said after a few frustrating and seemingly lifeless draws under the German maestro. And to be fair, we still see some of those zombie walks on the pitch to this day, one not need look any further than the West Ham game to find some of our players being too nice or too lazy to be arsed to mix it up in a slobber knocker-type, thumper of a game like West Ham…..that is, besides one.
You can almost hear the can opening as Emre Can walks onto the pitch ready to open up some whoop-ass on whoever is brave (or stupid enough) to get in his way. As the first whistle sounds, it might as well be the opening guitar rift to a Rammstein song, as Can seems to be one of the few players that has really begun internalising what it means to play heavy-metal. Emre plays with a fire and heart that we haven't seen in our midfield in quite some time. Not afraid to go in for a challenge or an aggressive tackle, the young player often toes the line between deftly-aggressively and daftly-reckless, all the while usually dominating the middle of the park and filling any role asked of him by his compatriot Field General. Need a shielding DM for the more attacking sides? Emre Can. Need a wider midfielder that can play in a three and still keeps things moving up the channels and down the flank? Emre Can. Need a box-to-box central mid that can make hellacious runs through the center of the park and link up with our attackers in the final third? (His ideal position, in my opinion) Emre Can.
His flexibility and work rate have made him seemingly indispensable in Klopp's midfield. Which I think has been exemplified by the fact that when the injury bug hit our back line, Klopp chose to slot Lucas back instead of Can when he was forced to make mid-game adjustments, which is surely less of an endorsement of Lucas' defensive prowess and more an acknowledgement of Can's immense importance in the midfield. For years we heard about Can's incredible upside and marveled as a player that was consistently played out of position by Brendan could be selected time and again by the reigning World Cup champions. Now we are finally seeing what we all hoped to be true. Locked inside that big, German body is a world-class player and Jurgen seems to have the keys.
So Emre clearly has the talent to be a key player for our side, but a leader? What exactly is it that you need from a leader and what have we been missing since Stevie left? First, we need to understand that leaders don't have to wear armbands, and just because you wear one, it doesn't necessarily make you lead (paging James Milner). For me, the single most important aspect to true leadership is consistency and effort. And not just consistency for consistency's sake, but a consistency of excellence. If you're consistently average, you might help the team as a squad player (paging Adam Lallana) but you're not going to engender hope in your teammates and encourage them to follow you. We saw this from Stevie. He lead by example and the team followed him. Why? Was he undressing every player on the pitch every time they made a mistake? No. Every game he showed up and almost always showed up to play at an extremely high level. He lead with his feet and then his mouth. This is what a leader does.
No matter your opinion of Can, or if you think everything I've said so far is a load of crap, it's hard to argue that since Klopp's arrival Can has been our most consistent player. When most the team couldn't be bothered to show up for West Ham and Newcastle, who was still out there busting his balls, flying into challenges and getting in peoples faces? Emre Can. Has he had a stinker every once and while? Sure, but it was never for lack of effort. A leader puts in his shift even if things aren't coming off and Can has done that game in and game out. Does he have some errors in him? Absolutely, but we must remember his age, only being 21, and though he's played in seemingly every significant game this season, he continues to push on, like some German-engineered super-machine. He very rarely looks tired and his one-off errors rarely seem to affect him mentally. He also seems to have endeared himself to his team, as he is always one of the first to join in on a goal celebration, his large body often enveloping our more diminutive goal scorers in a Jürgen-esque bear hug. He's also not afraid to bark at his teammates when needed, and despite his age, and it being just his first year as a full-time starter in the midfield, he is often one of our more vocal players. No bad for a central defender, right Brendan?
So Tuesday night at the Britannia, everything came back full circle for Liverpool Football Club. As one leader walked off that field back in May, head low, shoulders slumped, knowing he would never play for his beloved Reds again, eight months later another leader began to emerge. Walking off that same pitch, Emre Can deserved to hold his head high as he congratulated his teammates after a game that resembled a bloodbath more than a football match. Though there were other good performances on the night (most notably from Lucas Leiva and a formerly MIA Welsh Xavi) with three players down, and a midfielder playing CB, Emre Can brought his lunch pail again and displayed what Liverpool has been missing since #8 left the club – a consistent, talented, hard-ass with a chip on his shoulder and fire in his shorts.
One little moment encapsulated all this the other night at Stoke. With the team reeling as their little magician lay on the floor holding his hamstring after an excellent start, most of the players stood wide-eyed next to the training staff, as they surely were considering the absurdity of existence and the brevity of life in the face of so many damned injuries. But as Coutinho limped off, the camera cut to the 4th official and there he was, Emre Can, standing next to on-coming substitute Jordan Ibe, grabbing his shoulder and giving him either some instruction, encouragement or a combination of the two. Ibe scored the winner and Can stayed cool and kept leading in the midst of chaos.
Whether Can ever sees the armband will still have to been seen, but the question remains, as Klopp continues his deconstruction of our club, who in the current squad is talented and hard-working enough to join in with Can, game in and game out, and do their part to help make Klopp's gegen-pressing war machine a reality? Time will tell, but for now, a tip of the hat to an emerging star and a leader in the making, Emre Can.
There'll only ever be one Captain Fantastic but maybe we don't need a second coming of Gerrard, maybe we just need the first coming of  "Die Maschine"  to kick of a new era for LFC. So here's to a new year, new leaders, and new nicknames. Give 'em hell in '16, you Reds.