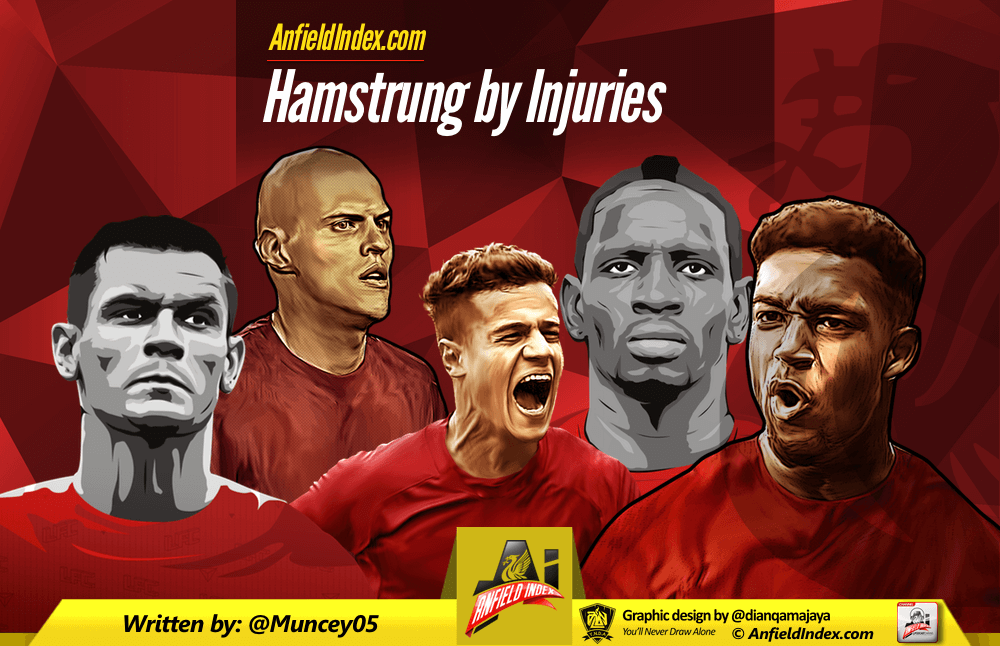 Liverpool Hamstrung by Injuries

Another day goes by and another player is struck down with an injury.  This time it is Jordan Ibe, and surprise surprise, yet another hamstring injury.  Latest timescale for Ibe is a month on the sidelines.
Liverpool currently have 13 first team players on the sidelines, seven of those with hamstring-related injuries, Jurgen Klopp has stated to the media that he may need to tone down the current training demands to try to eradicate some of these injuries, but should top athletes such as professional footballers at the top level of their chosen sport, be gaining so many muscle-related injuries?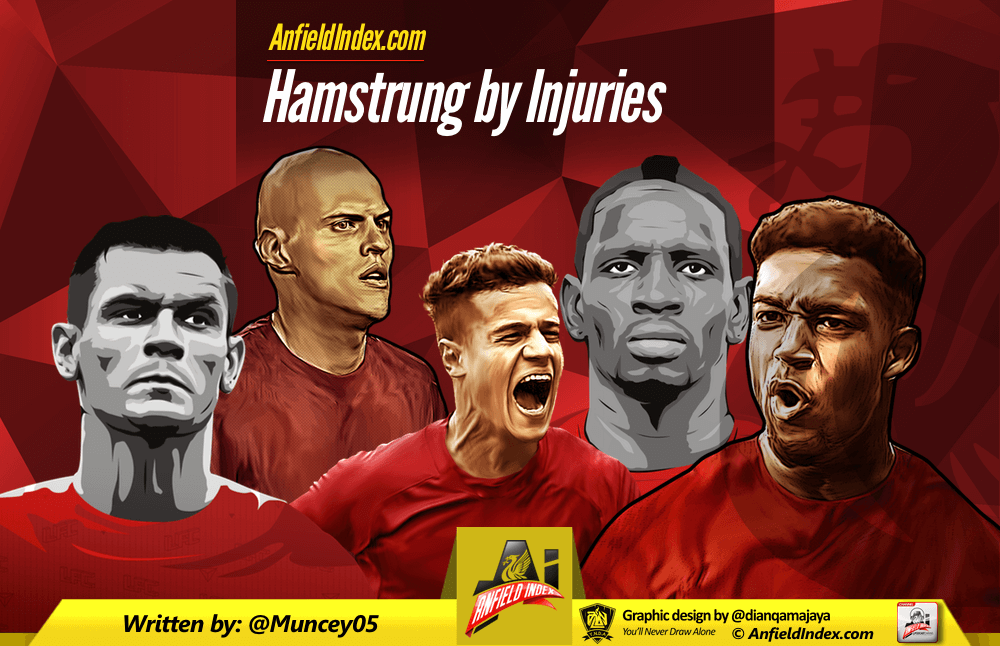 Some respected football analysts are making reference to the gegenpressing that Klopp is renowned for, which involves pressing the opposition all over the pitch, a big physical demand on the players, being the main reason for all these muscle strains.
This may well be the case, but two of those players struck down with hamstring injuries are Martin Skrtel and Dejan Lovren, who as centre-backs do not press to the levels that midfielders and attacking players are being asked to do.  In Lovren's case I would suggest that his injury is down to being on the sidelines for a period of time and then being asked to play consecutive matches over a reasonably short period of time.
Since Klopp took over in October last year, Liverpool have had 28 separate injuries, which over the same period of time, is the most injuries gained by team in the Premier League, and serial offenders such as Daniel Sturridge only make up a small number of these injuries.
All managers who are new to a club try and stamp their own style and identity. Klopp is trying to change the method of play at the club, three months into a season after players have gone through pre-season, makes a change in style even harder to adapt to, which seems to have had an impact on the bodies of the Liverpool playing staff. However, just plain bad luck has also played a part (in my view there is a multitude of reasons).
Trying to put a positive slant on the current spate of injuries is that with so many first team players unavailable, especially in central defence that the club may have their hand forced and reinforcement(s) bought in January, when without these injuries in defence, the club may have waited until the summer.
Players who have been linked by different media sources for January have been Neven Subotic, Joel Matip and Andrea Ranocchia either on loan or for differing amounts of fees dependant on the source and player in question.  In my opinion, my preference would be Subotic, a right sided central defender, who knows Klopp well and what his requirements are, and I believe could step in quickly and have a positive impact on the team for the rest of the season and beyond.
Liverpool are down to the bare bones and as it currently looks Kolo Toure and Lucas will be the centre-back pairing for Exeter City in the FA Cup as I write this, there is even a chance that Tiago Ilori could be spotted in a Liverpool match day squad, the same player who was bought 2 years ago for £7 million, then loaned out three times, most recently being a struggling Premier League team in Aston Villa, who had the option of buying the player, an option they declined to take up…Like I said, down to the bare bones.