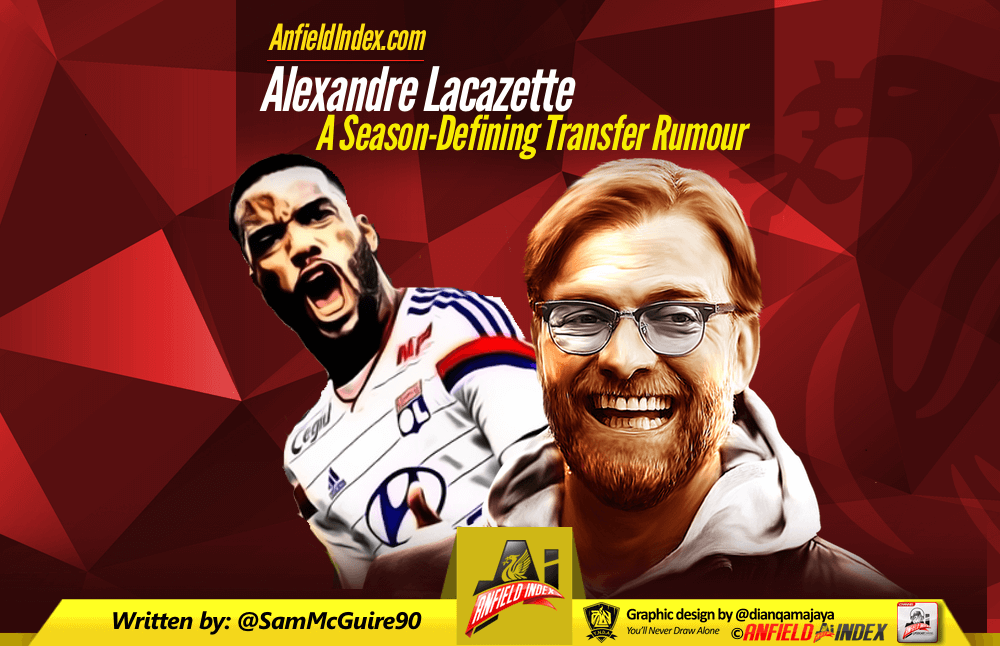 Alexandre Lacazette - A Season-Defining Transfer Rumour

Linked with moves to Ligue 1 Champions PSG, Real Madrid, Arsenal, Chelsea, Manchester United and Liverpool, Lyon striker Alexandre Lacazette was possibly the hottest property of the 2015 summer. The chairman of Lyon, Jean-Michel Aulas, came out in May and seemed to imply if a club were to prise his star asset away from the club it would be for north of £40 million.
Coming off the back of his most successful season to date it wasn't such a delusional statement. The Lyon number ten finished the season with 31 goals in 40 appearances and another 6 assists in all competitions. This following on from his 22 goals in 54 games in 2013/14.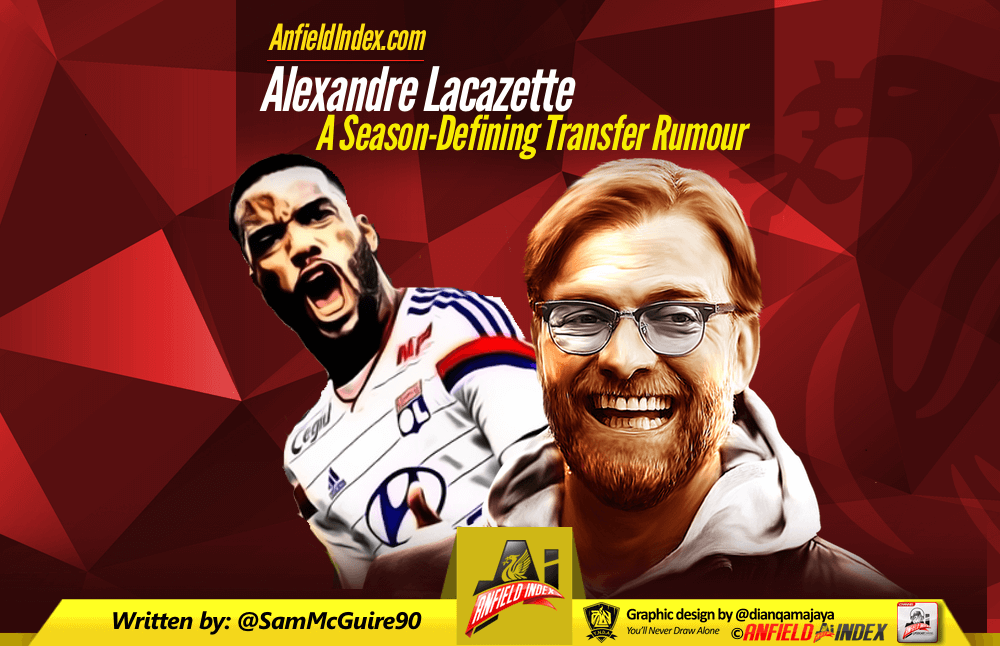 His reputation was enhanced by the goals but that's not what brought him to the attention of the masses to begin with. His style is desirable in the modern game. He's the sort to work the channels, he can play off the shoulder of the last man, he's comfortable when deep, a superb work rate off the ball and an electric pace that adds a whole other dimension to his game. These traits are the type many teams want in a striker, they're the sort that almost guarantees goals even if their record isn't the best.
Six months on from Aulas coming out and saying he'd only entertain offers over £40 million, the club apparently accepted a £22 million offer from Newcastle United. The player rejected the move but why are Lyon accepting such a low offer? How has his value depreciated at a rate of £3 million per month?
The 2015/16 hasn't been as successful as his previous two. Lacazette currently has nine goals in 21 games this season but three of those came in a single game, the derby against St Etienne. That match aside, six goals in 20 games isn't a record to be embarrassed by, it's just he's not met the high expectations set off the back of the season just gone.
Lacazette's general game is down when you look at his numbers. He's averaging less shots per 90 minutes when compared to the 2014/15 season. Last season he averaged 3 shots whereas this season it's down to 2.3 per game. His pass success rate is slightly worse this season too,  79% down to 72%. The striker is also completing less dribbles, 2 last season and 1.2 this season.
 Less goals and less influence on games.
There are reasons for this decline though. The biggest one to consider is the fact Lyon have been missing Nabil Fekir after the talented attacker ruptured his knee ligaments in early September. To add some context to this if Lacazette was Daniel Sturridge then Fekir would be Lyon's Luis Suarez. Before his injury Fekir had scored 4 goals in 4 games and registered an assist in Ligue 1. The 2014/15 season was his first full season and he put up some impressive numbers alongside Lacazette. Often used as the second striker in a diamond formation the French International finished up with 13 goals and 9 assists in 33 games.
Fekir created not only chances for Lacazette but space for him too. The opposition had to contend with the both of them. Lacazette is by no means overly reliant on others to create chances for him but when the opposition can concentrate solely on Lacazette it's hard for him to be as effective. It's comparable to watching Philippe Coutinho without Daniel Sturridge.
It wasn't just Lacazette struggling coming off such a successful season. The orchestrator of it all, Hubert Fournier, was having a tough time following up his 2nd place finish and with the team languishing in 9th place heading into the winter break was replaced as manager by Bruno Genesio, the appointment was official on Christmas eve.
"Bringing in a centre-back and an offensive winger is a priority for us."
– Jurgen Klopp.
Liverpool manager made that statement following on from the victory against Stoke in the Capital One Cup Semi-Final. An offensive winger. That could be interpreted as an inside forward which, if you want to get creative, is the position Lacazette originally played. The Reds have recalled the troops from loan with the likes of Ryan Kent, Sheyi Ojo and Tiago Ilori all returning from loan spells but could Liverpool be tempted into making a signing now the opportunity has presented itself?
It's not often a player as talented as Lacazette is available for £22 million. The January transfer window is often viewed as the window that offers no value for money. This could be a season changing signing for half the price you'd expect to be paying.
Liverpool may have an abundance of strikers when all are fit but would Lacazette's versatility play a part in convincing Liverpool to open their cheque book and bring in a weapon that uses the ammo they're (Firmino and Coutinho) currently supplying.
Lacazette is not a Daniel Sturridge doppelganger but their styles are similar and it's that style Liverpool need to be successful. Liverpool always seem to be a Sturridge away from really clicking into gear. A Sturridge away from really exploding. When Sturridge is back in contention you could use them alongside one another as they'd compliment each other's play and it'd be similar stylistically to how Origi and Sturridge played against Southampton. Liverpool could even use Lacazette, Coutinho and Firmino behind Sturridge, after all, Klopp expects the three behind the striker to score goals so why not put goals in that three.
These are the sorts of deals Liverpool should be looking at to improve. The value for money deals.