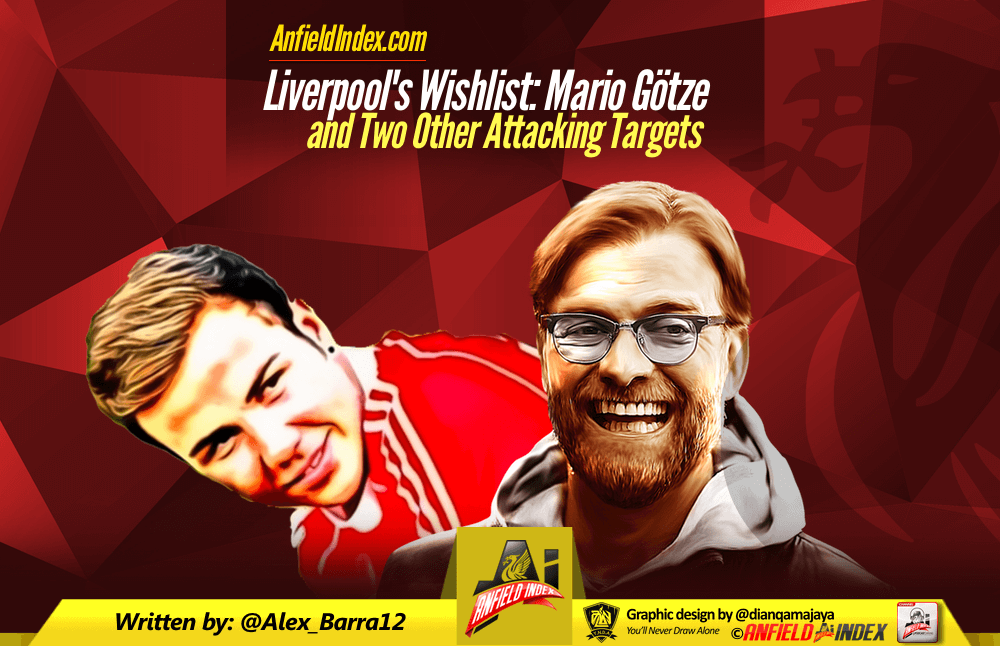 Liverpool's Wishlist: Mario Götze & Two Other Attacking Targets
Amidst a few troubles as of late for Jürgen Klopp's redmen (that phrase in itself gives this writer more motivation for this article than any article written under Brendan Rodgers), the need for goals ranks highest of all. Well, perhaps second to injuries, but at least goals are something that can be altered to favour the excitable German domineering the sidelines. Christian Benteke is the biggest issue of the lot; he clearly doesn't belong anywhere near a Jürgen Klopp Liverpool side, but what about goals from his accompanying attacking players? Whether it's 2 attacking number 10's operating slightly behind the striker or a full complement of 3, attacking midfield stocks need supplementing. Here are this writer's five picks for Jürgen Klopp to target; whether it be in January or the more likely, and more flexible summer market.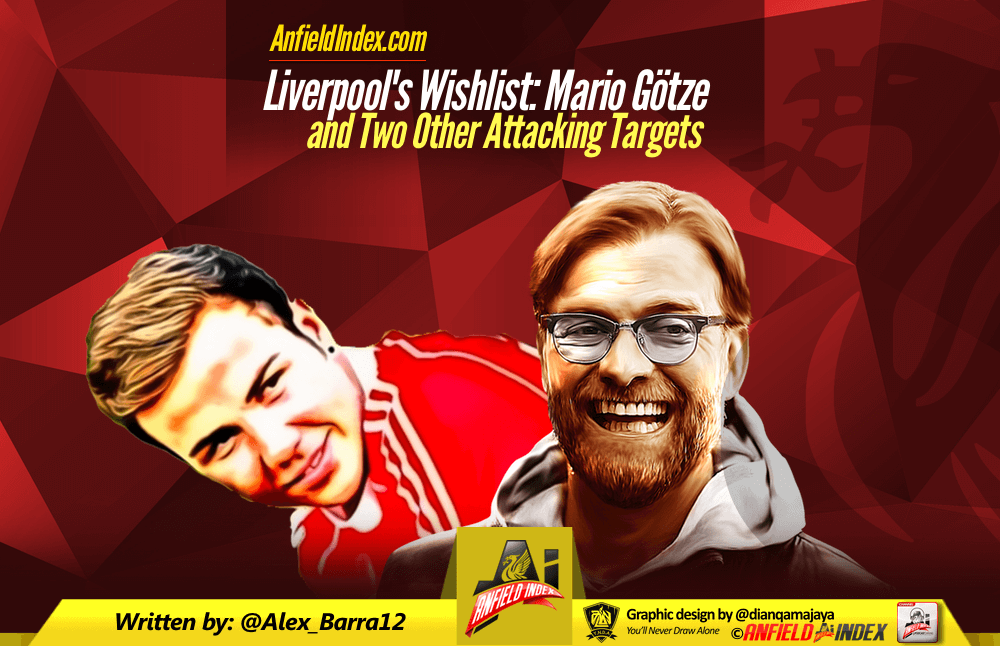 Mario Götze

It's the dream, isn't it? The mercurial little German whose magic feet led Joachim Löew to a World Cup and Jürgen Klopp to two consecutive Bundesliga titles. The fantasy building in the minds of Liverpool fans, of Götze and Klopp reuniting, the mentor engulfing his student in one of his monster hugs as the shining prodigy comes home; it's such a magnificent thought to even imagine. This writer is a huge fan of the little German wizard, and coupled with the man who made his career, Götze is as good an attacking midfielder as there is in the world when he's on his day.
Having failed to light up the sky while at Bayern Munich following his switch to the Allianz Stadium, many would cast doubts over whether Götze still has "it", the prowess which made him soar to the limelight when playing in front of the yellow wall for Liverpool's current Ulsterman. It still lurks in him, and he needs to be made the focal point of the attack for the team to properly get the best out of him. Playing at Dortmund; the side of Götze this writer is choosing to project into this Liverpool team, Götze functioned as part of a fluid attacking trio, sometimes a duo when he was simply partnered by Shinji Kagawa. In either formation, Götze would not necessarily have a set position as the #10 or a wide midfielder, but would interlink with Robert Lewandowski and Shinji Kagawa in an attack that was constantly moving.
Something that seems a world away from Christian Benteke at the moment.
Götze's tally – he netted 6 goals in both the 2010/11 and 2011/12 seasons, and reached double figures in his best season with 10 goals and 9 assists in the 2012/13 season (Dortmund's incredible Champions League final season) – shows that he's more in the ilk of a fluid, pass-and-mover than a scorer of goals, but when combined with Roberto Firmino, whose potency for finding the net at Hoffenheim would be replicated alongside Götze, and a fluid striker, the attack would suddenly kick into gear. From there, the Kop will be able to celebrate the high octane, high intensity Jürgen Klopp football that's bound to get us up off our seats.
He's already spoken about the recent link to a reunion with his former manager with 18 months currently remaining on his contract, and there's no sign Munich are currently looking to renew it. It's now up to Liverpool to make it happen.
Andriy Yarmolenko
Of course, there are alternatives to the mercurial German; a mercurial Ukranian, for instance. Having once done everything but book the flight of compatriot Yehven Konoplyanka, should Liverpool now turn to his teammate? In a word, yes, they should.
He's eerily similar to his compatriot at first glance, though he possesses more of a goal-threat than his counterpart. Yarmolenko has scored over double figures in every season he's taken part in since 2010, while he's already got 8 goals in 15 appearances in the Ukranian Premier League for Dynamo Kyiv, and he's got 2 goals in 5 appearances in the Champions League. Should Liverpool not be able to identify a striker who's capable of bringing in the goals, or should the injury crisis rear its head once again, Yarmolenko provides a perfect avenue for goals.
Despite the fact it's only the Ukrainian Premier League, Yarmolenko has stood out as the standout player in a physical league and would be perfectly suited to the dynamism of the Barclay's Premier League. He offers the option of a wicked left foot and a presence further wide; both of which is currently lacking in this Liverpool side.
His price is estimated to be around £21 million, near the same Liverpool spent on Lazar Markovic, and should Jürgen Klopp feel Markovic doesn't possess the quality he desires, reinvesting the money from the sale in Andriy Yarmolenko would be a shrewd and ideal fit for Klopp's attacking midfield.
Leroy Sane
A familiar name to many Liverpool fans, Sane burst onto the scene with a dazzling performance against Real Madrid in the Champions League. In a similar vein to Yarmolenko, he offers a bolt of a left foot, dazzling skills on the ball and sublime movement off of it. Should Klopp decide to pursue him, he represents a much needed presence out wide and would offer another outlet for Roberto Firmino's neat linkup play and Phil Coutinho's vision. But where Yarmolenko offers the avenue towards a more established goal-threat in the prime of his career, Sane offers the hot prospect, one of the hottest prospects in world football, in fact.
Should Jürgen Klopp want to stick to his guns and develop talent which he can nurture into the next Mario Götze, Leroy Sane would be absolutely perfect. He's a lethal presence in the box; he's scored 4 goals and assisted 4 times in 11 starts and 6 sub-appearances for Schalke this season, and has operated on both sides of the attacking midfield, but his most remarkable trait is his composure. He acts like he's eight years older than he is, like he's been past hundreds of defenders before and he'll go past hundreds more.
His decision making is bound to improve, as is his ability to find a key pass, but with Firmino and Coutinho with him, he'd add a dynamic element to the Liverpool attacking midfield contingent that could very well spark a goal storm under Jürgen Klopp. Not only that, but with the chance to become a world-class attacker in the future, and under a world-class manager, Sane and Liverpool could be a match made in heaven.