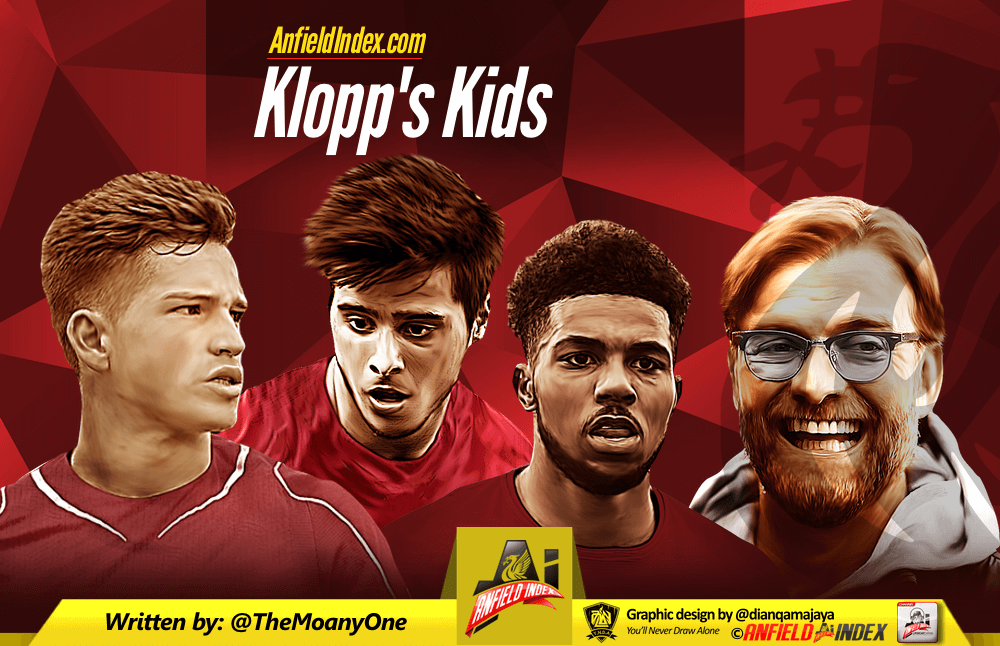 Klopp's Kids

Every time Liverpool step on to the pitch I always try and learn something. For instance some of the things I learned under Brendan Rodgers were, I learned that he didn't have a clue about managing a team who didn't have a twenty goal a season striker playing for him or what a defence was. I learned that you need more than character to win matches and that he had no clue when it came to buying, selling and loaning out players. Finally I learned that he has no idea how to manage senior professionals at a club of Liverpool's size. Under current manager Jürgen Klopp I've also learned a few things, things like maybe I've written off players like Adam Lallana and Dejan Lovren too soon and it's only a matter of time before players like Christian Benteke, Martin Skrtel, Adam Bogdan and Jose Enrique are shown the door at Anfield. I've also learned how bad a state Brendan Rodgers left the team in after he left the club.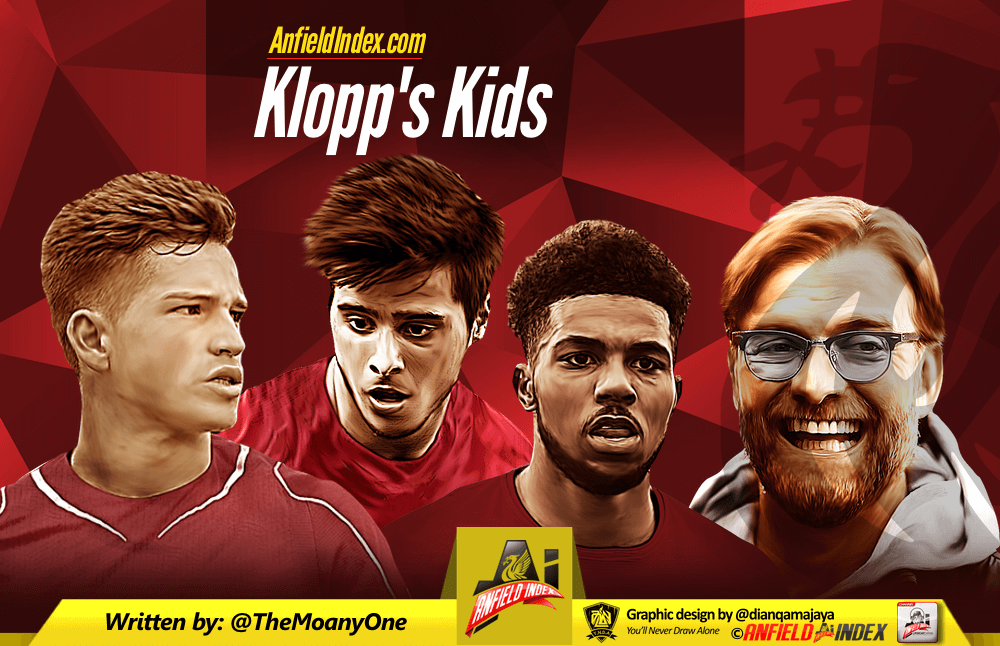 Against Exeter City in the fourth round of the FA Cup I learned that Liverpool actually possess players that have a bit of fight in their bellies, who don't drop their heads when plan A isn't working and who take pride in wearing the famous Liver bird on their chests. Those players are affectionately known as Klopps Kids. For some fans watching the Exeter match was their first time to see players like Joao Teixeira, Ryan Kent, Sheyi Ojo and Jerome Sinclair but for other fans they already knew all about them. We've already seen this season how good Conor Randall and Brad Smith have been for Liverpool. We finally have quality back up at right back and left back and it wouldn't be such a disaster if either Nataniel Clyne or Alberto Moreno got injured. In saying that if Brad Smith keeps progressing like he is I've a feeling Alberto Moreno will be playing back up to him in the near future.
With Liverpool currently suffering from a massive injury list (thirteen first team players currently out injured) it's time for some of Klopps Kids to step up and give the manager something to think about team wise. Players like Tiago Ilori, Teixeira, Ojo and Sinclair should be pushing for regular places on match day squads. Hopefully the experience of starting a game for Liverpool will give some of these players the kick in the arse that maybe they've needed to move onto the next level and show their real value. For me against Exeter Sinclair and Teixeira were superb and young Sheyi Ojo did more in his twenty minutes on the pitch then Christian Benteke did over the ninety plus minutes he was on the pitch.
With big games coming up against both Arsenal and Manchester United coming up over the next couple if weeks I fully expect some of Klopps Kids to be involved in the first team. Losing players like Jordan Ibe and Phillipe Coutinho was a massive blow I am hoping that Ojo and Teixeira can slot into the holes created by their loss. These are young players who showed against Exeter that they can play without fear, which as a fan is refreshing. I believe they'll prove themselves to be valuable assets to the squad and may show Klopp that he doesn't need to go out and invest in the team because the quality is already there. Another player for me that needs to step up is Tiago Ilori. Anyone who reads my Twitter time line will know I'm a massive fan of his. With all four of Liverpool's senior centre backs out injured now is his time to cement his place in the team and repay the faith I've shown in him. (I know he reads what I say about him!!!).
As excited as I am about seeing the likes of Ilori, Teixeira and Ojo force their way into the Liverpool team the one Klopp Kid I really want to see is Jerome Sinclair. He's already come under scrutiny at the club having appointed Aidy Ward as his agent and we all know how welcome Ward is around Anfield these days but regardless of that, now is the time for Sinclair to put up or shut up. As fans have seen over the past number of weeks Christian Benteke just doesn't suit the Klopp style of play. He's too lazy and doesn't seem to want to do the hard work. And because of this Sinclair deserves a chance. A chance to either put himself in to the shop window or play his way in to earning a new contract at Liverpool. With all sorts of strikers already linked with the club and the man of glass Daniel Sturridge seemingly ready to go, now might be Sinclair's only chance to shine. Prove what he can do or run the risk of becoming another forgotten footballer.
Whatever happens, against Exeter Liverpool have again shown the Premier League that the Academy has some real gems and if Jürgen Klopp cam polish them off I think Liverpool can dominate the Premier League for years to come. Here's hoping anyways.