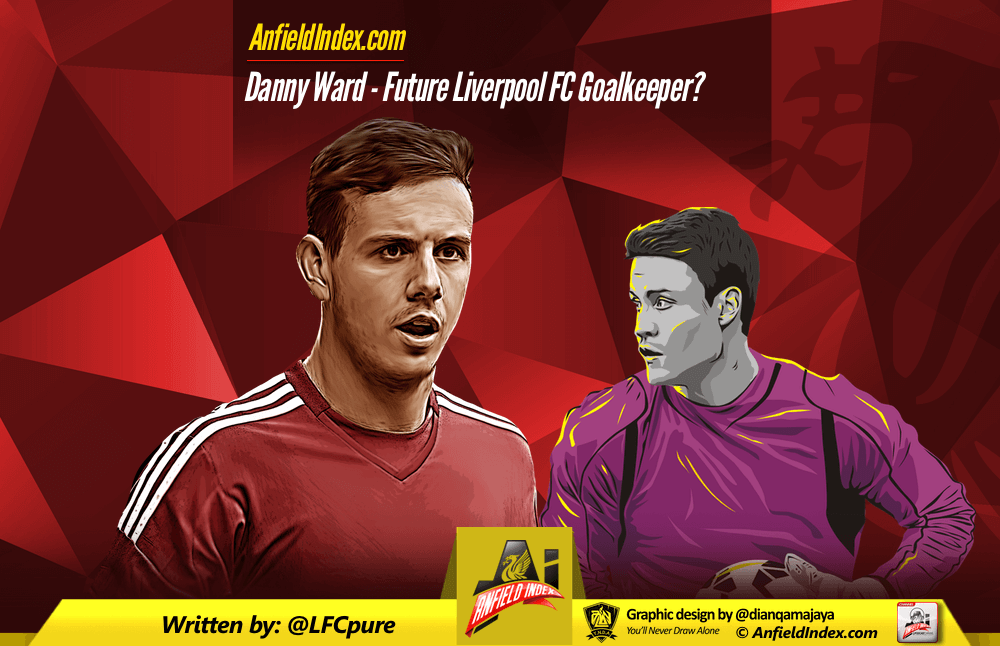 Danny Ward - Future Liverpool FC Goalkeeper?

A turbulent festive season has seen many youngsters recalled, with Jürgen Klopp recently stating that the most important area's he was looking into being Centre Back (Tiago Ilori) and Offensive Winger (Sheyi Ojo). However, after the recent game versus Exeter City, a new position became highlighted to Klopp, Goalkeeper, Adam Bogdan, who after an impressive display versus Bournemouth, was getting all the plaudits with many calling for him to take the #1 spot off of Simon Mignolet. Since that game Bogdan has made 2 appearances, firstly, Watford where he let in three, with the first being a real 'face-in-palm' moment, despite the reports that Nathan Ake 'may' have kicked it out of his hand. The second, which appears to have been the catalyst, was another poor display versus mid-table League 2 team Exeter City, where Bogdan conceded straight from a corner with just the one person stood in front of him. Perhaps that performance has led to news that broke out late Sunday 10th January night, that Danny Ward, had been recalled from a fantastic loan spell with Aberdeen FC, which was benefitting both himself as well as the Scottish Club. Danny Ward had visited Melwood during an international break and had spoken to Klopp which, at this point, it did not seem likely that Ward's loan would be cut short.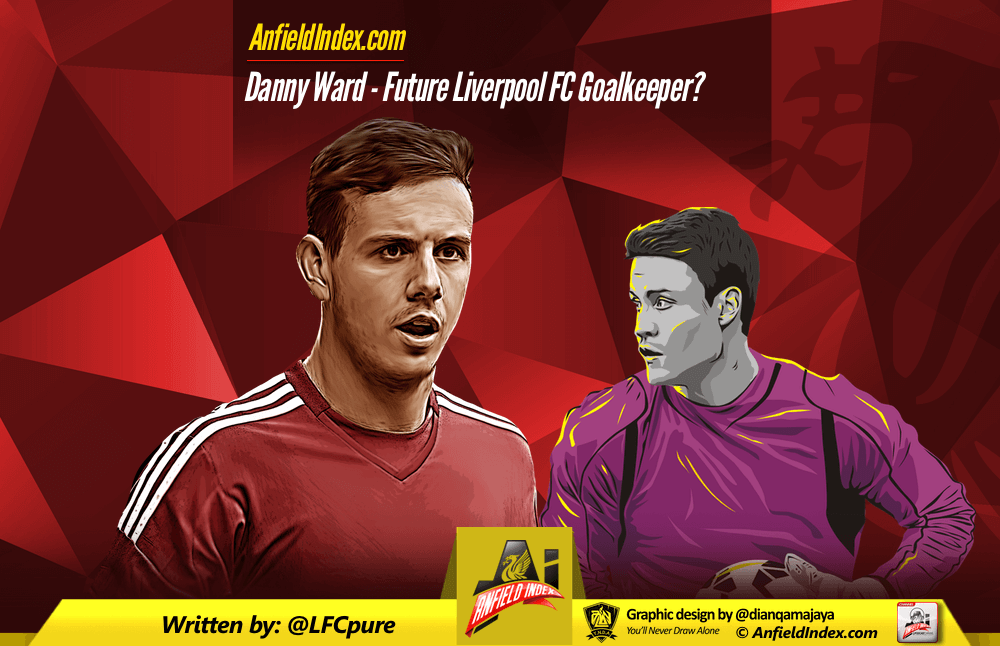 As it has happened, the current Liverpool FC goalkeeping situation, despite what Klopp has publicly said, has obviously given the German plenty to consider. Liverpool have conceded the most goals from goalkeeping errors (3) in the league, which Klopp will not consider acceptable. Mignolet often lacks confidence to be the Red's #1 and Adam Bogdan has let in 5 goals versus Watford and Exeter, 2 of which, were unacceptable errors. The recalling of Danny Ward, appears to spell the end of Adam Bogdan's short Liverpool career, with Ward coming back, realistically as the #2 Goalkeeper. However, the news that Ward is coming back will put pressure on Mignolet, as his spot was relatively comfortable when only Bogdan was challenging. This can be a real positive, as this can either make Mignolet step his performances up, or it may mean that Ward, the 22 year old Welshman, may get the chance he has been waiting for, to become the Red's #1.
And so Danny Ward, who is the 191 cm (6ft 2") Welshman. Ward was bought by Liverpool from Wrexham 30th January 2012 for 100,000 a reasonably low fee when compared to the rumoured Liverpool target Ter Stegen who may be commanding a price of (£20 Million). Wards last loan spell to Morecambe where he played 5 games, and the manager Jim Bentley described Ward as an 'exceptional' talent. However, this loan spell is small when compared to his most recent spell with SPL (Scottish Premier League) title chasing side Aberdeen FC. When it was announced that Danny Ward would be returning early to Liverpool, the comments on the Twitter pages were telling. Fans of the Scottish club appeared mortified, and many labelled him as the 'Best Goalkeeper in the SPL'. These are the people that had been watching Ward's progress week in week out, and so there opinions count, just like any expert. I have been fortunate enough to have a Q&A with @AberdeenFCBlog1, who is a fan page for Aberdeen and have been able to closely watch the development of Ward from a reasonably unknown young Goalkeeper, into one of the most prominent shot stoppers in the SPL.
The first question, and one that most Liverpool Fans want to know, how is the Welshman from corners and crosses? 'Ward is competent at commanding his box', which of course is always a positive when considering the quite Simon Mignolet, often putting the backline under pressure with his uncertainty. But the most pleasing part was that Danny Ward during his spell has shown that he knows 'when to stay on his line and when to come for the ball'. Arguably Simon Mignolet's biggest weakness is his ability to read the cross, often he will punch when he should stay, and other times when he should punch he stays, this often puts the backline under pressure. @AberdeenFCBlog1 then went on to say that he has 'impressive decision making in terms of crosses' and once again, a pleasing thing for LFC fans and defence 'relived pressure from Aberdeen's defence with safe hands on several occasions'.
The next area to look at was what type of attitude does Danny Ward have? Having confidence is huge for goalkeepers, and this is another area where Mignolet struggles, this is also a reason Klopp has done nothing but show support for his keepers, in an attempt to boost their confidence. @AberdeenFCBlog1 states that whilst he 'is not arrogant, he is very self-assured and knows his own ability'. Which is clear to see with the interview he had recently in which his plan was to comeback and fight for the #1 spot. Ward also can 'command his defence well' which shows the Welshman's confidence but has an attitude of someone 'who is very open to learning and improving as a player'. This will be important for Ward to make the next step up, as with hard work, it does appear that he has the correct mentality and ability to get to the top.
Liverpool keepers have always been known for having good distribution, and Pepe Reina became a fan favourite and was known for this area of his game, Ward's distribution is a 'strong point to his game', which will be important as for many games if he is to become Liverpool Goalkeeper he will often act as a sweeper keeper, Ward as can 'pick a pass and release the ball quickly finding tall strikers up front', Christian Benteke will be shouting 'Finally!!!', and so this could bring a further dimension to Liverpool's game.
The next area, and one that many will grimace at his what is his technique like, in the world of football there are so many 'The Next Messi' or 'The Next Gerrard'. But Danny Ward has been described as having a similar 'shot stopping style of Courtois' whilst also having the 'agility of Neuer', however this will take time and I am sure Danny Ward will concentrate on just fulfilling his potential and becoming his own player.
Another area that will be important for any Liverpool #1 is 'How is he in pressure situations', this will be huge, if Liverpool can get to where they want to be, any Liverpool Goalkeeper will have to play a huge part, and will be in many pressurised games, and so how is the 22 year old Welshman. Well, @AberdeenFCBlog1 state, his debut came in a 'tough Europa League Tie in Macedonia' Europe is somewhere that Liverpool plan to be for the foreseeable future so this is great experience for him, and he came through that game 'with flying colours'. And since that game it appears he has kicked on really well 'his performances in the big games against the likes of Rijeka in Europe' as well as title chasing 'Celtic in the league have been outstanding'. Which is fantastic, and it appears that 'pressure is not a problem for Ward'.
An area that needs improvement would be his ability to be a leader, however, as stated by @AberdeenFCBlog1 this is due to 'his young age and will come with age and experience', of course, 22 years old for anywhere else on the pitch is not a young age, however Goalkeepers can continue their careers usually 5/10 years longer and often start their professional careers later. Despite not being a natural leader yet, he still commands his backline well and will 'tell them when they are not playing well', which is promising, as well as this his 'assurances in goal give the defence confidence too which allows them to believe and listen to him', something Liverpool's defence are clearly lacking.
Away from ability, how important was the Goalkeeper for the Scottish Club. Danny Ward was described as being an 'integral member of the squad' and 'most consistent performer in the Aberdeen team'. Particularly the consistency part will be pleasing for Liverpool fans, who are probably one of the most inconsistent teams in the league, only Liverpool could beat Manchester City 1-4 at the Etihad before losing 3-0 to Watford. 'Ward has bailed us out of some tough situations' this will be brilliant to hear for Liverpool fans, Mignolet has the potential to win points with some important saves, and it is good to see that by putting Ward in goal we would not be losing that. For Aberdeen often he would be 'idle then all of a sudden be forced into producing match winning saves which he has delivered' of course, a team like Liverpool are often in possession and on the attack and keepers will be quiet, but it is good to know that despite this, Danny Ward should be ready when called upon. Danny Ward has been described as having 'a lean, agile figure' that without Aberdeen FC may have been 'potentially eight points or so worse off'. To sum up his time, and importance @AberdeenFCBlog1 described him as being 'the best keeper we have had in the last decade maybe even further back and our loss, is of course, your gain'.
The final question and one that many Liverpool Fans will be interested in, is how fan can he go? Can he become Wales and Liverpool's first choice keeper? 'If he performs with the consistency and quality he did for us then I have no qualms that he will have a huge and positive impact at Liverpool'. Of course there is a big step up to playing in the Premier League, which has been described as, 'the most difficult league in the world'. However, Ward 'has too much quality to end up in the doldrums of football' however, if he doesn't make it at Liverpool, Aberdeen will be more than to take him as he has shown great 'character' when thrown into big games. However, he needs confidence, just like anyone else and as long as 'Klopp shows the same belief in him that Derek McInnes did then there is no doubt he will eventually be at the top in football as Liverpool and Wales' Number one.
What does appear clear, is that Ward possesses all of the talent to become a huge part of Liverpool's future, but he must be given the time to grow and learn. But he has all the attributes to become a regular, which of course would save some money for Klopp in the transfer market.