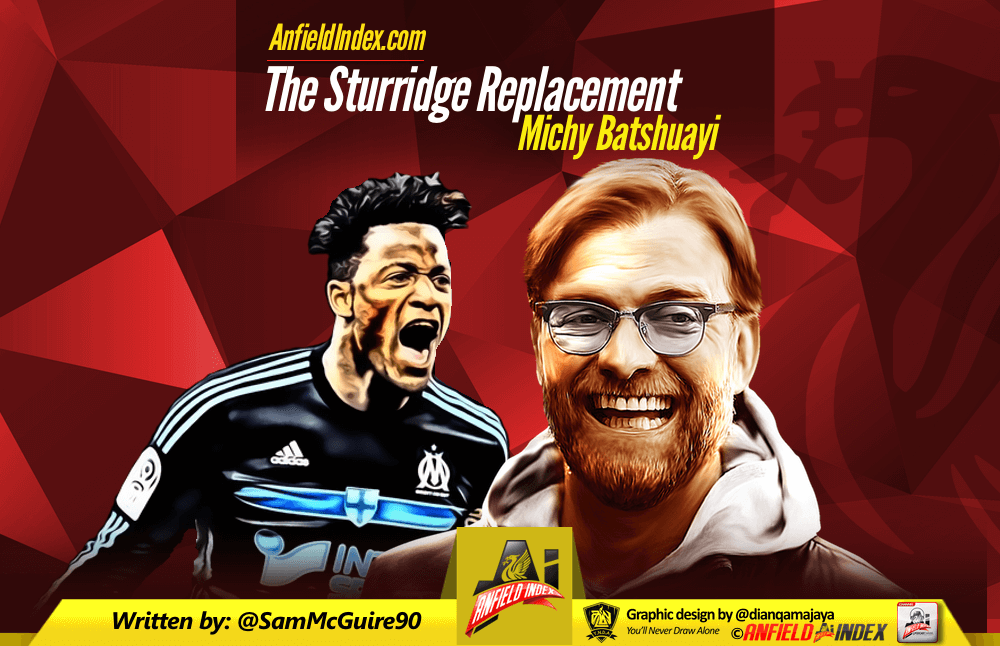 The Sturridge Replacement - Michy Batshuayi

It's not often you hear that a Premier League club, one that regularly qualifies for Europe, is prepared to sell arguably their best player for as little as £25 million when the player has three and a half years remaining on their current deal. Stories came out over the weekend that Liverpool are set to do that exact thing.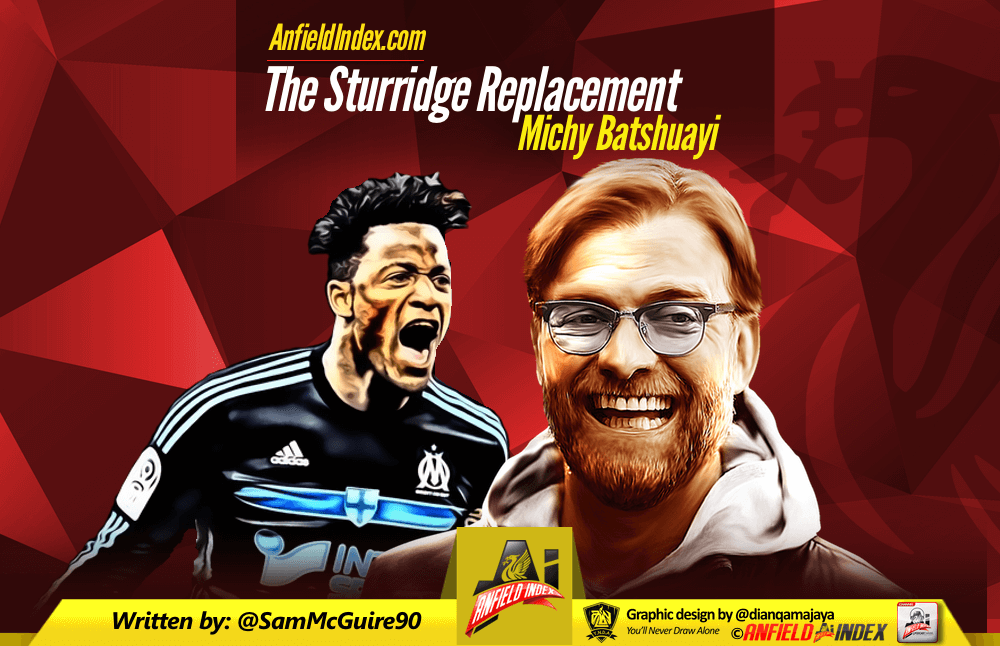 According to reports the Reds are prepared to entertain offers of £25 million for Daniel Sturridge.
Twitter was divided when this rumour made its way onto our screens. When fit he's only behind Sergio Aguero if you were to rank the strikers in the Premier League. The key part of that sentence though is 'when fit. The counter argument to this of course is If a player is fit for only half of the season, and they're not a Lionel Messi or a Cristiano Ronaldo, what use is it to keep them when their value is still high?
If you had a Lamborghini that was always seemed to be one part away from being road worthy and somebody showed interest in buying it you'd of course hear them out, right? Sentiment aside you'd want to see a return on your investment, unless of course you're a collector.
Liverpool haven't got a collection of top class strikers.
Since Liverpool lost Luis Suarez to Barcelona the team has been reliant on Sturridge being fit. When he's fit it clicks. When he's not fit everything seems so disjointed and it's easy to see why. The attacking midfielders in the team seem to look better suited to a striker of Sturridge's style as opposed to Benteke's. Without that type of threat, we are never going to be seen as real contenders for the Premier League title.
If The Reds are to really see their attacking unit flourish they're going to have to sign a striker that stylistically matches up with Sturridge. Lyon forward Alexandre Lacazette has been one that's continuously linked with a move but it's another Ligue 1 striker that may well be better suited.
Michy Bastshuayi.
https://www.youtube.com/watch?v=RumzNpLofQk
The 22 year old currently plays for Marseille having signed for them in the summer of 2014. He was one of the first signings of the manager at the time, Marcelo Bielsa. The Chilean is famed for being a little bit of a nutcase but his tactics aren't too dissimilar to Jurgen Klopp's. He asks the players to give 100% and then demands they throw in another 50% on top of that.
The 2015/16 season has seen the striker take over the mantle of the main man at the French club. The club lost their lead striker in Andre Pierre Gignac only one year after losing instrumental playmaker Mathieu Valbuena. Carrying the weight of the French giants hasn't weighed him down and he's responded to this increased responsibility in emphatic form with 15 goals and 3 assists in 25 games.
The Belgian isn't just a one season wonder either. His first season with Marseille saw him being eased in, only amassing 881 minutes in the entire season. He still managed to score a goal every 125 minutes, finishing the season with 7 league goals.
Marseille signed the striker from Standard Liege for 4 million euros, less than Liverpool paid for bargain Rickie Lambert. He arrived there with a reputation of being a goalscorer, 39 goals in 79 games in Belgium having made his debut aged 17.
He's not the perfect clone of Daniel Sturridge but both share certain traits. Explosive pace, superb movement, wants to get in behind, very direct and an assassin when in the penalty area. Michy doesn't drift into the wide areas as much as Sturridge does but the former is comfortable striking the ball with both feet, something fans don't often see Sturridge doing. He also works a little harder off of the ball than Sturridge with the Belgian averaging 1 tackle per 90 and 1.4 fouls per 90. He may be a little eager when going tackling but the desire is there to contribute defensively. Compare this to Sturridge who averages 0.4 tackles per game and 0.2 fouls. Michy's link-up play may be better than what Liverpool fans have seen this season. Christian Benteke averages 67% pass success rate whereas Batshuayi averages 75%.
Of course there are limits to his game. The 6ft striker isn't going to win that many aerial duels in the Premier League but would Liverpool be playing long balls to him? Probably not, so that weakness won't be as prevalent. He's recently signed a 5 year extension with Marseille so isn't likely to come cheaply but the allure of Premier League money could be too much.
Liverpool have recently been linked with want away West Brom forward Saido Berahino. The English forward offers much of what Michy does but at 22 years old he's viewed as raw and one for the future whereas Batshuayi, same age, is delivering now and has European experience. With the English premium being added to Berahino's fee will Batshuayi be going for much more?