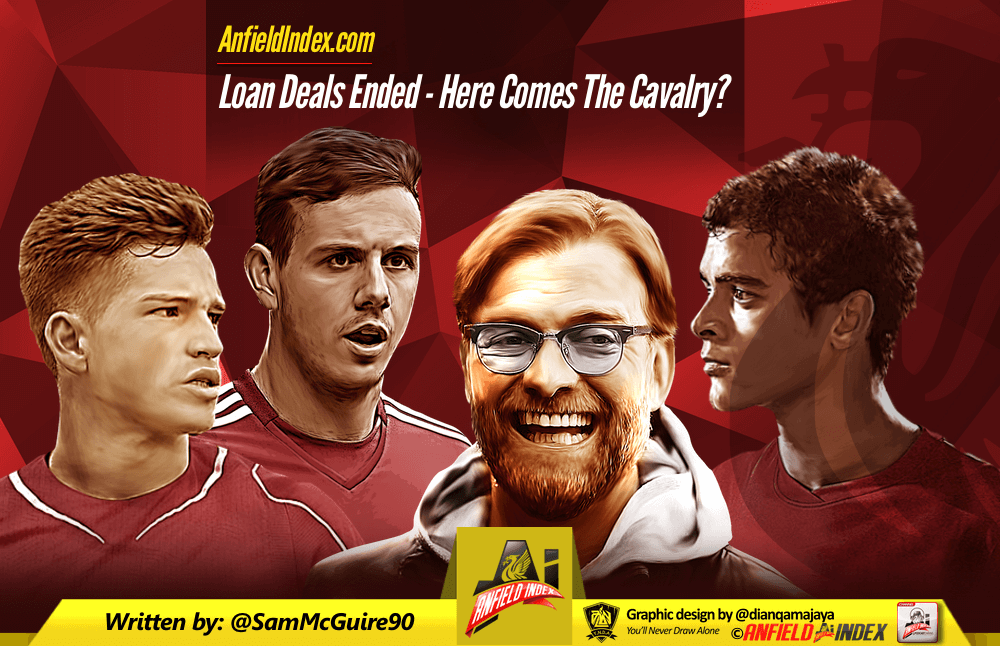 Loan Deals Ended - Here Comes The Cavalry?

Liverpool's squad has been put to the best over the past couple of weeks. Injuries to as many as 13 players has lead to Reds boss Jurgen Klopp recalling the likes of Danny Ward, Ryan Kent, Sheyi Ojo and Tiago Ilori from their respected loans.
It was the decision of ex Liverpool manager Brendan Rodgers to loan out so many players before the season began. What originally looked like a healthy sized squad shrunk dramatically. Out went the aforementioned four along with Andre Wisdom, Lloyd Jones, Lazar Markovic, Mario Balotelli, Ryan McLaughlin, Samed Yesil, Luis Alberto, Sergi Canos and Taiwo Awoniyi.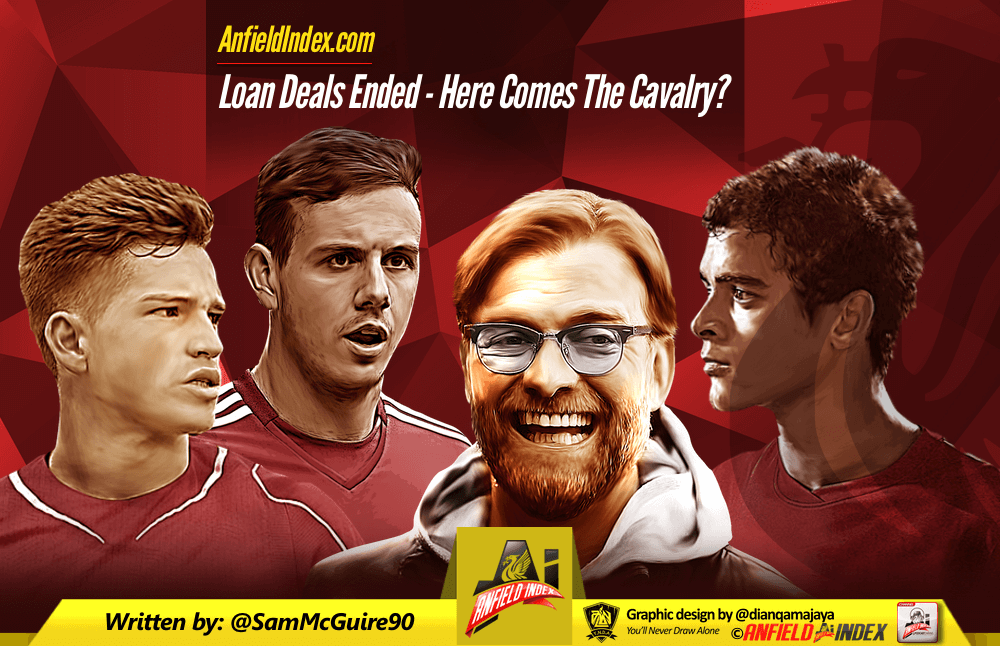 In Germany it's not often clubs will loan players to another club in the same league unless they know the player will be getting used. It's a deal that works both ways; the parent club sees their player playing regularly and improving and the loaning club gets to improve their squad without the transfer fee. If there's no guarantee then clubs will just keep the player so they familiarise themselves with the players and the ideas at the club. They may not be getting minutes but they get the benefit of training regularly with their teammates and they're there if any injuries give them a chance to start.
In England it's as though clubs loan players to bulk up their squad and not actually improve their starting XI. These deals seems to favour the loaning club. They get a squad player able to fill in when necessary but the parent club ends up with getting a player returned and their value has decreased due to lack of playing time.
Take Andre Wisdom for example, on loan at West Brom but has only played 554 minutes this season and the training there will be different to that of Liverpool's. Would he have got more minutes for Liverpool this season? Probably. Tiago Ilori at Villa made no appearances for neither the first team or the reserves yet he showed against Exeter he is a functioning footballer. Both of these players would have played more for Liverpool this season than they did their loan club, so why loan them, especially when Liverpool have the prospect of playing so many games?
Loans from Premier League clubs to lower league clubs seems to work as effectively as the German loans work. Players go, get minutes, improve the team they're at and return to their parent club as a better player and with an increased value. Sergi Canos at Brentford has done well this season. The Spanaird has played in 656 minutes and has 3 goals and 2 assists to his name. Liverpool may have high hopes for him but it's encouraging to see him performing in the Championship as it wouldn't be out of the question to potentially sell him in the future to a Championship club for £8-10 million with how the market is going.
Looking at those that have returned from loan, with the exception of Ilori, you notice all share a similarity. All have returned with confidence. Danny Ward has been the best goalkeeper in the Scottish Premier League this season and losing him will be a blow to Aberdeen's aspirations. Ryan Kent was a revelation at Coventry and although he 'only' managed 1 goal in 17 appearances the Coventry fans seemed genuinely disappointed at losing him already. Sheyi Ojo made an impact at Wolves despite only being 18. He got 543 minutes to his name and scored 2 goals and managed to get 3 assists.
Liverpool have recalled a confident 'keeper in the best form of his career. A tricky, direct, old fashioned winger with an abundance of pace who has set up camp perfectly on the border of arrogance and confidence. Then there's Sheyi Ojo, a special talent who came on against Exeter and changed the game. Three types of player Liverpool have been lacking this season. Three types of player Klopp's Dortmund always seemed to have.
These are the types of players fans have been screaming out for and now they're here just not in the way fans expected.  They may not be long term solutions but short term why can't these players play a role in turning this season around? Ward means we aren't reliant on questionable goalkeepers. Kent means Ibe isn't our only winger. Ojo, in form, is different to others in the squad.
It's refreshing for a manager to go down this route. To actually survey what he has at his disposal as opposed to going out into the transfer market and forgetting about the youngsters at the club. This is how Klopp unearthed Marcel Schmelzer and Mario Goetze at Dortmund. He needed certain types of players but instead of spending money he gave the youth players at the club a chance and it paid dividends. Why not chance this and sign players in the summer if necessary instead of trying to throw money at the problems now and overpaying?