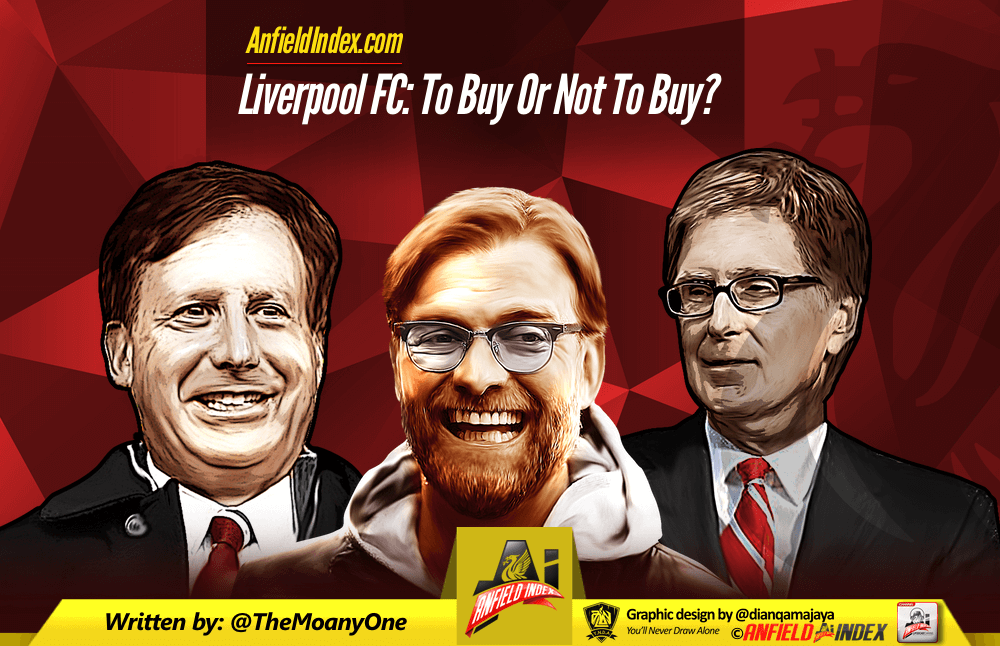 Liverpool FC: To Buy Or Not To Buy?

The January transfer window is open, Liverpool have thirteen first team players currently out injured, it's time for FSG to splash the cash and show Jürgen Klopp that they mean business at Liverpool. Back him the way they backed Brendan Rodgers. After all Liverpool are still currently in contention for the prized fourth Champions League spot, still in all the domestic cups and more importantly for me (and I never thought I'd say this) still in the Europa League. I can hear these thoughts screaming from fans' heads all around the world as I write this, Liverpool need to buy, buy, buy now. Some fans even know what positions need strengthening the most, something Jürgen Klopp doesn't seem to know himself at tbe minute. After all he's still evaluating the team he has.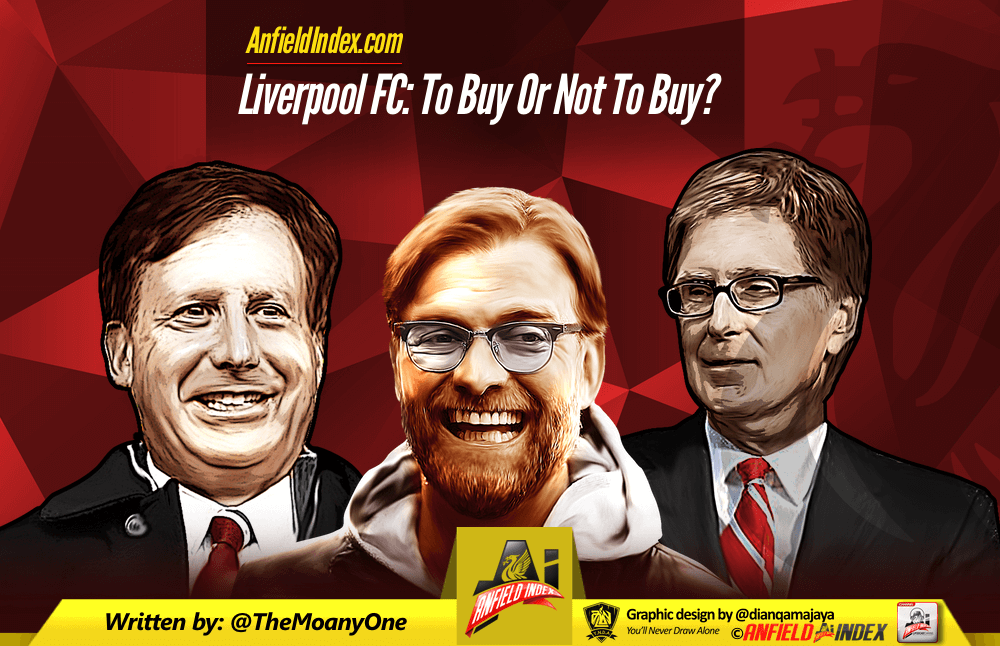 But instead of Jürgen Klopp buying players for the sake of buying players, Klopp has done the right thing in my opinion and has decided to bring back some of Liverpool's young players who were out on loan to see if they have what it takes to make it at Liverpool. This plan is not making some fans happy, but the days of buying players for the sake of buying players I think are finished at Liverpool. Jürgen Klopp has been told to look at everyone and see what their strengths and weaknesses are and whether or not he can improve them. And if he cannot, I have a feeling that these players will be moved on. He's giving players who previously were brushed aside and sent out on loan to prop up other team's bench, a second chance. While I'm fairly sure Klopp has an idea of who he wants to keep from the more senior players, I think his biggest challenge will be choosing from the up and coming players.
Some of these younger players have already given him food for thought, players like Cameron Brannagan, Brad Smith and Conor Randall, while others I'm sure he's still unsure of and then there's players who are still on loan and I'm sure he'll give those players a chance to impress him. This January, players that can slot into the first team straight away will be crucial. I think Jürgen Klopp is going about building Liverpool up from the ground in the right way. For too long Liverpool have over paid for average or up and coming players (Andy Carroll, Stewert Downing and Dejan Lovren all spring to mind) and for me this was down to weak management, management who simply said yes sir, of course sir when it came to buying players for big fees. Under Jürgen Klopp I can't see that happening too much anymore. He's the manager a lot of players want to play for and he's a big enough manager that if option A doesn't happen, well option B who is still an elite quality signing will happen.
As much as there is quality in the youth coming through at the minute at Melwood I would love to see Klopp adding Sergi Canos and Lazar Markovic to the loan recall list. I think both players could prove to be excellent additions to the squad especially with Liverpool lacking so much depth up front and with both players back at Anfield they could definitely do a job for Jürgen Klopp's Liverpool. I'd love to see Markovic come back to Liverpool early from his loan spell. I think the contribution he could make to Liverpool could prove invaluable. He has all the attributes Klopp seems to like – pace, power and not afraid to take a risk. Markovic has the ability to frighten defences in the Premier League with his pace and may make Jürgen Klopp think twice about buying the likes of Leroy Sane and Alexandre Lacazette. Plus, with both Jerome Sinclair and Sheyi Ojo impressing against Exeter City recently in the FA Cup, Klopp may feel vindicated for calling the young players back from their loans and may see a striker isn't such a must buy either this January or in the summer transfer window. Whatever happens the future is certainly bright for Liverpool and Jürgen Klopp has a lot of talent he can improve and bring on.