We all know how important Phillipe Coutinho is to Liverpool Football Club when he's on the pitch. When he plays well the whole team plays well. But at the minute for me, his recurring injuries a cause for concern for both Liverpool fans and manager Jürgen Klopp. Since the start of the current season Coutinho has missed two large chucks of the season with hamstring injuries. He picked up his first one against Manchester City on the twenty first of November and his second one was in the one nil win at Stoke on the fifth of January. Now many fans might not see this as a worry but as I've already said for me it is a big worry. Coutinho is a player who depends on speed and agility to beat players. And if he keeps picking up these types of injuries how long will it be before these continuous injuries start to effect his mentality and he ends up spending more time injured than playing.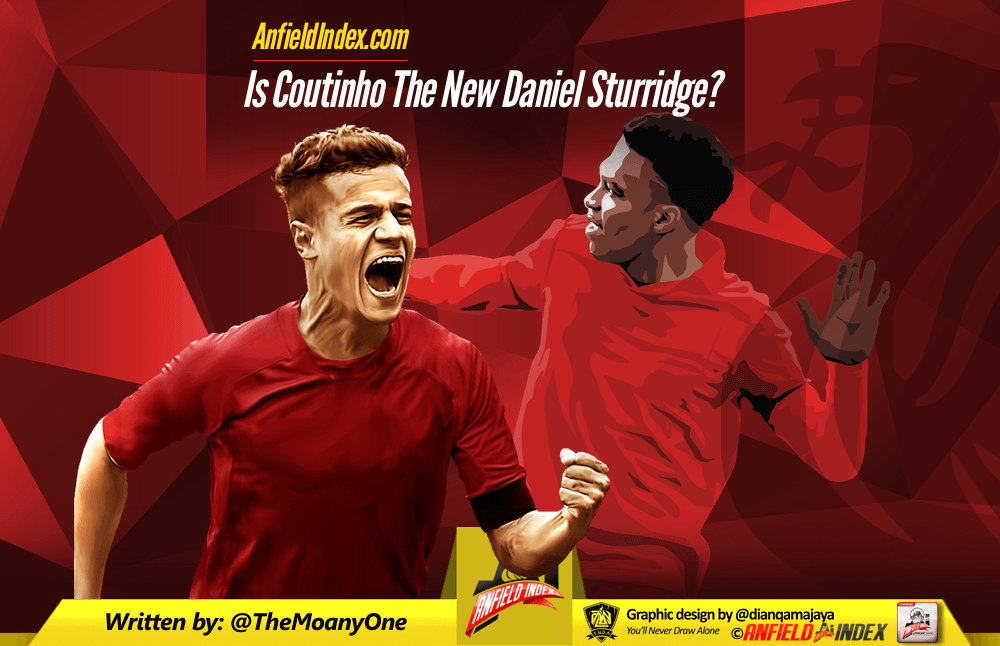 My one big fear for Coutinho is he goes down a similar path to Liverpool's ever present in the treatment room Daniel Sturridge. I know some reading this will say I'm somewhat slightly over reacting but since he came to Liverpool, Coutinho has had ten serious injuries with some of these injuries recurring a couple of times. (two groin injuries, two knee injuries, two hamstring injuries, one hip injury, one shoulder injury, one ankle sprain and a mysterious 'knock') All it takes is for one of these injuries to continously reoccur, for the negative thoughts to start to creep in to Coutinho's head and he could very well copy the Daniel Sturridge injury list. I'm not saying Coutinho is going to become the new Daniel Sturridge with fans accepting his continous absence through injury because of his brilliance on the pitch, all I'm saying is I'm a bit concerned.

To try and gauge the amount of injuries Coutinho has suffered since he signed for Liverpool, all you have to do is look at players who are similar in nature, the Eden Hazards or the Mesut Ozils of the Premier League. The two playwrs mentioned above player's play a similar type of game to Coutinho, these players use their speed and agility to ghost around players and they both play an important role like Coutinho does when it comes to linking defence to attack. So you would imagine that they both would suffer similar injuries to Coutinho and miss out on a similar amount of games.
While Hazard hasn't had the best of seasons so far this season he was arguably the best player in the Premier League last season. Since signing with Chelsea he has been an almost ever present in the team having only had three injuries that have required him to miss games. He has only ever had to date one serious hamstring injury (via http://www.transfermarkt.com) which occurred in 2013 and kept him out of the Chelsea team for a period of seventeen days.
Ozil on the other hand has taken time to settle into the hussle and bussle of the Premier League. Some pundits and fans went as far as calling him a flop and questioned his mentality and his want to play for Arsenal. This season though Ozil has been a revelation for Arsenal and has grown in to one of their most influential players on the pitch. While Ozil has had his fair share of injuries since he arrived in the Premier League they pale in comparison to the injuries suffered by Coutinho. He has only had the one hamstring injury to date (again via www.transfermarkt.com).
So what can Liverpool do to insure that Coutinho doesn't become another broken down footballer and end up like Daniel Sturridge? For me they can start by maybe bringing in someone the players can talk to, someone who can get their heads straight during the dark days of their recovery from injury, someone who can reassure the players that because they've had a reoccurring injury it's not the end of the world. Maybe they have to adapt the way they train or try exercises that will strengthen the problematic area. While Coutinho is still a bit off the Sturridge (Sturridge has had sixteen separate injuries since he signed for Liverpool) injury jinx, it's something that the medical staff at Melwood should be keeping an eye on. Otherwise like Sturridge is in danger of doing, Coutinho will never fulfill his full potential as a footballer.