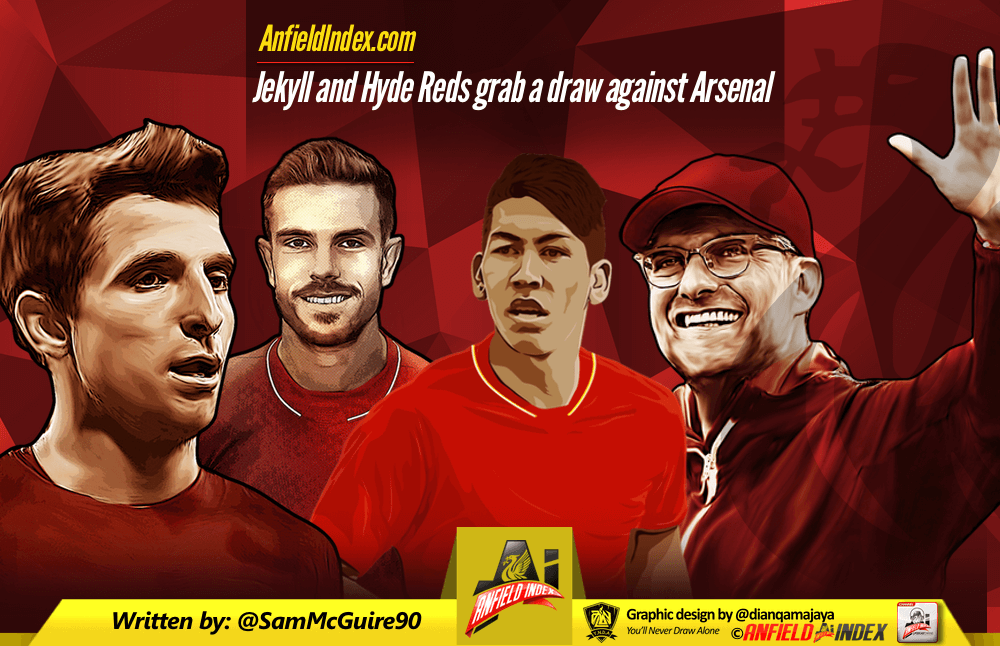 Jekyll and Hyde Reds grab a draw against Arsenal

Liverpool fans witnessed the good, the bad and the ugly in Wednesday night's 3-3 draw with Arsenal at Anfield. A Roberto Firmino and Emre Can inspired first-half saw the Reds take the lead twice before being pegged back by defensive errors. After Arsenal took the lead early in the second-half due to a well taken Oliver Giroud goal, it looked like the Gunners would dig in and see the game out for victory. But it was the unlikeliest of goalscorers, the bearded messiah, Joe Allen, who popped up with a late equaliser that left Anfield bouncing in the snow.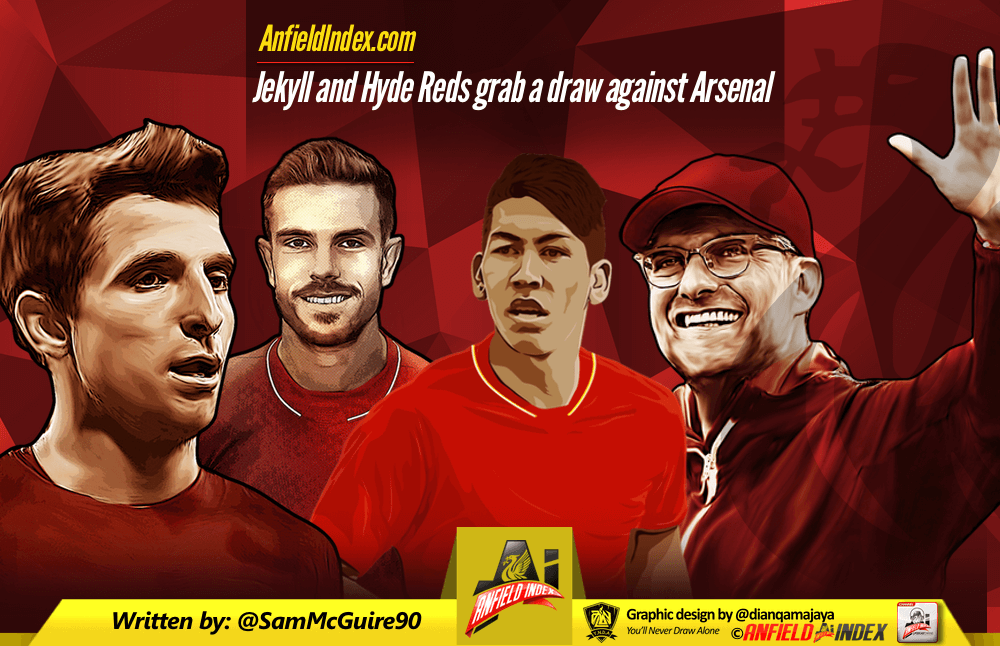 The Good
Roberto Firmino.  The £21 million (Not £30 million like the media like to mention) summer signing once again showed glimpses of his potential. His superbly taken first was soon forgotten about as he curled an exquisite effort from more than twenty yards that left Petr Cech grasping at thin air. He could have rounded off a near perfect first-half with a hattrick as his left footed half volley skimmed off the bar.
His performance wasn't just goals orientated though. His overall play was much better and his work rate was what we have come to expect from him. He was even in our own penalty area helping defend in open play in the sixtieth minute having tracked an Arsenal player. All in all, he just seemed to have more authority about him tonight.
Interestingly, @basstunedtored tweeted that the Liverpool number eleven had now been involved in a goal or an assist every 200 minutes and no other Liverpool player can beat that record this season. Not bad for a player many have not yet been impressed by.
Emre Can and Jordan Henderson
The Liverpool midfield looks like a different beast when these two are together in it. Emre Can dominated early on and Jordan Henderson was everywhere as Liverpool chased for that late equaliser.
They are a bit like a see-saw at the moment, one excels whilst the other doesn't and vice versa. But after Jurgen Klopp has had more time with them it's hard not to see them both dominating games as Liverpool move into the 2016/17 season.
The Bad
Liverpool defence.  It would be easy to lay the blame solely at the feet of Simon Mignolet, but as a team Liverpool defended poorly today. The first goal was poor positioning from the Belgian but had Kolo Toure reacted quicker to Giroud, the Frenchman would not have got his strike away. The poor attempts at marking during set pieces must be driving Klopp mental and it's a recurring theme in all Liverpool games. Adam Lallana could have defended the front post better and Mamadou Sakho should have reacted quicker for their second.
It's hard to remember a time Liverpool conceded a good goal. The performance against Arsenal was very much a Liverpool 2013/14 defence vs attack scenario.
The Ugly
Christian Benteke. The number nine came off the bench and actually looked bright. He was chasing passes and putting himself about but, yet again, the lack of killer instinct and the petulant side of him was there for all to see.
With Liverpool chasing the game, they worked a nice move down their right hand side with Jordon Ibe getting into a dangerous area. In the build up for this move, Benteke is around the edge of the area but never actually inside the box. Just as Ibe is about to pull the ball back, you see Benteke hold his position on the end of the area and expect Ibe to thread an eye of the needle pass to him for him to then try and find a way past four Arsenal defenders and Petr Cech.
Why isn't he at least inside the area? A good number nine would be attacking the space inbetween Koscielny and Mertesacker, much like he did in the game at the Emirates and much like Oliver Giroud did in this match.
The pass does not arrive as Ibe tries to put Lallana in at the back post and a frustrated Benteke throws his arms in the air and you can visibly see him moaning at Ibe.
This still at 2-3. Benteke has worked this opportunity himself. The 'right' thing to do here would be a reverse pass out to the left for Moreno to drive the ball across goal with Liverpool having four men inside the box. A ricochet and the ball is past Petr Cech.
Instead Benteke takes a shot which is obviously blocked by the lunging Arsenal defender.
There is still hope Benteke finds form and helps fire Liverpool into the top four but these images are not encouraging signs moving forward.