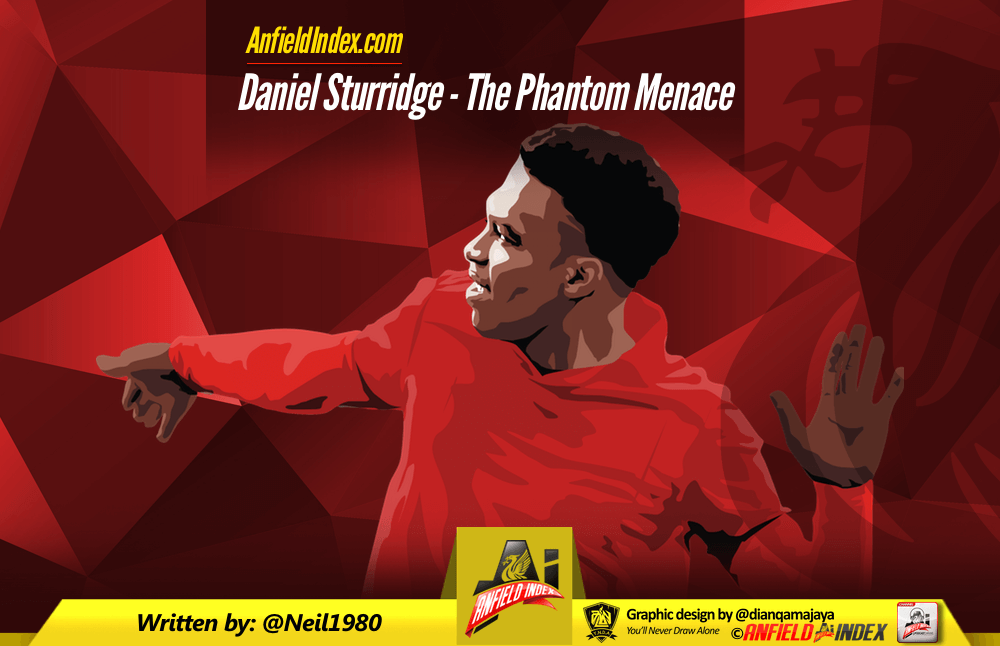 Daniel Sturridge - The Phantom Menace
Liverpool 3-3 Arsenal: a pulsating match; end to end, with chances galore; a "great advert for the Premier League". All these English football cliches, and more, could've been, and were, used to reflect on Liverpool's latest home match, under the floodlights at Anfield on Wednesday evening.
A crackling pre-game atmosphere was pitched up several notches when Roberto Firmino pounced on Cech's parry to slam the Reds into an early lead. Three goals followed in what was a thunderous first half, but despite Jürgen Klopp's team being in the ascendency for most of it, their fantastic attacking play was undermined by some (typically) poor defending, leaving the score level at half-time.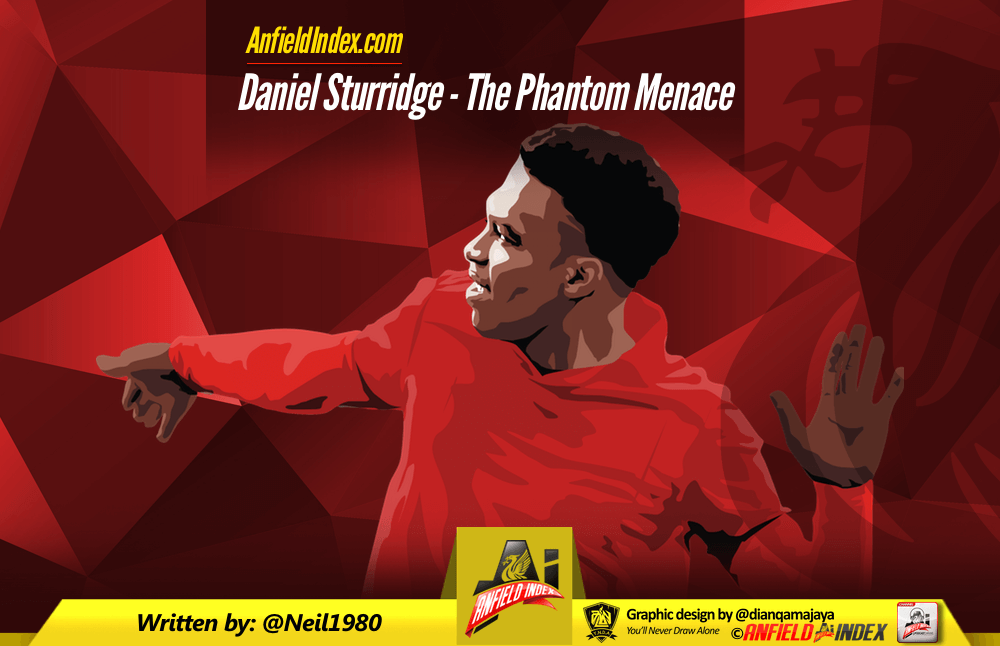 The second half saw Liverpool make the running again, spurning a couple of very presentable chances before a fabulous turn and finish by Giroud gave Wenger's men the advantage. Undeserved? Yes! Certainly in this scribe's opinion, but tell me: what the fuck does 'deserve' have to do with anything in life? Once you've reached the age of twelve, deserve is a word that may as well be expunged from your memory, because it's about as much use as an electric lighter in a wind tunnel.
Liverpool's "fight-back" was fantastic. The way the Reds laid siege to Arsenal's goal was a sight the likes of which had long been forgotten at Anfield, particularly over recent years, and it yielded reward with Joe Allen's 89th minute strike delivering a share of the spoils.
Liverpool 3-3 Arsenal: a thumping match; a cracker, Liverpool outplayed and took points off a team who is bound to finish in the top two this season! A good result, surely…. So what's the problem?
The problem is simple and stark: Liverpool should have won that game. The performance "deserved" a victory, but didn't deliver it. Arsenal's first two goals were wholly preventable, yet that can be said about most goals, and things would've been different had Firmino's hat-trick strike been just six inches lower. Alas, it wasn't.
Watching the game unfold however, I couldn't help but think of how different it could've/would've been had Daniel Sturridge been available. The fluidity of attacking play; the movement and speed; the plethora of chances; he would've had a field day – we may have still conceded three, but we would've scored a bagful.
The quandry for Liverpool and Klopp is what to do about the current state of affairs. The promise, or the shadow, of Sturridge hangs over this Liverpool side, whatever way you look at it. A fit Sturridge, playing for Liverpool, changes the whole dynamic; a Sturridge who plays 30 league games in a season propels Liverpool into the title race, slipshod defence or not.
The flipside, the side all LFC fans have grown to know and hate, is a perennially injured/half fit Sturridge, threatening to make a first team comeback, yet never able to put a sustainable run of fitness together (through little or no fault of his own). A tease; if you will.
Sturridge's situation is a huge dilemma. Jürgen Klopp and the Liverpool fitness team are working as hard as possible to return Sturridge to something like match readiness. He's undergoing this "mini pre-season", which can only be a good thing, especially if he returns able to see out most of the "rückrunde". Whatever happens though, Liverpool will have to shit or get off the pot where Sturridge is concerned if real progress is to be made.
The training regime that Sturridge is undergoing presently, coupled with the rest of this season, should tell Klopp whether Sturridge can be a viable number one striker for the Reds, or whether his injury problems are too persistent, too regular and too debilitating. Problem is, when you've got potentially the best striker in the Premier League on your squad list, you want to do everything possible to use him, but does that hold you back from replacing him if necessary?
Despite a flair-filled, creative and relatively decisive attacking display on Wednesday, without Sturridge, it was still only half an attack – lacking pace, and a real, potent, lethal finisher. There's no question, in these quarters at least, that Sturridge, or a Sturridgesque kind of striker like a Michy or an Aubameyang is exactly what Liverpool need to bridge the gap to the top teams, at least in the short term.
According to reports, Sturridge should be in the final stages of preparation for his latest comeback. Given what's been said by the Liverpool camp, and the amount of thought and planning that's gone into the training regime, all Liverpool fans will be on bended knee in the hope that this time his comeback can be sustained. There's no doubt Daniel Sturridge is a menace, but he's been a phantom too long; if he can't prove his fitness, Liverpool must, sadly, move on.