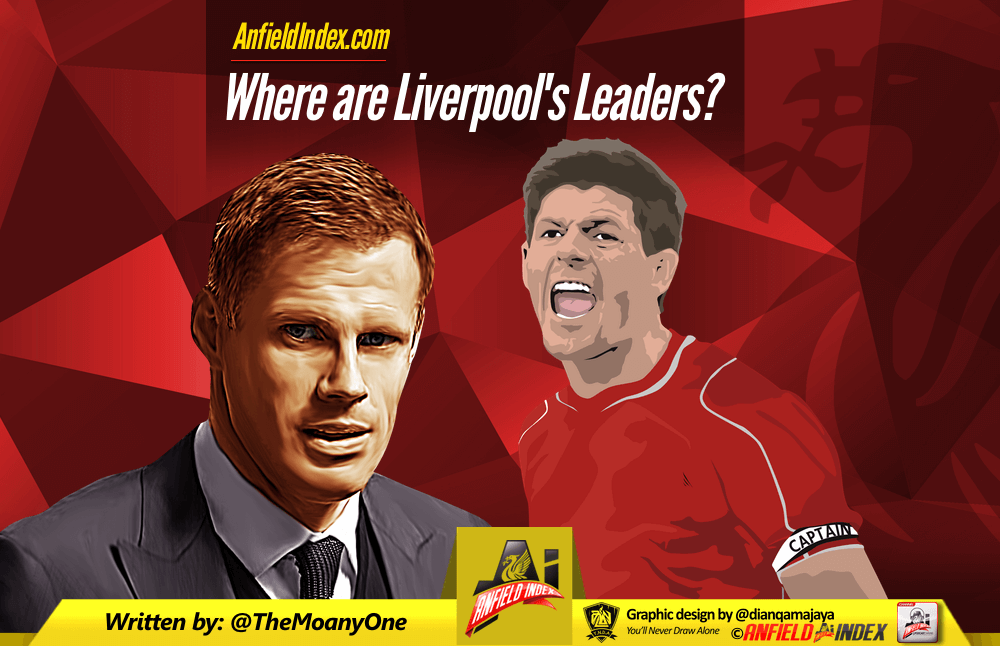 Where are Liverpool's Leaders?
According to the dictonary a leader is the person who leads or commands a group, organisation, or country.
Steven Gerrard, Jamie Carragher, Javier Mascherano, Sami Hyppia, these were all players who were natural born leaders and Liverpool fans have been lucky enough to see these players grace the hallowed Anfield turf and Liverpool fans have been lucky enough to see exactly how much of a leader these players were on their day. For examples of how important a leader on the pitch is look at games where Liverpool have been losing or have needed a boost they've always had the players there, Steven Gerrard in the miracle of Istanbul in 2005, the FA Cup Final in 2006; Liverpool were dead and buried but for Steven Gerrard. Jamie Carragher and his last minute tackles have saved Liverpool time and time again. Sami Hyypia in the treble season of 2002 who put everything into helping Liverpool win the FA Cup, the League Cup and the UEFA Cup. And then there's Javier Mascherano – the Argentinian bull dog who was always willing to do whatever he could to give Liverpool three points. These type of players are few and far between.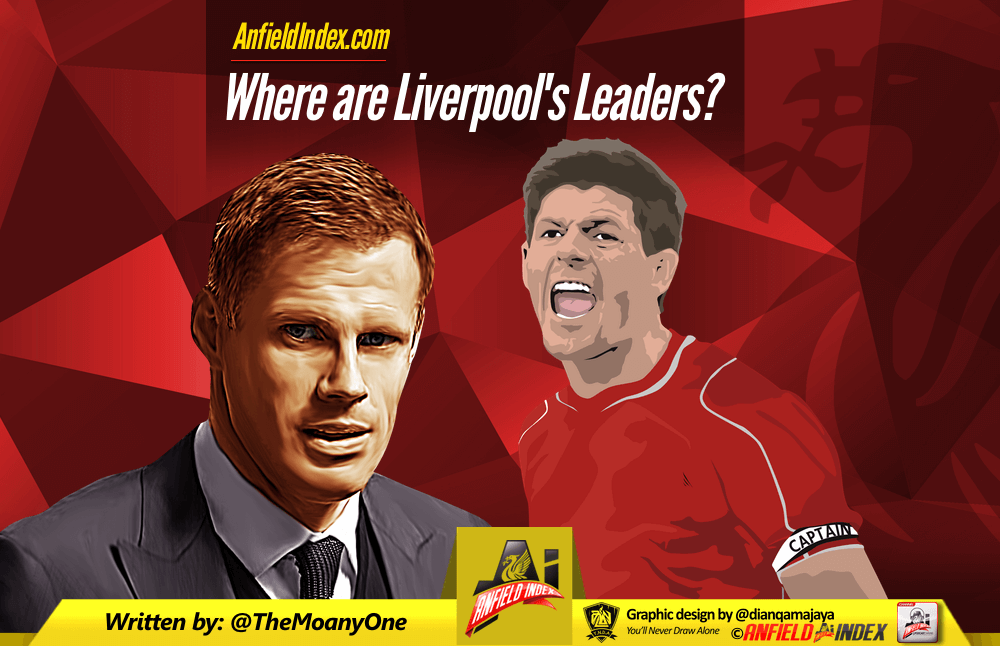 I've seen something starting to pop up on the likes of Facebook and Twitter since Steven Gerrard left for LA Galaxy last summer and that's the argument that Liverpool don't have any natural born leaders left on the pitch. They have no one that will grab the team by the scruff of the neck and move them forward to find that winning or equalising goal, something Liverpool were excellent at doing under Rafa Benitez.
When Jordan Henderson was appointed vice captain after Jamie Carragher retired at the end of the 2012/2013 season it certainly raised a few eyebrows amongst the Liverpool faithful. He, at that time, was just finding his feet as a Liverpool player and some thought that maybe the added pressure of being vice captain would regress his performances on the pitch rather than give him the emphasis to improve himself and push on. For me I did raise an eyebrow but then I remembered that when he signed from Sunderland, he was their captain. He had captained England at every level he had played for them (and I can see him captaining England when Wayne Rooney retires) and maybe the extra responsibility was just the thing to settle him and his nerves at Liverpool. But we need not have worried since becoming vice captain Jordan Henderson has become an integral part of the Liverpool team. So much so that Liverpool aren't as good when Henderson is out injured as they are when he's in the team.
If you were looking at Liverpool from the outside as a neutral, you could argue that Liverpool have leaders all over the pitch and you could argue in their own right players like Mamadou Sakho, Dejan Lovren, Lucas Levia, Martin Skrtel, James Milner and Adam Lallana could all be defined as leaders, in fact like Henderson, Lallana and Sakho when they signed for Liverpool they were captains of their previous clubs. Lucas and Skrtel have been at the club for years and should know what it's like to both captain and pull the others around them to a higher level if their heads are dropping but, as a Liverpool fan (except for Sakho), I would be horrified if any of the above named players were handed the captain's armband on a more permanent basis.
Being captain of Liverpool is a lot of responsibility both on and off the pitch. You have the expectation of the red half of the city on your shoulders and you have the weight of the history of the club always in the back of your mind. Not everyone is capable of managing these expectations. Look at how badly James Milner played at the start of the season when Jordan Henderson was out injured and he assumed the role of captain of Liverpool. He looked lost and looked as if he had the weight of the world on his shoulders. And since Henderson has come back into the team his performances have improved a small bit. For me when Milner was handed the vice captaincy role it was a shock. I would have handed the role to Mamadou Sakho.
The reasoning behind this is due to the fact that Sakho was captain of PSG when he signed for Liverpool. PSG would be classed like Liverpool as a massive club, a club where expectations are massive. So for me Sakho should have been a shoe in to become Liverpool's vice captain when it was up for grabs last summer. He would be able to handle the pressures that came with the vice captaincy. He showed in the 2014/2015 season he has the ability to lead Liverpool and he took pride in wearing the Liverpool jersey. But it was decided that the honour of vice captaining Liverpool would go to James Milner, a player who had never before put on the famous red jersey. A player who had never experienced Anfield in the heat of battle wearing a Liverpool jersey and for me was completely unsuited for the role.  Hell I'd have preferred Emre Can who in my opinion is a future Liverpool captain if Liverpool can match his ambitions.
So when it comes to buying players in the summer, manager Jürgen Klopp needs to concentrate on buying players who are leaders in their own right. Players he can depend on when things aren't going right on the pitch, players who's voices can be heard and players who aren't afraid to get stuck in, in the name of Liverpool Football Club. If he doesn't he's going to find it difficult to do what he wants while he's in charge at Liverpool.