I am finally sitting down to write to try and rate our players after that stupendously crazy game against Norwich City which oscillated more than a yo-yo would. This is how our beloved Reds did according to me *after I caught my breath back*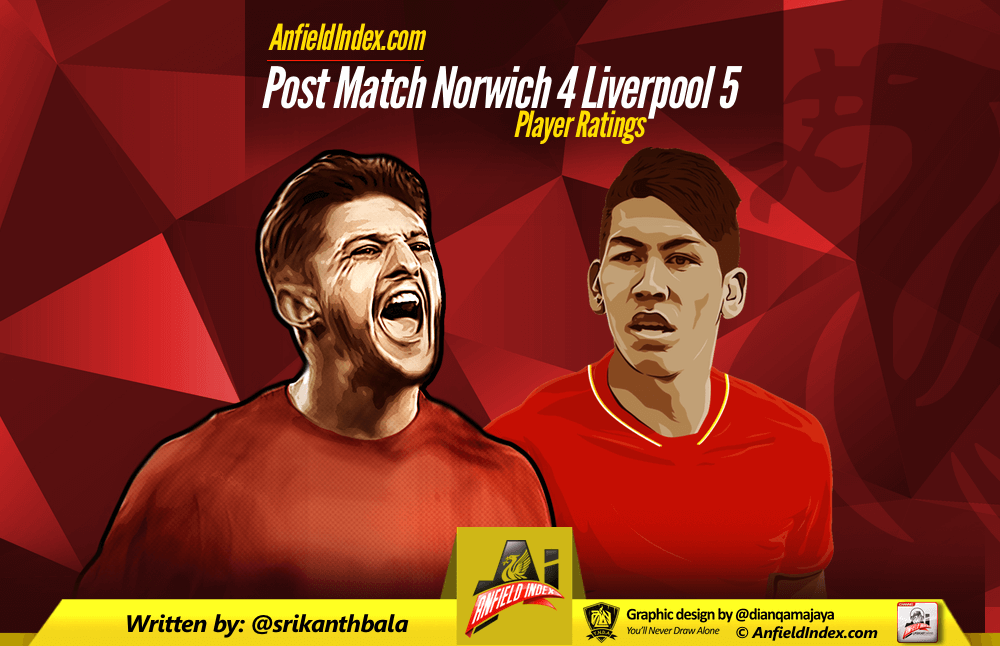 Simon Mignolet – 5 A nervy afternoon for the keeper as almost every shot on target seemed to go in at either end. He could not be blamed for their first goal, but was poor in cutting down the angle for Naismith's goal. Dived the right way for the penalty, yet failed to stop it.

Nathaniel Clyne – 5.5 Clyne was a dependable outlet on the right hand side, with his ability to constantly go up the field. He also drove infield a couple of times and delivered a great cross which Henderson ultimately tucked in.
Kolo Toure – 5 The Norwich striker, Mbokani, constantly got the better of Kolo Toure aerially, which led to their first goal. Needed the help of Sakho to ultimately stop Mbokani from causing even further damage.
Mamadou Sakho – 4.5 It is criminal for a centre-back to let the ball land on the feet of the opponent in the box and Sakho was guilty of this mistake a couple of times and Liverpool were punished. He improved massively in the second-half as the game began to stretch and he began to win everything aerially, thus getting Liverpool back into  possession.
Alberto Moreno – 4.5 This crazy game was typified by Moreno. He was great with his recovery tackles, but carried his zest too far. Made a clumsy challenge from behind which deserved a penalty for Norwich. Moreno (obviously disappointed that it wasn't awarded!) promptly made a brain-freezing, blood-curdling and mind-boggling  clumsy foul to ensure justice was served. Was hooked off late in the game.
Lucas Leiva – 4 Lucas Leiva treated the opposition like a river in spate, allowing them to flow by without causing harm. Naismith roamed in acres of space and walked by Lucas before slotting the ball in. Summed up his day
Emre Can -4.5 Part of the midfield trio in-absentia tonight as Liverpool were completely dominated in the midfield in the first-half. Can improved in the second-half and it was his interception which forced Martin to make the back-pass for Milner's goal. He also had a hand in the fifth goal as it was his long ball into the box which lit the fuse and caused mayhem.
Jordan Henderson – 5  The captain contributed to the early mess with several wayward passes which were easily intercepted. Liverpool kept turning the ball over and Jordan was one of the major culprits. He redeemed his day with a well taken goal that kept the hope alive amongst the players and fans.
James Milner -6 Milner exhibited his versatility tonight as he was constantly asked to swap positions but still kept going. Made the pass to the first Firmino goal and scored one for himself with a finish that someone like Benteke should take a deep, hard look at.
Jordon Ibe – 5 Jordon Ibe, playing on the left of the attacking trident meant that he was always looking to drive infield on his stronger foot, which meant that his game plan became predictable as the game wore on. He was substituted early in the second-half.
Roberto Firmino – 8.5 A very good performance on a day where every chance was taken. Took an early goal against the run of play with a scuffed shot at goal. Played a minor but important part in Henderson's goal, and capped off his second goal for the night with a move started by himself. Encouraging signs.
Substitutes
Adam Lallana -8 Lallana defined what an impact substitute should be. He was immediately involved in the thick of action, as he tried to make runs beyond their defenders. He setup Firmino's brilliant second goal and capped off the day with the winning goal with just seconds left. Deserved a point extra just for those epic celebrations.
Christian Benteke , Steven Caulker – N/A (Both made important contributions to the winning goal it must be said)