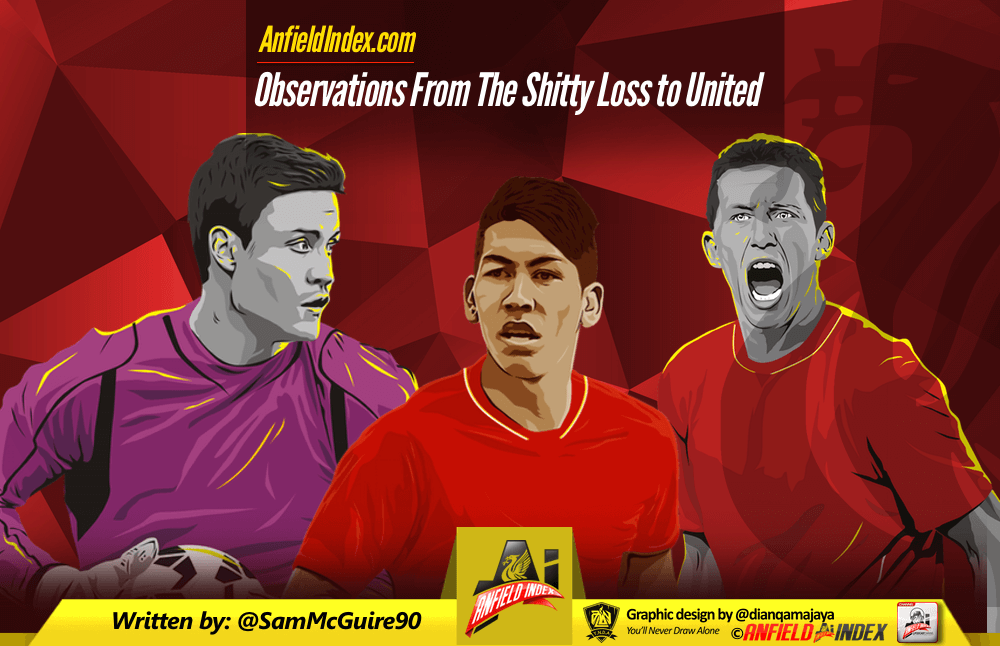 Observations From The Shitty Loss to United

Well that was shit, wasn't it?
Although, who didn't see this coming? Liverpool dominate, create chance after chance and lose to a set-piece goal. It's a match we've seen play out more times than we'd like to admit. Make no mistake about it, it was a real smash and grab victory by United. They turned up at Anfield with the sole objective to not lose the match. The onus was on Liverpool to take the game to them, and United knew we would,  because we needed the win. We created chances but ultimately didn't have the quality in the final third. It's not an undeserved loss because frankly we didn't deserve to win. You can't pass up 3/4 real quality chances like Liverpool had and not expect to be punished.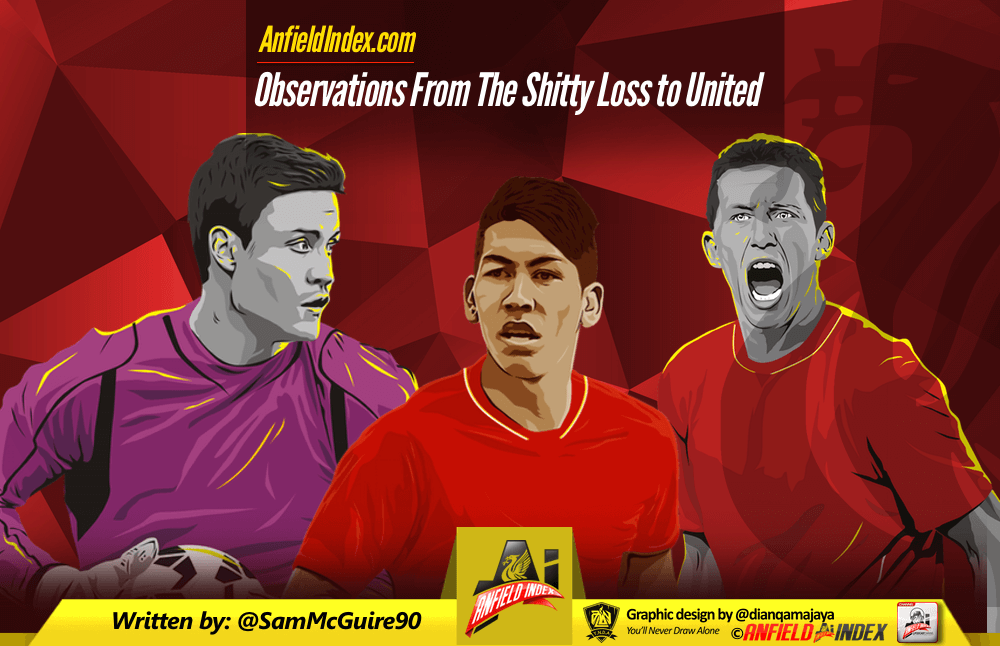 We are in desperate need of a striker. This revelation is not exactly exclusive to this game, but you can't help but wonder how different it might have been had Daniel Sturridge, Divock Origi or Danny Ings featured today. The team created some chances with great team moves and when the opportunity presented itself we blew it. No calmness. No composure. No natural finisher in sight.
Jordan Henderson was guilty of missing a hatful of chances. Adam Lallana showed that he's lacking confidence with a very meek header from eighteen yards out, Milner had a rush of blood to his head when in a good position twice and lashed at the ball and Wednesday's hero, Firmino, showed he's not the guy you should be pinning your hopes on for twenty goals a season just yet.
I think the fact that Jurgen Klopp left it so late to bring Benteke on implies he's not overly convinced with what the Belgian brings to the team. It's this reluctance to use Benteke which makes me wonder whether the Reds are actually in the market for a striker in January; one better suited to the style Klopp wants to play. There is no point having a £32.5 million striker on the bench who doesn't suit your style and no recognised striker on the pitch. After today's performance, it's evident.
Quality isn't good enough. Klopp opted to play what would be six midfielders in the hope they would win the midfield battle. It's a good idea on paper as it means United can't control the game and Liverpool should dominate. However, the fact we were so poor in possession, so erratic, highlights just how much quality Liverpool are lacking in that midfield area. I think only Lucas and Firmino actually used the ball effectively today.
Emre Can was caught on his heels many times, Henderson's first touch was horrific at times today and stopped the attack in its tracks and Lallana was a bit hit and miss for me. He did a few things well but overcomplicated much. My word, Milner was awful. Of course, this is just my opinion but he dives into tackles so often which exposes the midfield as players swarm past him. For someone so experienced, he plays with such inexperience.
Set-Piece Kryptonite. Yet another set-piece goal conceded as Liverpool just can't defend aerial balls into the area. The Reds had handled Fellaini and co well for most of the match but the goal was just sloppy. Fellaini gets a run on Henderson, Lucas gets drawn to the ball, leaves Rooney and Mignolet somehow gets his angles completely wrong for the initial header.
Klopp will no doubt need another hair transplant if this sort of shit continues. 
Bobby Firmino. A positive from today was the Brazilian. He was influential in the final third and his vision was on another level. When he set Henderson up on the edge of the area (which the captain fired straight at De Gea) I couldn't help but compare him to Suarez as he wriggled free of the United challenges. Although we lost, it was encouraging to see him continue his form over from the Arsenal game and hopefully, it's the beginning of a run.
Anfield atmosphere. It's a topic that's been discussed to death but today was unbelievable. People at the game were actually tweeting about how poor the atmosphere was. I'm sure getting your phone out whilst the game is being played and balancing texting and not falling onto the person below you really helps generate atmosphere! These weren't 'foreign' fans either, but locals at the game tweeting about the poor atmosphere whilst the game was being played. Amazing irony.