Injuries have blitzed the Liverpool squad since Jurgen Klopp was appointed as manager in October. Within his first week as manager he'd lost Joe Gomez for the season with an ACL Injury. Immediately he was down to just four first team centre-backs. Four centre-backs for practically an entire season and of those four two of them, Mamadou Sakho and Dejan Lovren, have a habit of picking up injuries. It's not exactly the ideal scenario for a new manager.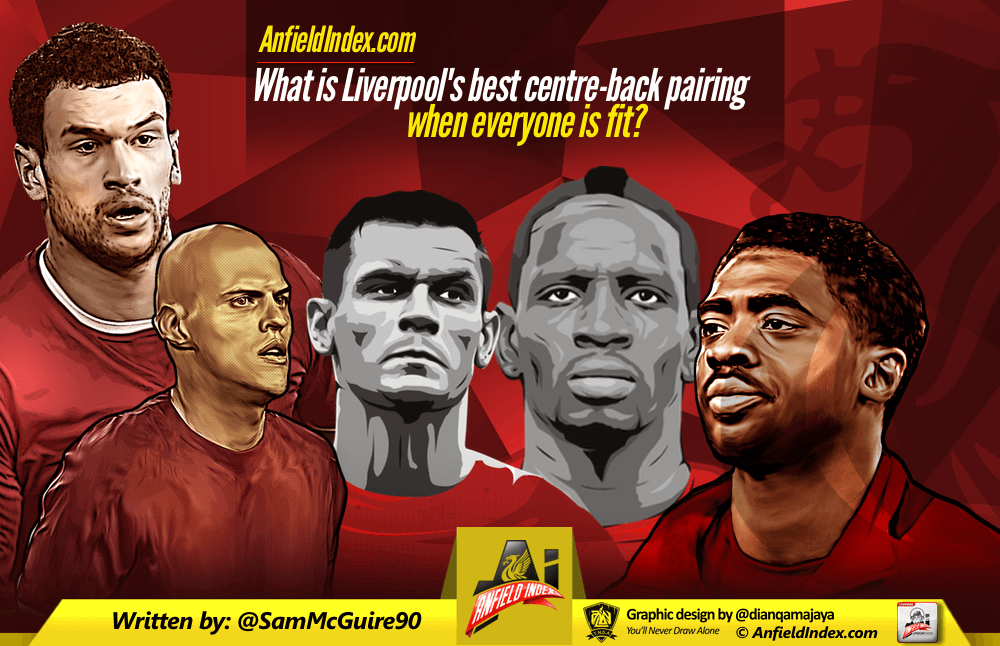 Fast forward to January and we found ourselves in an uneviable situation of having four of the five centre-backs out injured. Joe Gomez, Dejan Lovren, Mamadou Sakho and Martin Skrtel were all sidelined and it lead to Tiago Ilori being recalled from his nightmare loan spell at Aston Villa.

Not long after recalling Ilori, I think it was 5 days after the ex Sporting centre-back looked like he'd ran a marathon after playing 45 minutes against Exeter, Liverpool signed Steven Caulker on loan from QPR for the rest of the season.
Removing Joe Gomez from the equation as he's out for the season, which two centre-backs make up the best pairing when there is a full complement of players to pick from? Six candidates to choose from as the club look to fix an area that's plagued us since what feels like the days of Jesus Christ.
Based on Klopp's time at Dortmund we can assume he likes pro active defenders, the sort who like to attack the ball, read the game well and are switched on enough to win the ball higher up in the hope of starting counter attacks. He likes his defenders to be confident when in possession and be able to pick a pass. When picking a centre-back pairing you need to find two players who work well together. The two best individuals don't always make the best partnership.
The Candidates.
Dejan Lovren – The Croat has put his early season form behind him and has looked much more solid as of late. It's up to him to build on these foundations and really push on but in a Klopp two he looks strong on paper. Aerially strong, attacks the ball, always on the front foot and is decent with the ball. Far from perfect he has flaws and his injury record is questionable, can he be relied upon long term? Possible starter.
Mamadou Sakho – Sakho is the first choice centre-back for many Liverpool fans but his injury record casts doubt over his reliability. Can you really build a defence around a player that misses so many games? A key ingredient for a solid defence is familiarity. The centre-backs know their roles and the 'keeper understand the two in front of him. There's no doubt Sakho would be a perfect left sided centre-back in a Klopp two man defence but injuries may play a part in the Germans decision making. Possible starter.
Martin Skrtel – The reliable menace. The one constant in the six seasons Liverpool have conceded 40 or more goals. With a new manager comes a clean slate and a period for the defenders to impress. Has Skrtel done that since Klopp was appointed? His strengths don't seem to align with what the manager is looking for in a centre-back so should he start or should Klopp shelve his defensive plans till he has the personnel for it? He's the type of defender to drop and take the defensive line with him when Klopp wants the line to stay high, to keep the play nice and compact. Squad player.
Kolo Toure – He's like a utility man. He seems to be able to partner any of our current centre-backs and do a decent enough job. If he were 5 years younger then maybe Klopp would see him as a starter, he'd make a good sweeper centre-back as he's showed recently alongside Sakho against Arsenal and United. Squad player.
Steven Caulker – The unknown quantity. Used as a forward in his two cameos so far it's hard to actually judge him as a centre-back because his form goes from one extreme to another. Impressive at Swansea to horrific at QPR. On paper he ticks all the boxes; he's dominant in the air, uses the ball well, reads the game like an experienced pro but football isn't played on paper and it's about how he is during games. If we get the Swansea version then he's a possible starter. QPR version then he's nothing more than a squad player.
Tiago Ilori – The enigma. Half the fans rate him, the other seem to loathe him. Another one that's difficult to judge. He's composed on the ball, has explosive pace which would mean Liverpool could play an even higher line in the knowledge he'd be more than likely to recover. Injuries have stalled his progression as a player. He didn't set the world alight whilst on loan at Granada and Bordeaux and his injury record makes it almost impossible for the club to really rely on him. Squad filler for now?
It's almost by default that Sakho and Lovren win in my eyes and even then it's not ideal. We're relying on two centre-backs with injury records because the other centre-backs aren't good enough.