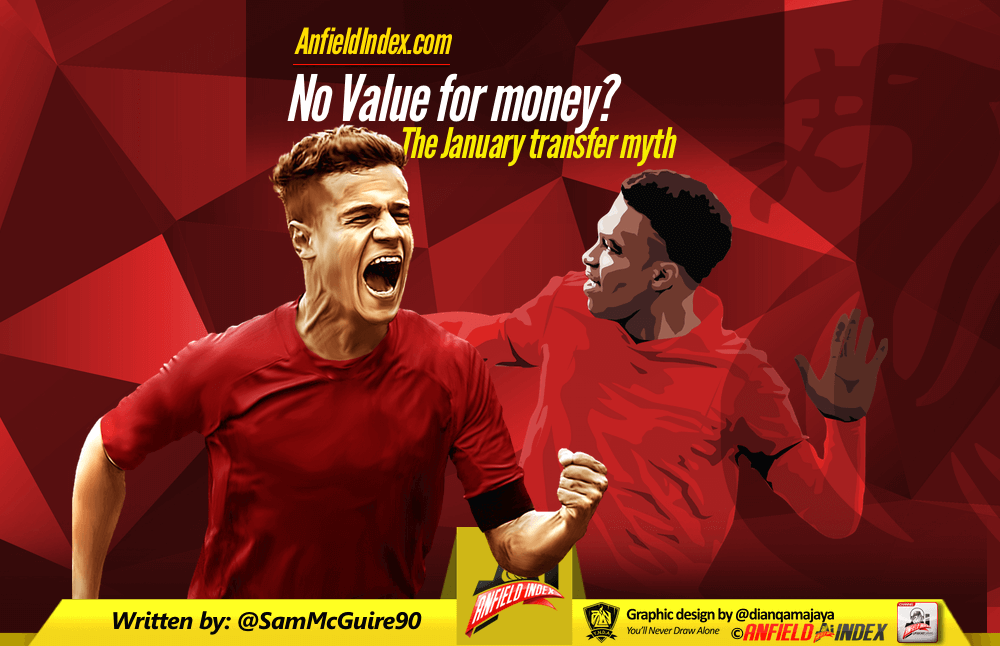 No Value for money? The January transfer myth
Unicorns. Myth.
Loch Ness Monster. Myth.
Bigfoot. Myth.

My girlfriend saying she'll only go in one shop. Myth.
No value in the January transfer window. Myth.
All are spoken about as though they're fact when in reality they're no more than myths.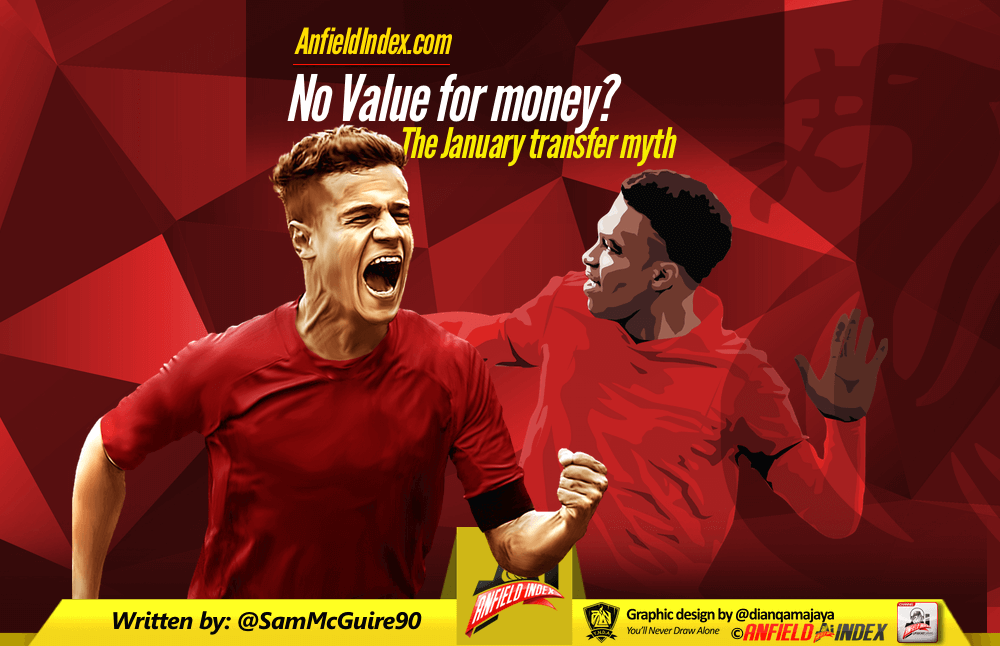 Of course you can find the odd bit of evidence to support these claims, "Sam remember that time over Christmas 2012 when I went into the first shop and bought that coat", "Remember when we signed Andy Carroll for £35 million in January" but of course there needs to be some evidence otherwise it wouldn't even be a myth, would it? It'd be a lie.
After the defeat to Manchester United it's abundantly clear for Liverpool fans that investment is needed now and not in the summer if they're to salvage the season. The issues Liverpool now face won't have been solved come summer time so is it not negligent to wait?
January is the perfect month for Liverpool to go bargain hunting. January is the month you see the true picture when looking at squads. If a player isn't being utilised at a club then a move may be an option and the selling club is more likely to deal to bring in money on a player they aren't using. Compare this to the summer when you don't know if a club will use this player, through necessity or choice, so they'd perhaps hold out for more. It's easier to make out a player is going to be key to your team in the summer than it is in January.
Summer Scenario.
Buyer – "We're interested in X player"
Seller – "He's an important member of the squad, we'd be reluctant to sell but we'd deal at £20 million but there are other clubs keen on him too."
Winter Scenario .
Buyer – "We're keen on X player, we've noticed he's not featured much this season and we're willing to pay £8 million."
*Long silence and plenty of heavy breathing down the phone*
Seller "£8 million for him? We really wanted £12 million but as he's not playing…deal."
Ignoring my obvious screenwriting skills you can see what I'm getting at. It's about the opportunity you're presented with. Of course you can overpay in January but it's just as easy to do so in the summer window too. Liverpool paid £35 million for Andy Carroll on deadline day after selling Fernando Torres. Did the club overpay? Massively but given the circumstances you can see why Newcastle rinsed them. Liverpool then paid close to £33 million for Christian Benteke in the summer, unopposed and with a month of the window left and plenty of other strikers available.
We also signed Dejan Lovren in a summer window for £20 million when in January 2006 Liverpool signed Danny Agger from Brondby for £6 million. In January 2008 the club signed Martin Skrtel for £6.5 million. Now the latter isn't the greatest defender but considering he's been at the club for 8 years now it was a decent transfer wasn't it? Better than paying £12 million for a Christopher Samba.
Maxi Rodriguez arrived at Anfield on a free in January 2010 and became a bit of a cult hero.
Javier Mascherano joined the Reds on loan in January 2007 and left for Barcelona in 2010, taking a piece of my heart away with him .
Arguably the most talented player to play for Liverpool, Luis Suarez, joined in January 2011. The same window as Andy Carroll but people often seem to forget that.
Robbie Fowler returned home in January of 2006 on a free transfer.
Philippe Coutinho and Daniel Sturridge arrived for a combined fee of £20 million in the January of 2012.
Javier Mascherano, Luis Suarez, Maxi, Danny Agger, Martin Skrtel, Robbie Fowler, Phillipe Coutinho and Daniel Sturridge all arrived at Liverpool in January within the last decade. Those eight players cost Liverpool £54.5 million in January. Tell me again how there is no value in January?
This isn't just reserved for Liverpool though. Plenty of clubs benefit from the January window. Manchester United signed Nemanja Vidic and Patrice Evra. Chelsea signed Nemanja Matic and Gary Cahill in Januarys. Kevin De Bruyne left Chelsea in January and Wolfsburg went on to grab themselves a bargain all because the Belgian wasn't getting a game at Chelsea. Ivan Rakitic, a player so important to Barcelona now joined ex club Sevilla from Schalke in a January window.
If Liverpool don't sign anybody this January it isn't because of some myth. There will be real reasons behind it. January can be a goldmine if you use it effectively.