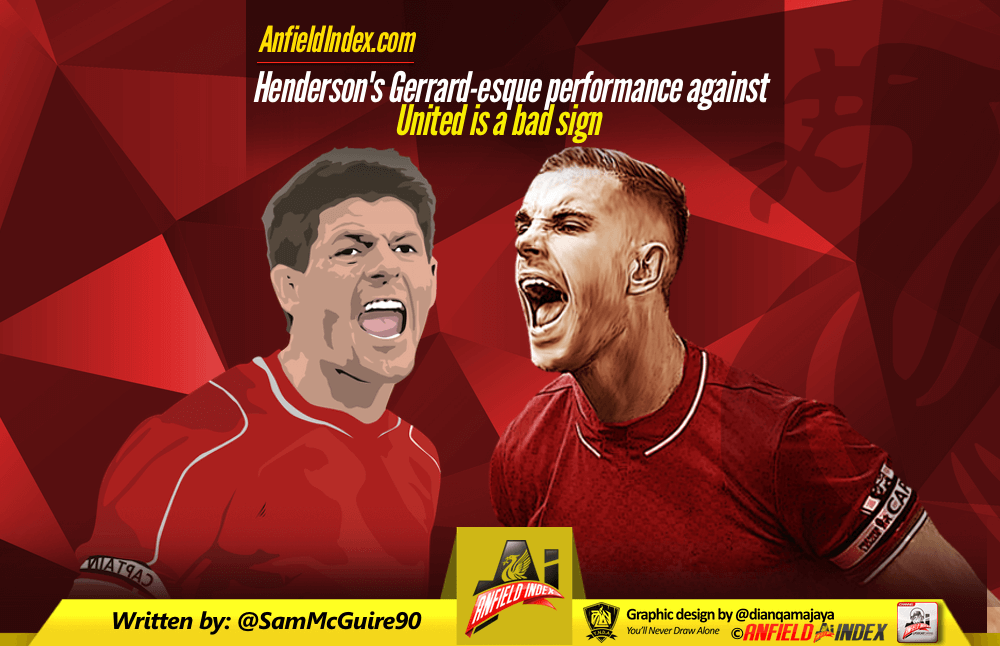 Henderson's Gerrard-esque performance against United is a bad sign

Why is Jordan Henderson trying to be Steven Gerrard?
I never wanted to see a repeat performance of what I saw Steven Gerrard give in the second half against Chelsea in the 2013/14 season as he tried single handedly to make amends for his slip. It wasn't his fault but he acted like every single one of the Liverpool fans would have in that situation. Your head goes. Logic is thrown out of the window and it becomes a battle with yourself. The captaincy usually buoyed him on but in that game against Chelsea it was an anchor tied to all the fans dreams and it weighed heavy.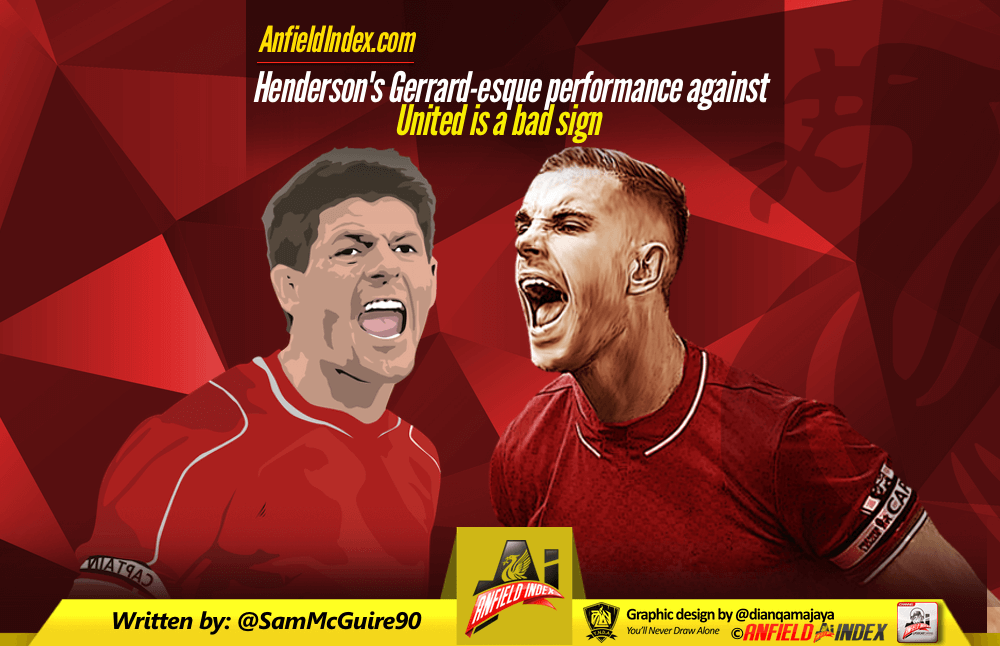 Logic vs guilt and pride, the latter comes out on top nearly every time.
Gerrard left and with him went the last player truly connected with the fans. The fan on the pitch element disappeared and I've seen many say that's why we lost yesterday. We didn't have the players on the pitch that knew what the game meant. I disagree. Jordan Henderson gave his best Steven Gerrard performance to date. It's just not the one fans wanted to see.
This shoot on sight policy is not something we associate Henderson with but yesterday I think he made up for all those shots he's not been able to make due to missed games because of injury. A player usually so careful with the ball and good at retaining it was giving it back to United at an alarming rate.
What's worse is the fact I can only recall one of his shots actually being on target. A tame shot straight at De Gea after good work from Roberto Firmino.
He was visibly riled up at kick-off.
Arguing with the referee and his linesmen from minute one. Throwing his arms around in a strop when something went against us. Chasing players that weren't his to chase and vacating his area. Trying to rush passes when everything was just off.
Gerrard let his passion fuel his performance against United. It was natural and it worked (his last game against them aside). Henderson was playing an unnatural game so this side of him made it all the worse.
It was the sort of performance that you're usually pulled to one side by your captain and told to get your shit together. You know exactly what Henderson did to Christian Benteke on Wednesday after the Belgian had a strop when Jordon Ibe didn't pull the ball back to him.
This was not a captains performance. This wasn't the side of Jordan Henderson we needed to see. I appreciate he was doing his best to show passion but what's passion without quality? That's not the mentality you want from your captain. He needs to manage the occasion and not let the occasion manage him like it so clearly did.
We needed the Jordan Henderson from the Arsenal match. The one that ran the midfield against the league leaders because that's exactly what he did. Henderson and Emre Can should have had enough in them to get the better of Fellaini and Morgan Schneiderlin. Emre Can started off how he finished the Arsenal game but seemed to grow into the game. He's been accused of being too laid back but in a game were heads can be lost I'd rather see that than the one Jordan Henderson provided us all with yesterday.
The captain should have made the most of the space afforded to him by the limited Fellaini, he should have gone about linking up play like he does in those tight areas in the half space and Liverpool probably would've created even more chances to miss. These wouldn't have just been pot shots like the ones Henderson seemed to eager to take. What's he good at? Arriving late into the box. So why yesterday was he taking shots from distance when the better option would have been to look for a pass and make his way into the box?  He was like a player possessed.
Liverpool needed the Jordan Henderson that captained the side to that run of victories in Gerrard's absence last season. The one with it all to prove at the time. He put in performances that said 'I should be captain' and those performances showed maturity. Yesterday was all about naivety. If he treats it as a learning experience then he can grow as a player but if there are more repeat performances his role as captain may come in for some questioning. He wasn't leading by example against United, he wasn't leading at all.